Monday PM Forecast: dreary with more rain around the corner
Many locations along and north of I-10 received over 4 inches of rain on Sunday. A break from substantial precipitation is expected through Wednesday, but it will remain gloomy.
A DENSE FOG ADVISORY Tuesday morning for the entire WBRZ Viewing Area. Visibility of one-quarter mile or less could make driving difficult. Slow down and use low beam headlights.
Tonight & Tomorrow: Overnight will be cloudy with patchy dense fog, especially near rivers, bayous and lakes. Low temperatures will stop near 60 degrees in the city with low 50s to the north and upper 60s to the south. Tuesday will have fog lifting to a low cloud deck with few breaks of sun. A stray shower is possible, but most areas will remain dry again. High temperatures will have a wide range with upper 60s in Baton Rouge, low 60s in southwest Mississippi and upper 70s near the coast.
Up Next: A stalled front will remain draped across the region through Wednesday continuing the morning fog, clouds skies and large range in temperatures from north to south. Still, most locations will avoid significant rain except for some organized showers north and west of Baton Rouge. By Thursday, the front will start to push through the area from northwest to southeast with another period of rain and thunderstorms. Additional rain of 1-2 inches is expected north and west of Baton Rouge. Generally lighter amounts will fall south and east. Though less than Sunday, since the ground is saturated and rivers are elevated, any heavier pockets will need to be monitored for standing water issues and minor stream flooding. On Friday, the front will continue to move eats of the area with gradually clearing skies and cooler, drier air. As sun returns, highs will stop in the upper 50s followed by a night of lows in the upper 30s.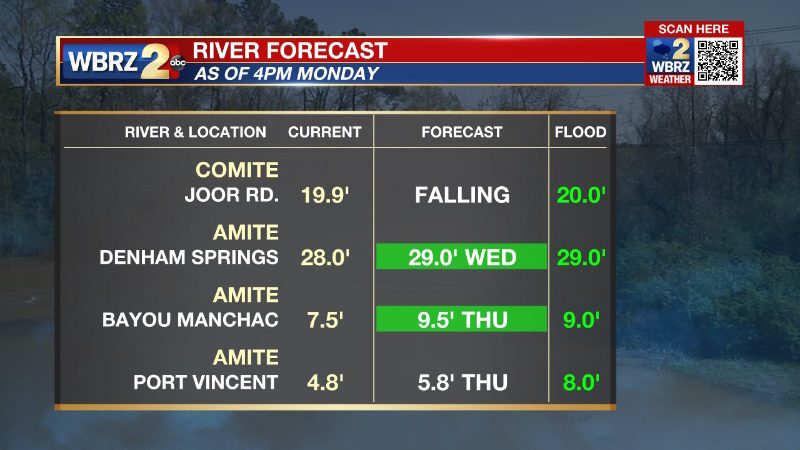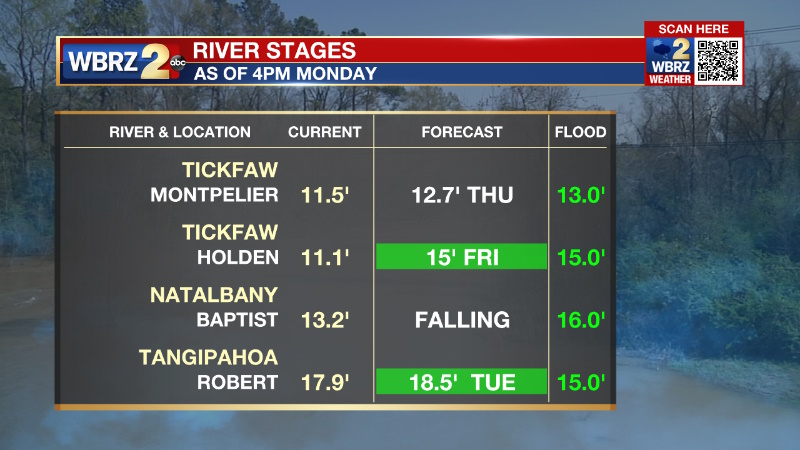 ---
Get the latest 7-day forecast and real time weather updates HERE.
Watch live news HERE.
---
Detailed Forecast: The setup for fog is rather favorable with mild and muggy air moving over top of relatively cooler marine areas. Adding in the rainfall from yesterday and saturated ground provides plenty of moisture for rapid fog formation overnight--especially near the coastal areas. Northwest of Baton Rouge and a stalled front, slightly cooler and drier air should cut back on fog.
Very tricky temperatures over the next two days... a meandering front separates mid 50s in southwest Mississippi from mid 70s along the Louisiana coast. Especially near #BatonRouge, the forecast could easily bust! pic.twitter.com/yjfxdA2rSs

— Josh Eachus (@DrJoshWX) January 30, 2023
The temperature forecast for the next two days is tricky. Wherever the nearly stationary front resides will denote the line that separates highs in the 50s to the north and highs in the 70s to the south. Within a few miles of the boundary, temperatures will be in the 60s. Just a 20-30 mile shift in the front could change temperatures by 10 degrees, so especially in the I-10/12 corridor, be prepared for sharp temperature forecast adjustments. No organized rainfall is expected through Wednesday morning. Even in the afternoon hours, a weak upper level disturbance will come by but is unlikely to create anything more than scattered showers north and west of Baton Rouge. An upper level trough of low pressure will swing across the southern third of the United States on Thursday giving the push needed to drive the front fully east of the area. In response to this passage, another batch of rain and thunderstorms is expected, albeit less significant than what occurred on Sunday. Still, since grounds are saturated and rivers are a bit high, any pockets higher than the inch or two that is forecast could cause some nuisance flooding issues and minor stream rises. Those maximum amounts are likely to happen northwest of the city and where there heaviest rain fell on Sunday which would be good news. Any shift to the south will be worth monitoring though.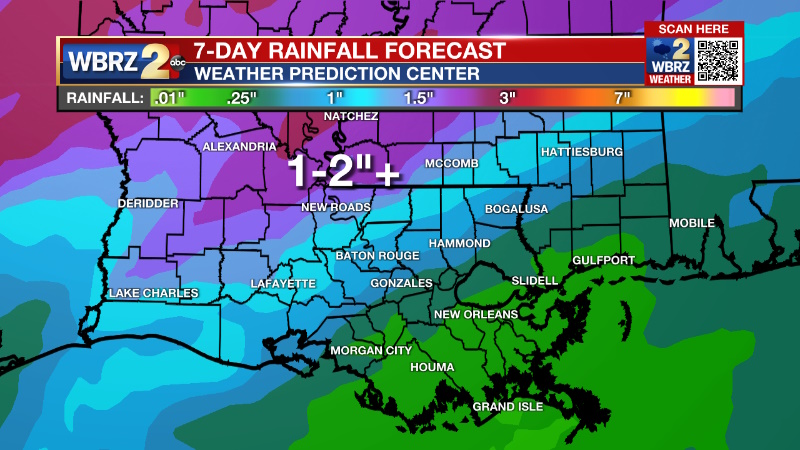 Everything will start to calm down on Friday with cooler and drier air moving in for the weekend. After a day of below average temperatures on Friday and Friday night, above average temperatures are expected for the weekend.
--Josh
The Storm Station is here for you, on every platform. Your weather updates can be found on News 2, wbrz.com, and the WBRZ WX App on your Apple or Android device. Follow WBRZ Weather on Facebook and Twitter for even more weather updates while you are on the go.
More News