Two arrested after Baton Rouge street fight is captured on camera
BATON ROUGE – A mother and her son were arrested after a violent fight over being asked not to talk on a cell phone in a movie theater.
The pair were involved in a brawl that was captured on video, leading to their arrest Sunday.
Lamount Hollis and Jerrilyn Hollis face various battery charges.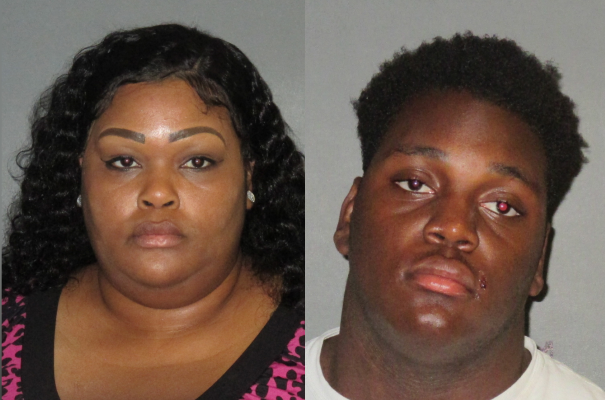 Jerrilyn Hollis and Lamount Hollis
Deputies said Lamount Hollis, the woman's son, attacked a man in the street at the corner of Perkins Road and Bluebonnet. Eyewitnesses recorded the fight, which showed the victim being thrown around and repeatedly punched.
The victim was pepper sprayed once, or twice, they reported to deputies at the hospital and may have been knocked unconscious.
The fight happened Sunday evening as the victim and his family waited at a red light and as cars passed through the busy intersection.
The victim said the entire group – he, his family and the Hollis mother and son – were in the same theater at the Perkins Rowe theater. Jerrilyn Hollis spoke on her phone through the whole movie and Lamount Hollis berated them for complaining when the movie was over.
The victim said the mother and son followed them through the parking lot and, while stopped at the red light, sprayed them with pepper spray through an open window in the victim's car.
The victim, who was driving, stopped and opened his door to push the attacker away, he told deputies. But the attacked continued. Video showed the group pushing and shoving across travel lanes.
Deputies arrested Lamount Hollis and Jerrilyn Hollis when they went to the hospital and complained about injuries from the fight.
Lamount Hollis said he was upset that the family spoke to his mother rudely about her being on the phone.
Lamount Hollis and Jerrilyn Hollis were booked into jail and later released.
Jerrilyn Hollis disputes the incident, though. She told WBRZ it was the person described by investigators as the victim who was the aggressor and was going to fight the charges on behalf of both her and her son.
"He scratched my car… beat my car," she said, and added she was afraid of what she thought was the other man involved in the fight coming after her and her son.
"My son didn't know what to do… the other guy swung at my son first, and we started fighting."
"If you look at the video, our vehicle is first [in line at the stop sign], the man followed us," she said.
"It's like our name is being scandalized," Hollis said. "My son thought this man was disrespecting his mother. What man would let that happen?"
"[He is a good kid], this could ruin him," she said.
An eyewitness shared video of the fight on Facebook with the comment: "Just another day living the life in Baton Rouge."
*****************
Follow the publisher of this post on Twitter: @treyschmaltz
More News