NOAA: warmer, drier winter expected in the Baton Rouge area
According to NOAA's Climate Prediction Center, southeast Louisiana and southwest Mississippi can expect warmer and drier than average weather this winter. The outlook comes from the agency's annual long-term winter forecast, which was issued on Thursday.
Typical winter highs and lows for the Baton Rouge area are about 64 and 43 degrees respectively—an average of temperatures from climatological winters (December through February) since 1930 at Metro Airport. Cold snaps can and do occur with an average of 17 below freezing nights each winter season. Winter accounts for approximately 25 percent of annual precipitation, averaging 15 inches. Only 15 days since 1930 have recorded measurable snowfall.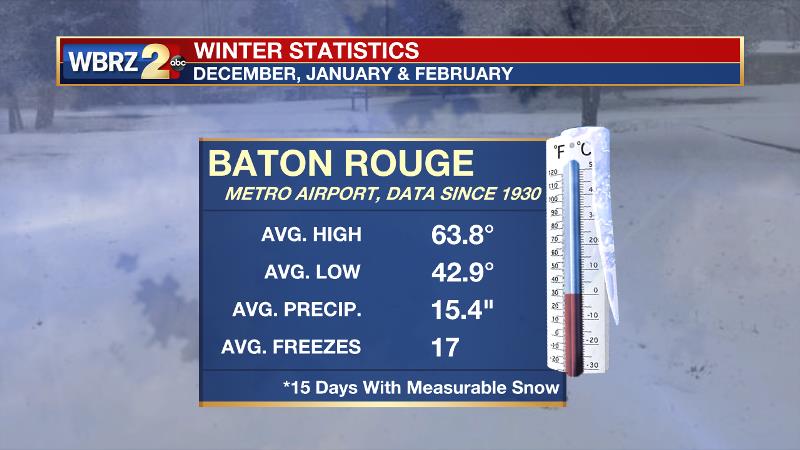 Many in the Baton Rouge area look back on the previous two winter seasons which brought well above average temperatures. Record warmth was recorded on Christmas Eve, Christmas Day and December 26 in 2015 with highs of 83, 83 and 84 respectively. Last year narrowly missed repeating those records with highs reaching 81, 79 and 80 from December 24 - 26.
Of course, implications for a mild or harsh winter are much greater for northern sections of the United States where commerce and industry can be significantly affected by extreme cold and snowfall. Major metropolitan hubs in the Northeast can expect a mild winter while the Mountain West may not be as cold as most winters, but feature more precipitation than usual—especially in the northern regions. This is potentially good news for ski resorts.
Experts at the Climate Prediction Center attribute the forecast to medium likelihood that La Nina will develop. "If La Nina conditions develop, we predict it will be weak and potentially short-lived, but it could still shape the character of the upcoming winter," said Mike Halpert, deputy director of NOAA's Climate Prediction Center. "Typical La Nina patterns during winter include above average precipitation and colder than average temperatures along the Northern Tier of the U.S. and below normal precipitation and drier conditions across the South."
Friendly reminder about the #winteroutlook from @NOAA today, credit to @NWSFortWorth pic.twitter.com/N5RgpSRg3W

— Josh Eachus (@JoshEachus) October 19, 2017
Keep in mind, the outlooks are for the three month period overall. Daily and weekly weather will still be variable and an outlook for warmer than average does not mean it will not get cold at all.
More News