LSU Football reveals 2017 season poster, placard
BATON ROUGE - With college football season right around the corner, LSU Athletics has released this season's poster and placards.
This year's poster features a bird's eye view of a Saturday night in Death Valley with this season's opponents lined across the bottom.
For those who like to keep score, a similarly styled placard is also available.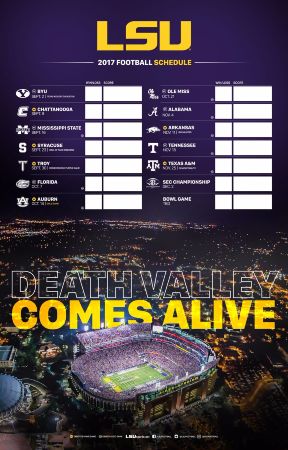 According to LSU Athletic Director Michael Bonnette, both items are available for free on the first floor of the LSU Athletic Administration Building open Monday through Friday from 8 a.m. - 5 p.m.
On Aug. 21, all Baton Rouge-area McDonald's location will carry both poster and placard until they run out.
Those who can't make it out to pick up a poster can order one for $1 plus shipping and handling online at www.LSUsports.net/posters.
More News