LSU to reinstate some Greek life activities as hazing investigation continues
BATON ROUGE - Some Greek life activities at LSU will be reinstated this weekend, as the investigation into a student's death as a possible hazing incident continues.
According to a release from the Office of Greek Life at LSU, the passing of Maxwell Gruver inspired them to revisit their policies and ensure the safety of all students on the campus.
"The passing of Maxwell Gruver was tragic and unexpected," the statement read. "Since there were no signs, we could not be sure that our policies and structures were working adequately across all Greek organizations, prompting the University to stop all of the activities pending a thorough review.
LSU will reinstate participation in school-sponsored and school-monitored events on September 24, according to the release. These activities include philanthropy, community service events, fundraisers, blood drives, intramural events, and meal service at Greek houses including new members with house meal plans.
Risk management education workshops, including hazing, alcohol, drugs and sexual misconduct re-educations, along with chapter judicial meetings, will be granted with the approval of Greek Life.
Tailgating activities will remain suspended for the Tiger's September 23 match-up against Syracuse. They will be allowed to resume on September 30, with new procedures issued by the University Safety and Security Committee.
All school-sponsored Homecoming activities will continue as planned.
New Member activities and most social activities are still suspended. These include retreats, meetings, service project participation, study hours/groups, chapter meetings and events, bus trips, formals, etc.
The school said more activities could be approved in the coming weeks, although there is no timeline for approval.
"For some organizations, this will be a chance to exercise best practices, help their colleagues enter a new era, and demonstrate their commitment to the larger University community," the statement read. "For other organizations, it may be a wake-up call about high-risk behaviors."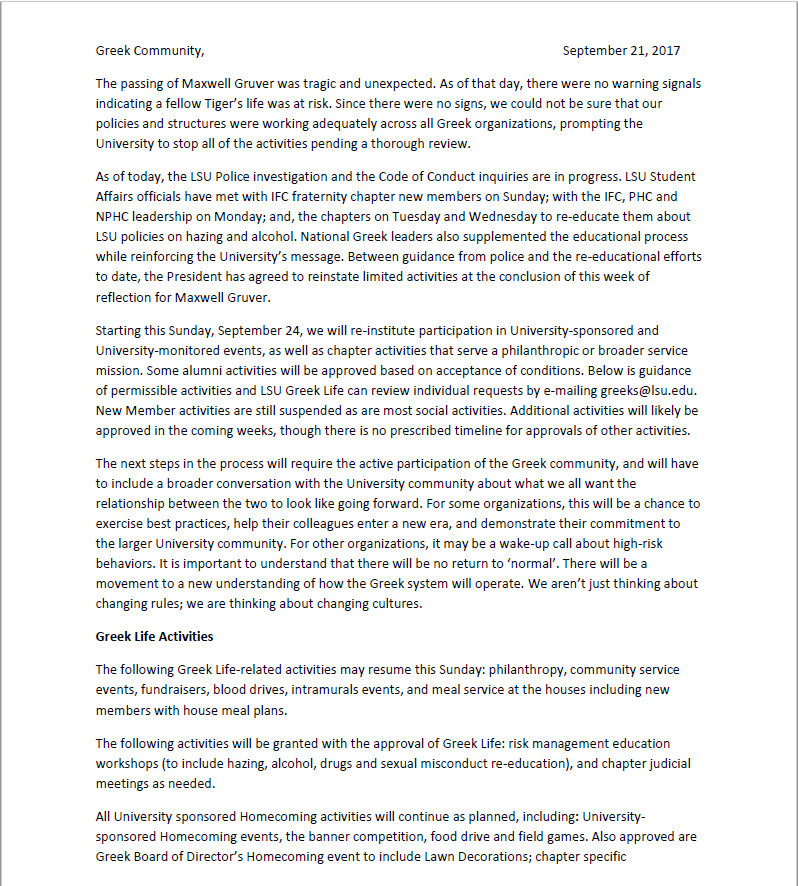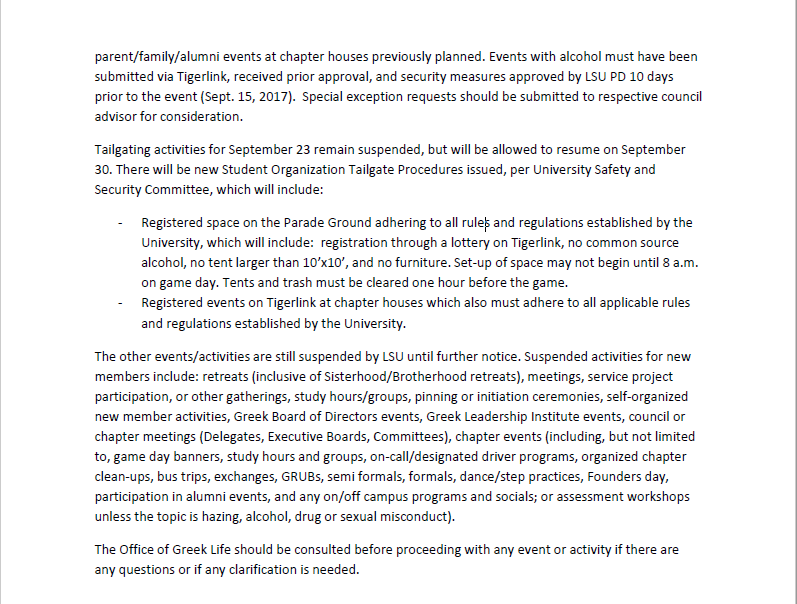 More News