Crawfish season is back and temperatures are STEAMY
With Lent right around the corner, seafood especially crawfish is on many people's minds. Here in south Louisiana crawfish are harvested from early February until about July, and the weather is a big player in the success of the harvest.
Crawfish season is dependent on several variables but two of the main influences are rain and temperatures.
So far for 2023, we have recorded 13.61" of rain at KBTR, this is nearly 4.25" above average for this time of year.
Temperatures have a large influence on the quality of the harvest. When temperatures drop below 60°, crawfish become less active and even begin to burrow into the mud for a dormant state. If warm Spring temperatures move in too quickly, it can shorten the season as well.
Since the start of 2023, we have only recorded freezing temperatures four times. Temperatures can dip to freezing for a day and not have major impacts. We watch for long freeze periods that could drop water temperatures and harm vegetation.
Too cold of temperatures can have a negative impact on the harvest but the same is for if temperatures warm too quickly. This week the 80s are sticking around in the forecast.
These warmer temperatures will do some good for the harvest but it's when temperatures start reaching the 90s for several consecutive days that the season may see some impacts.
The Climate Prediction Center is forecasting above average temperatures likely for the next three months. This means the overall trend will likely be warmer than the climatological average.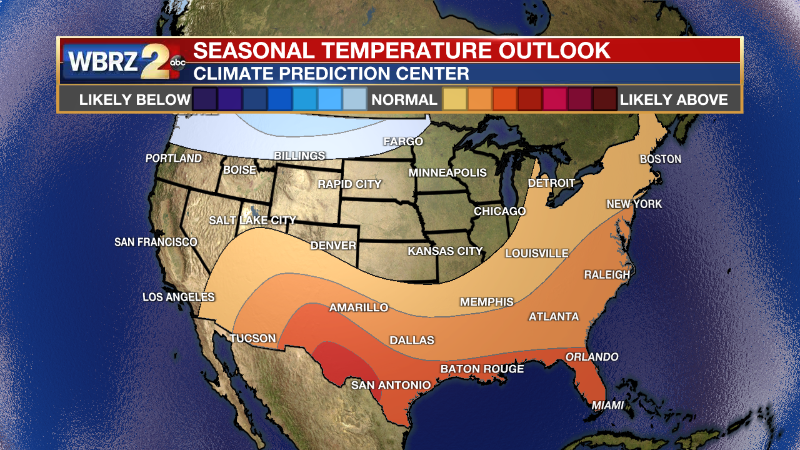 Average high temperature for March is 73°, and by the time we reach May average high temperatures climb into the mid-80s.
For now, crawfish season is kicking off with warm and mostly dry weather. For the latest information on crawfish prices click HERE.
More News