Wednesday Morning Forecast
Related Story
An **Air Quality Alert** has been issued for parts of the WBRZ viewing area. Be sure if you are planning on being outside for extended periods of time you are taking frequent breaks.
THE FORECAST
Today & Tonight: Another day with an Air Quality Alert across portions of the WBRZ viewing area. The repeated alerts are caused by smoke from wildfires in Central America and Canada, winds are passing the particulate matter through the southeast. The heat in the forecast amplifies the poor breathing conditions, triggering Air Quality Alerts. More 90° heat will be around this afternoon. A few spotty showers will pop into the forecast, but most people will stay completely dry. Overnight temperatures will fall into the upper-60s.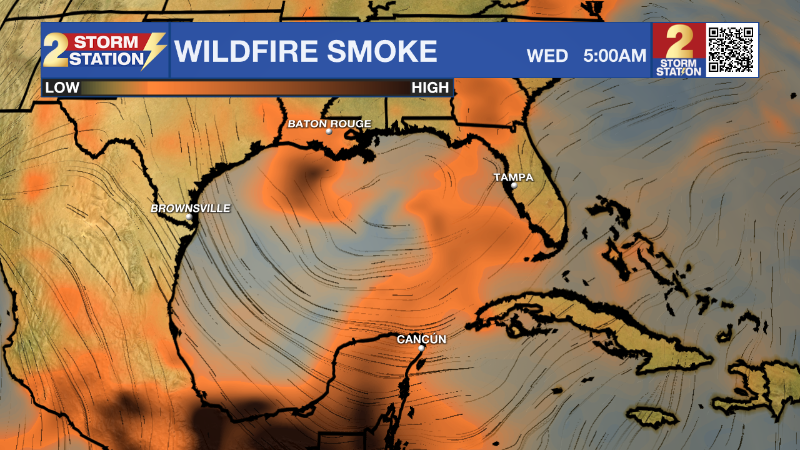 Up Next: Thursday the pattern is set to repeat. We do not currently have an Air Quality Alert in place for tomorrow but all of the same ingredients will be there. A cloudy and muggy start followed by an afternoon of partly sunny skies and 90° heat. Everyday there is a small chance for rain in the forecast. Not everyone will see rain, but no one is completely in the clear. Everyday we are expecting daytime highs to reach the low-90s. There is plenty of moisture available. Heat plus humidity is perfect for a quick summertime pop-up shower. This same pattern will continue well into the weekend and rain chances will increase. Click here to see the 7-day forecast.
The Storm Station has you covered with hour-by-hour weather tracking is available for your location on the WBRZ WX App on your Apple or Android device. Follow WBRZ Weather on Facebook and Twitter for even more weather updates and unique weather insight from the whole team!
IN THE TROPICS:
Potential disturbance in the Gulf of Mexico, overall low chance of development and currently not a threat to the WBRZ viewing area.
Central Gulf of Mexico:
An area of disorganized showers and thunderstorms is associated with
a surface trough of low pressure interacting with an upper-level
trough over the central Gulf of Mexico. Environmental conditions
appear only marginally favorable for additional development over the
next several days as the system meanders over the eastern Gulf of
Mexico. The system is then forecast to move across the Florida
Peninsula this weekend and emerge into the southwestern Atlantic
Ocean by early next week. Regardless of development, the system
could produce heavy rainfall and gusty winds over portions of the
Florida Peninsula later this week. Additional information on the
rainfall and flooding potential can be found in products issued by
your local National Weather Service forecast office and Excessive
Rainfall Outlooks issued by the Weather Prediction Center.
* Formation chance through 48 hours...low...10 percent.
* Formation chance through 7 days...low...20 percent.
News
An **Air Quality Alert** has been issued for parts of the WBRZ viewing area. Be sure if you are planning...
More >>