TRACKING CINDY: the latest forecast
The worst of Tropical Storm Cindy is over. However, the local area is not completely in the clear. The churning tropical atmosphere will is still capable of producing a tornado. Coastal inundation will continue along the gulf and the lakes through Thursday. Scattered showers, heavy and times, will stay in the forecast through the week and beyond. We encourage you to download the WBRZ WX App. on your mobile device to follow the latest updates. That information can also be found from @WBRZweather on Facebook and Twitter.
Tropical Storm Cindy: Tropical Storm Cindy continues to weaken and move toward a landfall. This storm was a textbook example though of impacts occurring well away from that National Hurricane Center forecast cone. Heavy rain, flash flooding and tornadoes battered coastal Mississippi east to the Florida panhandle—the worst just missing Southeast Louisiana. As of 4am Thursday, Tropical Storm Cindy was located about 30 miles west, southwest of Lake Charles, Louisiana with maximum winds of 40mph, a minimum central pressure of 994mb and was moving north at 12mph. Tropical rain bands will continue to affect the local area and where these features take shape, some heavy amounts remain possible. Persistent bands could easily produce up to 3 inches and flash flooding. While winds are shifting southerly and easing, lakeshore flooding will only stop increasing and shift easterly. Slow receding of water will occur via drainage over the next 48 hours. Low level rotation in the atmosphere is increasing as Tropical Storm Cindy approaches land and therefore tornadoes will be a concern for Wednesday—especially south of I-10.
Alerts:
A TORNADO WATCH is in effect until 1pm Thursday . Know your plan and prepare to act on it if any warnings are issued. Tornadoes can spin up very quickly in a tropical system and do not necessarily come with a thunderstorm.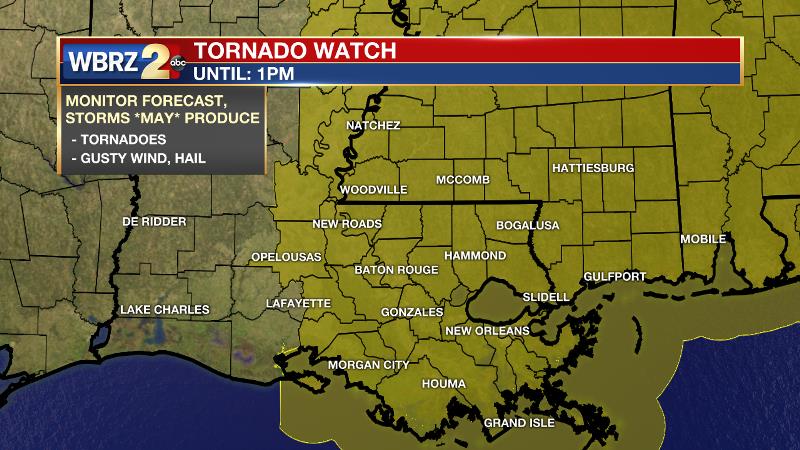 A FLASH FLOOD WATCH is in place through Thursday and pockets of heavy rain could cause quick water rises in smaller creeks and streams and for areas of poor drainage. A few local evacuations may be issued, so have a plan in place should this occur in your area. Some bridge and road closures may be necessary as well.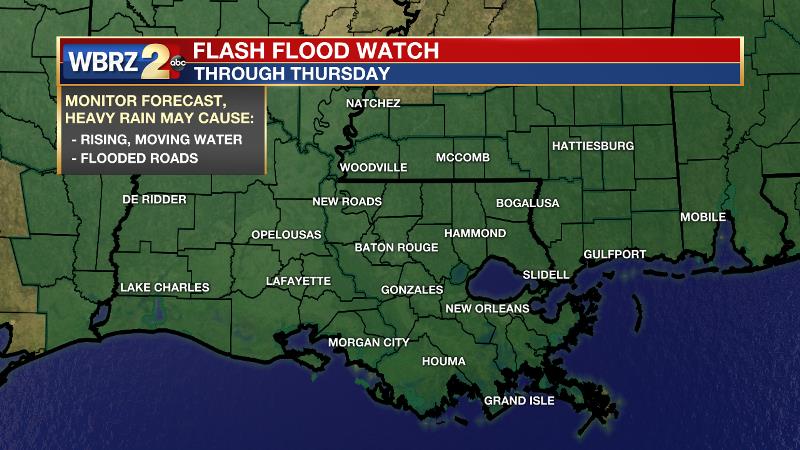 A COASTAL FLOOD ADVISORY is in effect for areas around the tidal lakes. East facing shorelines are receiving tides 1-3 feet above normal due to sustained easterly winds of 20-30mph. Inundation will continue in the usual spots through Friday afternoon.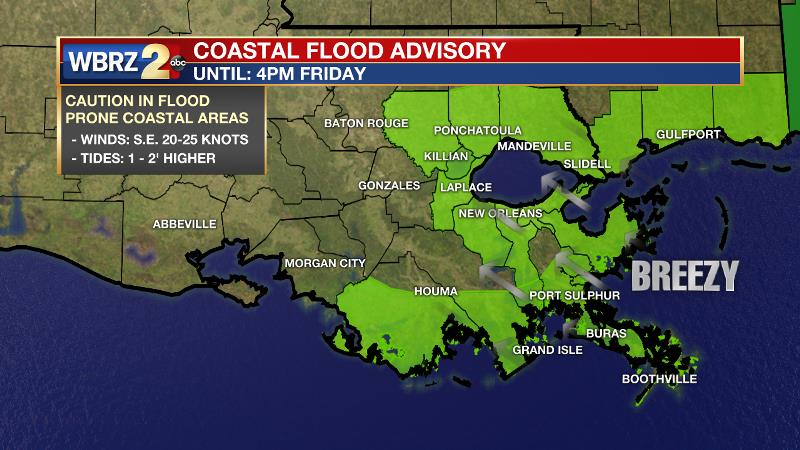 Actions:
Know your flash flooding and severe weather plans. Be prepared to act on those plans if and when any warnings are issued for your location. Here is a full recap of FLOOD SAFETY and SEVERE WEATHER SAFETY. Make sure there is a way to get warnings if they are issued such as a NOAA Weather Radio, the WBRZ Weather Team on Facebook and Twitter or the *free* WBRZ WX App. which sends push notifications to mobile devices if a watch or warning is issued for your location. Keep your cell phone charged and a charger nearby for use in vehicles too. Remember when hitting the roads, if you encounter an area that is covered with water, please turn around. Especially at night, there is no telling how deep the water is or if the road is intact below.
THE FORECAST:
Today and Tonight: Thursday will bring another day with scattered showers and thunderstorms. While Tropical Storm Cindy moves further away and breaks will become more numerous, this tropical environment is still very capable of producing heavy rain. High temperatures will make it into the mid 80s with southeast winds of 10mph. Pockets of rain will remain possible overnight with low temperatures staying in the mid to upper 70s thanks to a very tropical air mass remaining in place.
Up Next: Friday should start to mark a transition away from tropical rain bands. However, scattered showers and thunderstorms will continue through the weekend and even into Monday due to a remnant tropical trough and moisture. An additional 2-4 inches of rain could fall between Friday and Tuesday. That is a very manageable amount over a four day stretch. Over the weekend though, the daytime heating will also be needed to activate showers and thunderstorms. Afternoon temperatures will start to rebound back to the upper 80s. Early next week, a cold front is expected to slide through the area with another punch of showers and storms but some much drier and even cooler air to follow—quite a treat for late June.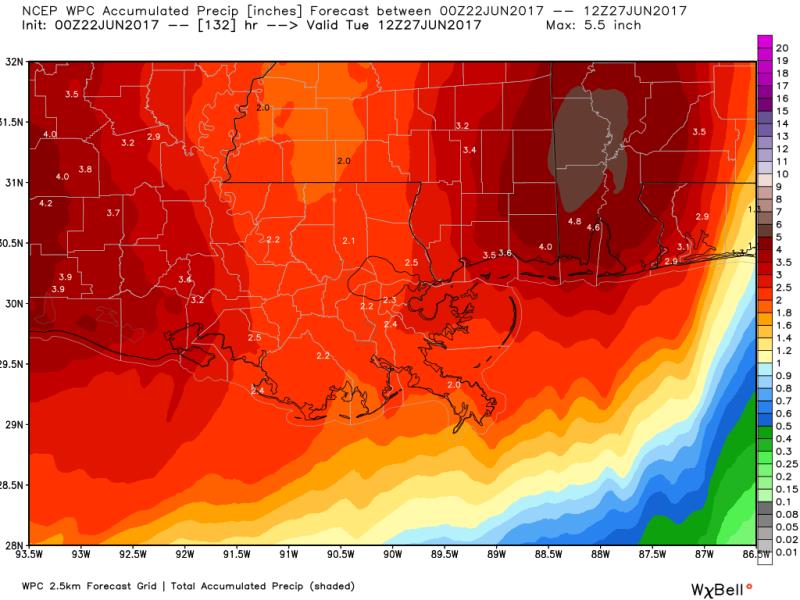 --Josh
More News