Showers becoming more isolated, two areas in the tropics
The next few days should not bring as many showers and thunderstorms as Sunday and Monday.
THE FORECAST:
Today and Tonight: Wednesday should end up being a quieter day in terms of showers and thunderstorms and therefore high temperatures will climb a little higher and into the low 90s. Still, isolated activity is expected to develop in the afternoon. Winds will stay light and southeasterly. Lows will still be in the mid 70s overnight with partly cloudy skies.
---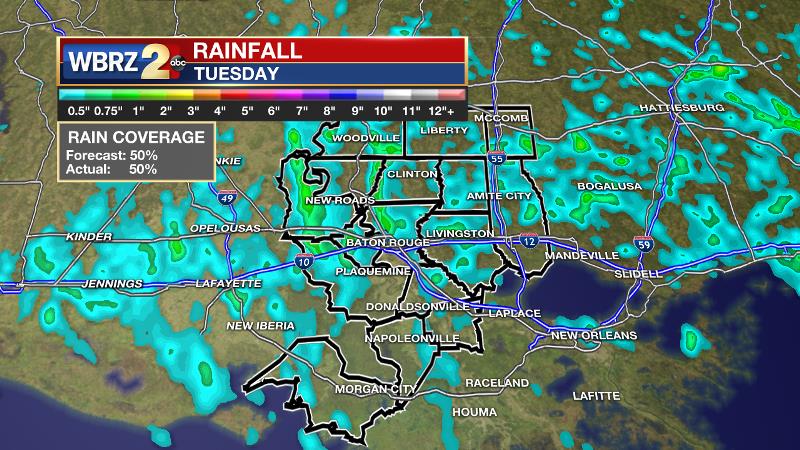 The forecast performed well again on Tuesday. Approximately 50 percent of the WBRZ Weather forecast area picked up measurable rain as expected. Unlike Sunday and Monday, fewer bouts of showers and thunderstorms were anticipated and indeed, the activity was limited to a single mid to late afternoon round.
Backwater flooding continues in Assumption Parish, especially in Pierre Part and areas near Belle River. As long as the Atchafalaya River remains above flood stage, drainage will no slow to nil. The latest forecasts suggest water levels will be elevated through the weekend.
---
Up Next: A pretty straightforward summer forecast will be carried through the remainder of the week with isolated to scattered showers and thunderstorms mainly during the afternoons. As rain coverage will be lower than earlier in the week, temperatures will climb into the upper 80s and low 90s. Nights will be partly cloudy and muggy with lows in the mid 70s. The weekend should be even less active and slightly warmer with most locations eclipsing 90 degrees by afternoon.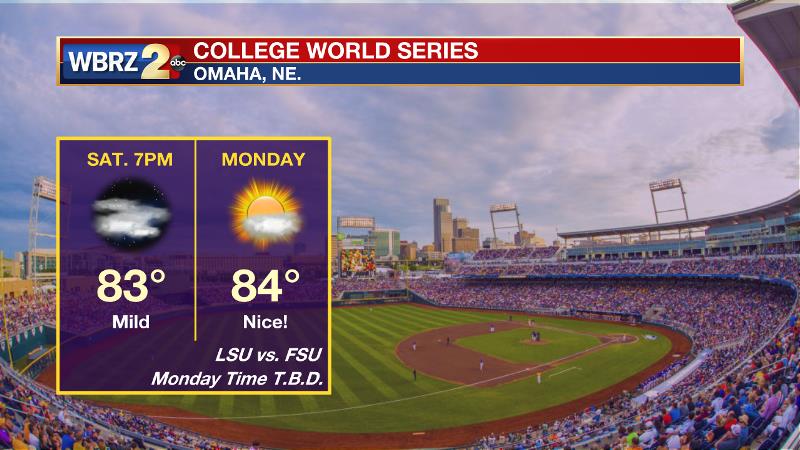 The LSU Tigers will take on the Florida State Seminoles at 7pm Saturday for their first College World Series game. In Omaha, the weather should be cooperative with temperatures in the 80s on Saturday evening. At this time, a shower can't be ruled out, but the chances look low. The second game will be played in very nice weather on Monday, though the time is not yet known.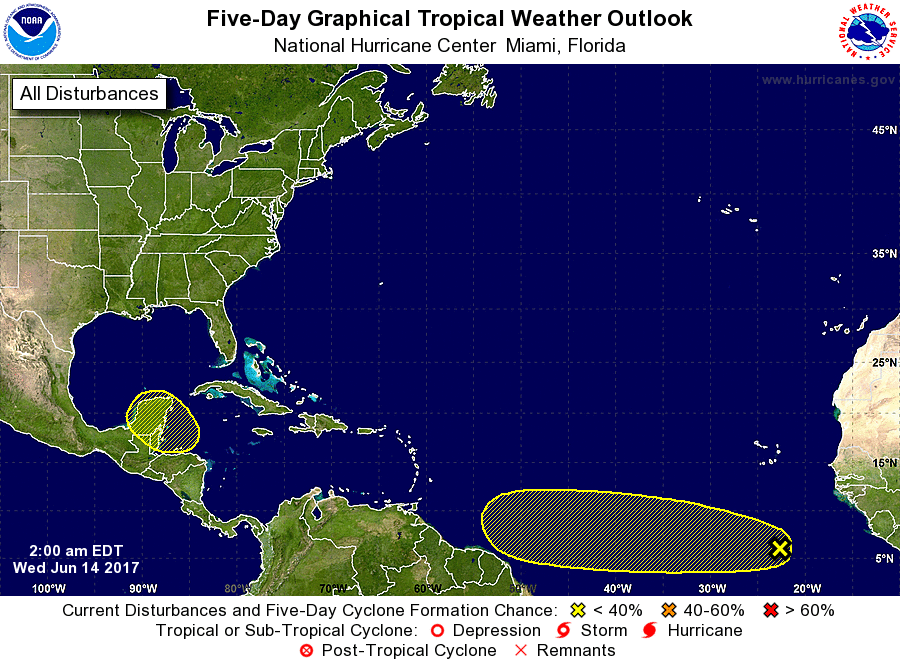 The Tropics: It continues to look as though a weak tropical wave will develop near the Yucatan Peninsula and move slowly northwestward into the Bay of Campeche by early next week. The National Hurricane Center pegs a 20 percent chance of further organization over the next five days. Due to an increased gradient from high pressure north of our area, this may help to increase tides and possibly showers over the Gulf of Mexico. Rather unusual for this early in the season, there is also a cluster of showers and thunderstorms in the far eastern Atlantic which is also given a 20 percent chance of development into next week.
THE SCIENCE: A slight ridge axis will protrude northeastward over our area today and this should help to further limit showers and thunderstorms thank to higher convective temperatures. Isolated to scattered activity will still flare up due to sea breeze interactions with early summer instability. Another trough digging southeast from the Ohio Valley may provide a slight uptick in rain coverage once again on Thursday and Friday. On the other hand, a reduction in atmospheric moisture should keep rain coverage lower than Sunday and Monday. That trough may cut off in the upper levels over the weekend. While this would suggest a better chance for convection, the moisture content in the atmosphere will remain a bit lower so showers and thunderstorms should stay in the isolated to scattered category. Dew point temperatures won't budge much through early next week so low temperatures will remain uncomfortable in the mid 70s with humid afternoons. High temperatures will climb as showers lessen with 90s possible Thursday through Monday.
--Josh
More News