Rain coverage increasing, new tropical system
A wetter pattern will begin to materialize through the end of the week and especially this weekend.
THE FORECAST:
Today and Tonight: Thursday will be partly sunny before isolated showers develop by the afternoon hours. Isolated is the key word; not all locations in the 13 Parish, 3 County forecast area are expected to receive rain. Highs will climb into the low 90s before any activity flares. Overnight lows will be in the mid 70s beneath mostly clear skies.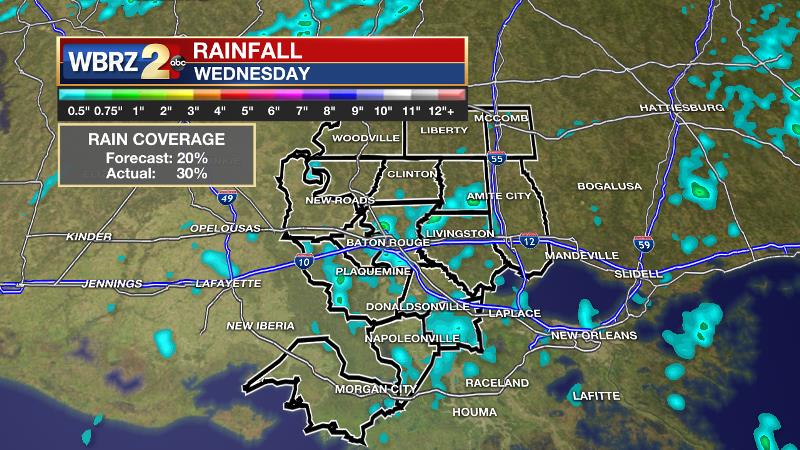 As expected, rain coverage ticked up just a touch on Wednesday. Actually a few more locations picked up rain than anticipated. The green shading, indicative of measurable rain, covered approximately 30 percent of the 13 Parish, 3 County WBRZ Weather forecast area while the forecast was for 20 percent.
Up Next: Afternoons will trend just a little wetter into the weekend with scattered showers and thunderstorms. Rain coverage should be in the scattered category, bringing measurable precipitation to about 50 percent of the forecast area each day. It should be noted that due to ample heat energy, any thunderstorms will be capable of producing downpours, frequent lightning and gusty wind. As a result of more rain bring around, look for temperatures max out around noon in the low 90s. Overnights will stay muggy and in the mid 70s.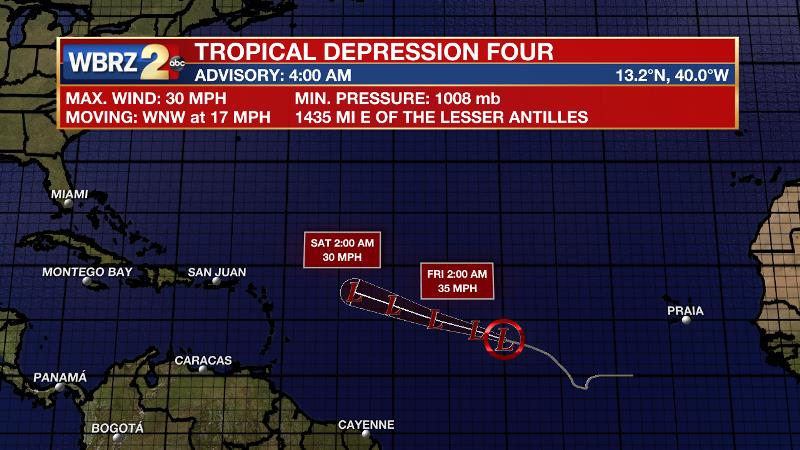 The Tropics: Tropical Depression Four has formed in the Atlantic Basin. The system is located some 1,500 miles east of the Lesser Antilles and moving west-northwest at 17mph. With maximum winds of 30mph and a minimum central pressure of 1008mb, little to no strengthening is expected as the storm accelerates northwestward. At this time, there is no threat to any land.
---
Have you ever wondered why weathercasters get so hung up on dew points? And why don't they emphasize the humidity? Find out more HERE.
---
THE SCIENCE: An upper level ridge has all but diminished due to an eastward advancing shortwave across the Midwest to the Mid-Mississippi River Valley. More instability and less subsidence will result in slightly higher chances for showers and thunderstorms to develop. This trend of increased rain coverage will continue through the weekend as a northern stream longwave trough digs into the Eastern U.S. Forecast models have been slightly overdoing rain coverage over the last few days, so we will not go quite as aggressive as the GFS and ECMWF that suggest 70 to 90 percent rain coverage and 1-3 inches over the next 7 days. Convection should primarily be limited to afternoons with 30 to 60 percent scattered rain coverage more like it. As of now, Saturday to Monday looks to be the most active period as this is when the trough will be deepest into the Eastern U.S. Additionally, forecast models hint at some positive vorticity advection enhancing development. Heat and humidity will persist with high temperatures in the low 90s likely being achieved around midday before convection initiates.
--Josh
More News