Police seeking multiple suspects after reported armed robbery at Southern University apartments
BATON ROUGE - Authorities are looking for three individuals after a reported armed robbery on Southern University's campus Thursday night.
A text message alert sent to students and faculty late Thursday says the alleged robbery happened around 7:30 p.m. on the third floor of building 300, a student housing building. Students were advised to stay indoors until an all clear was sent out later in the night.
The suspects were described as two males and a female wearing grey clothing.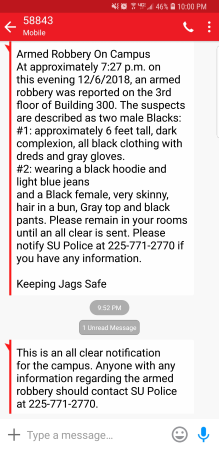 Anyone with information is asked to contact police at 225-771-2770.
More News