Monday AM Forecast: More rain is in the forecast for the week
There will be plenty of recovery time for drains and rivers today and tomorrow, but more rain is on the way.
THE FORECAST
Today & Tonight: After some areas picked up over 5 inches of rain on Sunday, today we will get a break. There may be a few showers and some fog around for your morning drive, but it will not last all day. The clouds will stick around, and temperatures will be in the low 70s with very high humidity. There will be plenty of recovery time for drains and creeks and streams today. Temperatures tonight will be in the upper 50s tonight.
Up Next: Tuesday will be a near repeat of Monday. A few spotty showers will be around, but most areas will not accumulate measurable rainfall. It will be warm and muggy all day with mostly cloudy skies and temperatures near 70°. More rain is in the forecast on Wednesday and Thursday. Wednesday showers will be largely north and west of Baton Rouge. Thursday will bring another round of heavy rain through the Baton Rouge area. An additional 1-2inches+ is possible. After that, we will be totally dry as we head into the weekend. Temperatures will be a bit cooler as well. Click here to see the 7-day forecast.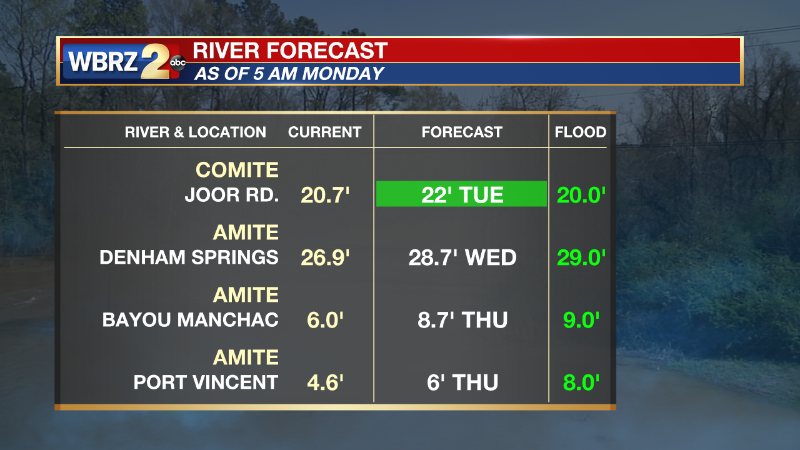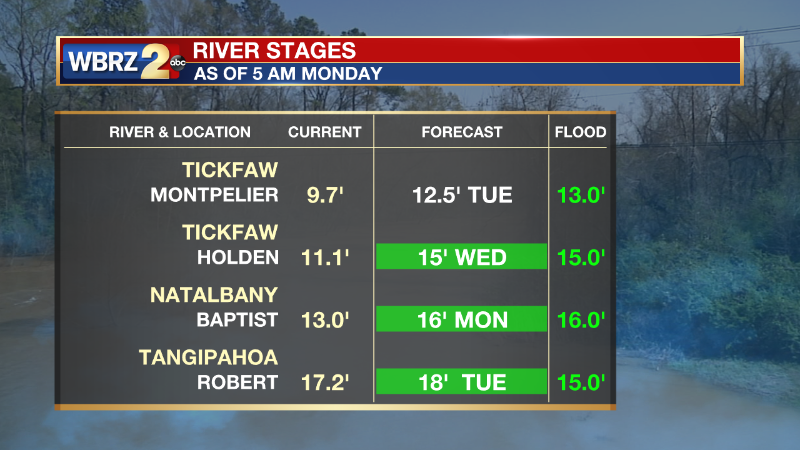 Hour-by-hour weather tracking is available for your location on the WBRZ WX App on your Apple or Android device. Follow WBRZ Weather on Facebook and Twitter for even more weather updates and unique weather insight from the whole team!
More News