LSU crushes Greek Life in wake of fraternity death
BATON ROUGE - All Greek activities are suspended at LSU as the university investigates an on-campus fraternity concerning the Wednesday night death of an 18-year-old student.
The coroner's office has confirmed to WBRZ that 18-year-old Max Gruver from Roswell, Georgia was taken to a hospital from the Phi Delta Theta Fraternity house Wednesday night. He was later pronounced dead at that hospital.
An autopsy revealed Gruver had an elevated blood-alcohol level and marijuana in his system, according to the East Baton Rouge Coroner's Office.
LSU Spokesperson Ernie Ballard confirmed that the university was investigating the fraternity Thursday afternoon after police were spotted at the Phi Delta house. Ballard later added that the school is investigating the death as a possible hazing incident.
District Attorney Hillar Moore was also on the scene Thursday as the LSU Police Department investigated.
In the mean time, LSU President F. King Alexander says all Greek activities are suspended at the school pending an investigation into Gruver's death. In addition, the national chapter of Phi Delta Theta has removed the charter from its LSU chapter, effectively shuttering the fraternity.
LSU released the following list of activities that are banned as the school investigates Gruver's death: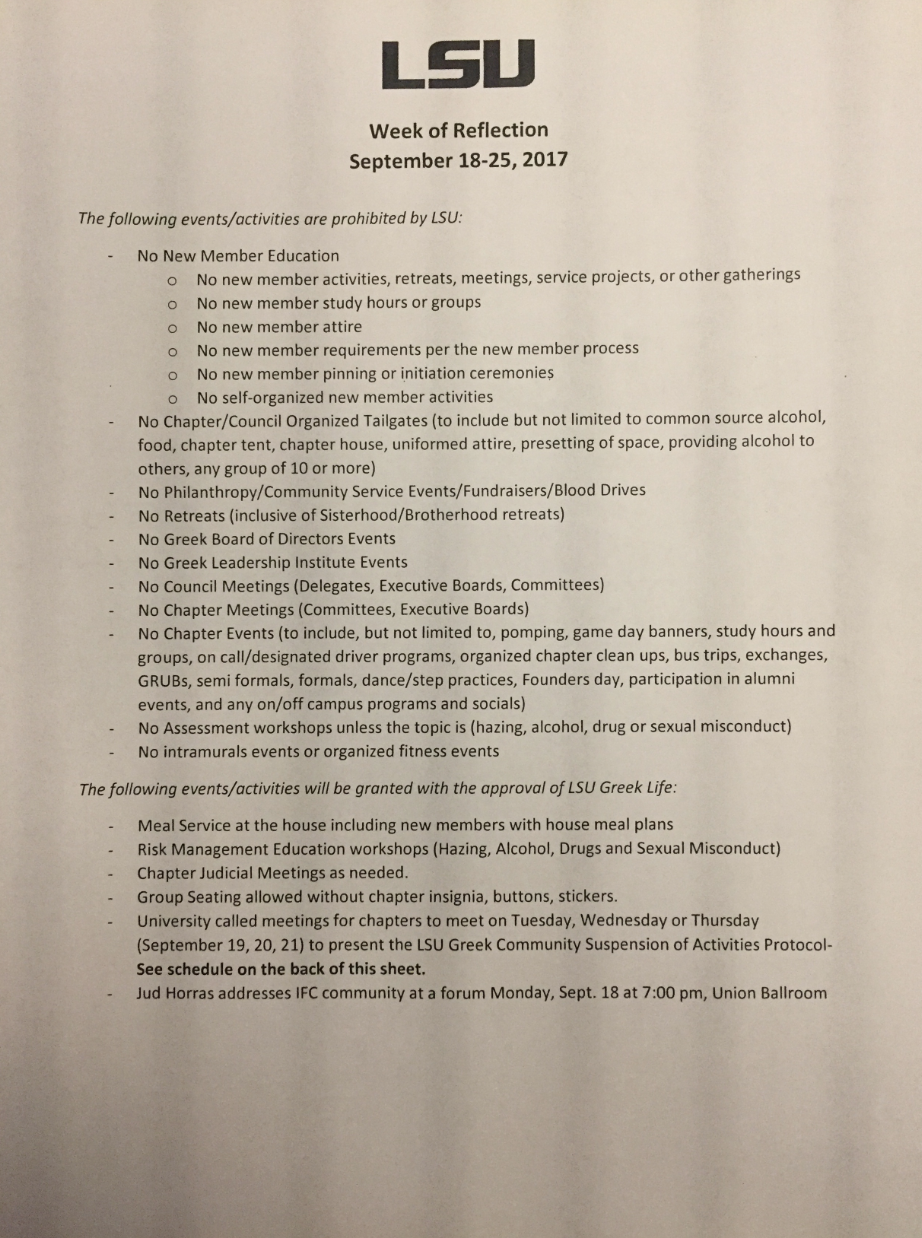 Phi Delta released the following statement on Monday:
The determination to suspend operations at LSU was based on the preliminary findings of an investigation that uncovered enough information to conclude that some chapter members were in violation of established risk management policies, including our Alcohol Free Housing policy.
The national chapter's full statement can be found HERE.
This is a developing story. Check back for updates.
More News
Desktop News
Click to open Continuous News in a sidebar that updates in real-time.