DOTD to begin widening I-10 at City Park Lake this month as expansion project moves into next phase
BATON ROUGE - The Department of Transportation and Development announced Monday it was moving the long-awaited I-10 widening project into its next major phase of construction starting next week.
The announcement from DOTD says crews will start permanent widening work on I-10 West over City Park Lake on Nov. 27. Drivers can expect a lane shift on the westbound side of the interstate between the Perkins Road on-ramp and Dalrymple Drive off-ramp, with temporary barriers placed along the outside lane to give crews room to work.
Crews will begin constructing the new westbound City Park Lake bridge once they've completed the temporary trestle bridge sometime during spring 2024. The new bridge will have four lanes and will be completely separate from the eastbound structure, which will be built at a later date.
DOTD urges drivers to pay close attention while moving through an active work zone, and expect additional delays. The westbound lanes will be more narrow and the shoulder will be removed.
A handful of road closures surrounding the interstate will take place starting Nov. 27 as well. East Lakeshore Drive underneath I-10 will be closed between Fiero Street and Lake Hills Parkway for the next three years, with only local traffic allowed to pass.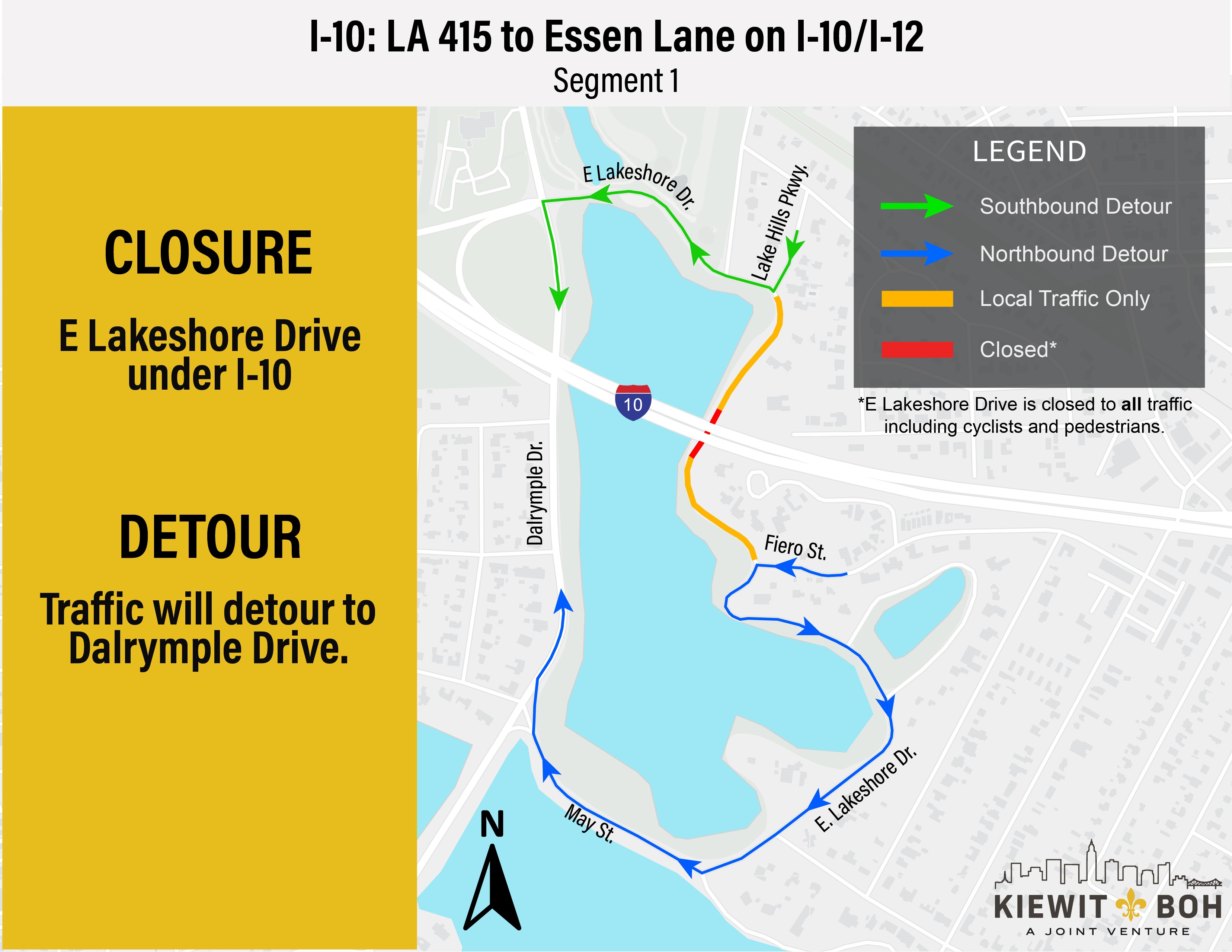 Other closures include:
S. 10th St. –

Southbound left shoulder closure between Europe St. and S. Blvd. from 7 am to 5 pm on Nov. 21 and Nov. 22.

E. Harrison St. –

Full closure between Virginia St. and Carolina St. from Nov. 27 through summer 2025.

Dalrymple Dr. –

Full closure between E. Lakeshore Dr. and I-10 eastbound off-ramp from 7 pm to 5 am on Nov. 27 through Dec. 8. (No Fridays or Saturdays.)

Ebony Ave., north of I-10 –

Southbound full closure between Baywood Ave. and I-10 from 7 am to 5 pm on Nov. 27 through Dec. 1.
This phase of construction is expected to be complete in late 2025, weather permitting.
Read the full DOTD announcement here.
More News