Cold front moving through today, another next week
Monday and Tuesday morning paired up for back-to-back record warm low temperatures at 74 and 76 respectively. Although lows will dip into the 60s over the coming days, afternoons will be just as hot.
THE FORECAST:
Today and Tonight: Wednesday will be partly sunny with slightly lower humidity. As a weak front trudges through the area, a coastal shower will be possible. High temperatures will top out in the mid to upper 80s. A mostly clear night is ahead with low temperatures in the upper 60s.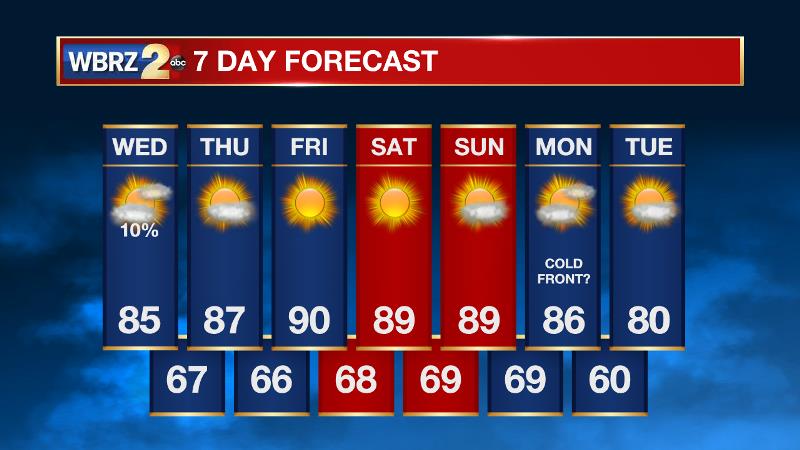 Up Next: Thursday through Sunday will bring mostly clear skies with minimal, if any, afternoon showers. While slightly drier air will allow low temperatures back into the upper 60s, afternoons will remain just as hot with high temperatures approaching 90 degrees. Too far out to say with confidence, the next hope for a cold front could come early next week. Early signs are encouraging though as forecast models are printing out temperatures a little closer to average with highs near 80 and lows near 60.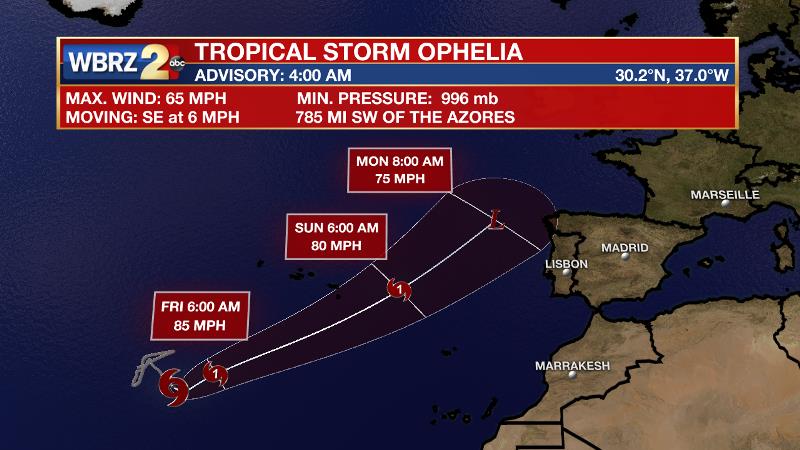 The Tropics: As of4am Wednesday, Tropical Storm Ophelia was located 785 southwest of the Azores. With maximum winds of 65mph the system was drifting southeast at 6mph and will not go anywhere fast. While it could reach hurricane strength late in the weak, the storm should weaken as it approaches Portugal next week.
THE EXPLANATION:
A mid-level ridge in the southeast U.S. will expand westward over the next several days. A weak cold front barely pushed through the region and is now dissipating. Because of the front, dew points have been nudged back and overnight lows will therefore drop into the upper 60s rather than low 70s. As drier air warms more efficiently than humid air, the next couple of afternoons may actually be hotter than early week and compressional warming will assist this. Especially Friday and Saturday, a few high temperatures near 90 degrees will be possible. The ridge aloft is also expected to keep convection to a minimum and only low topped cumulus clouds are expected during the afternoon hours. Into next week, both the GFS and ECMWF models show a shortwave trough temporarily moderating the ridge which could result in slightly cooler temperatures, but this is too far out to hold our breath.
--Josh
More News