Volunteers use crane to rid Lake Maurepas of dangerous logs
UPDATE: According to Clint Cheveallier, volunteers have collected their second load of logs.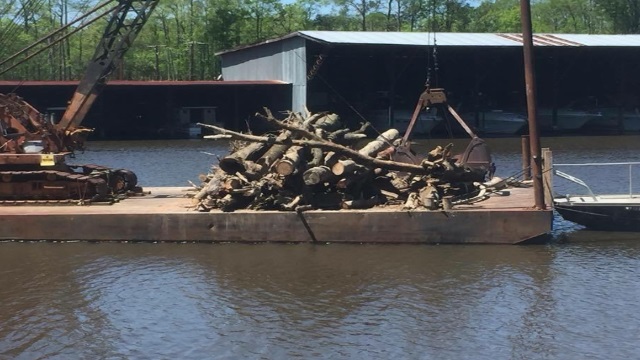 "Between the two loads we've removed some 30 logs which represented a serious threat to boaters in Lake Maurepas," Cheveallier said. "It's worth repeating that we cannot be certain that we got them all so be on the lookout."
*****
LIVINGSTON PARISH - After government agencies ignored their requests, boaters in Livingston Parish took it upon themselves to clean up the waterways.
The 2016 flood left large logs in Lake Maurepas that create safety concerns.
If a boat hits one, the damage can run into the thousands of dollars.
A group is now using a crane on a barge to do some of the difficult work to remove the hazards.
"I almost hit one in this boat, so I started looking, being more aware and started seeing a lot of them," said Clint Cheveallier, who is spearheading the cleanup project.
He has been trying for years to get the logs removed because he knows how dangerous the floating debris can be for boats going 60 or 70 mph.
"Hitting one of these logs with that type of boat running at that speed, it would splinter it, and there's a big chance someone could get hurt or killed," he said.
Chevaillier says local authorities haven't been helpful.
"We've talked to the sheriff's departments, Wildlife and Fisheries, trying to see who is responsible," he said. "Of course, every agency seemed to suggest it was someone else's job."
So Cheveallier recruited a friend who owns the equipment, and began the process. In the past two days, the group has found 30 logs in a 5-mile span that need to be removed. Some are 20 feet long.
He expects the work to take several days, this time.
"We won't be done because every time the water comes up high there will be more stuff that moves in here," Cheveallier said.
The community members are asking for the public's help. Through the Facebook page, Lake Maurepas Safe Boating Project, people can make monetary donations to keep the cleaning efforts going.
More News