Driver led police on 150mph chase before deadly helicopter crash; suspect booked for manslaughter
ERWINVILLE - A man who fled police in Baton Rouge, triggering a high-speed chase that spilled into West Baton Rouge Parish, is facing manslaughter charges after the pursuit led to a helicopter crash that killed two officers.
On Monday, the Baton Rouge Police Department identified the officers killed as Sgt. David Poirrier, 47, and Cpl. Scotty Canezaro, 38. Poirrier had been with the department for 17 years, and Canezaro was there for 16 years.
An autopsy report released Tuesday said both men died from multiple blunt force traumatic injuries.
Authorities say the BRPD helicopter crashed into a cane field off North Winterville Road, just off U.S. 190. An initial report sent to the Federal Aviation Administration preliminarily said the helicopter appeared to have struck a tree before it went down. It's not yet clear if there were any other issues that led to the crash.
There were no severe weather factors at the time.
The FAA arrived at the crash scene Monday and was still collecting pieces of the wreckage that afternoon.
"The FAA and their investigators will be leading this investigative process. We're asking the community to be respectful of the investigative process because it does take time, so that we can release all of the facts," BRPD Chief Murphy Paul said during a press conference Sunday afternoon.
According to flight data, the helicopter took off from Baton Rouge Metro airport at 2:26 a.m. and crashed in a field nearly three miles away from the Omni airport 12 minutes later. Sources told WBRZ the helicopter was found around 11:30 a.m. after the pilots did not come home from work.
WBRZ learned Monday that the BTR air traffic control tower was unmanned at the time of the crash, which likely factored into why the crash went unnoticed for so long. The ATC tower is regularly unmanned from midnight to 5 a.m. each night.
The helicopter was reportedly assisting in a vehicle pursuit when the crash happened. The West Baton Rouge Sheriff's Office confirmed Monday that DeAndre Bessye, 23, was taken into custody Sunday night.
The chase involved a 2014 Ford Mustang being pursued by BRPD after a reported hit and run on Sherwood Forest boulevard early Sunday morning. While fleeing police, Bessye ran multiple red lights and turned off his car lights in effort to evade officers, according to an arrest warrant obtained by WBRZ.
Bessye eventually turned onto Florida Boulevard, veering into the path of oncoming traffic near the intersection Florida and Oak Villa Boulevard and driving through a construction zone.
The car made its way onto I-110 southbound and headed toward West Baton Rouge. Shortly before crossing the Mississippi River, police said Bessye was seen throwing a white bag out of his car in an attempt to hide "key evidence." Police eventually went back to the area where the bag was dumped but couldn't find anything.
The vehicle crossed into West Baton Rouge around 2:30 a.m. via I-10. Bessye reportedly exited north onto LA 415, reaching speeds up over 150 miles per hour. BRPD terminated the chase minutes later near the intersection of US 190 and Bueche Road.
Around 3:14 a.m., West Baton Rouge deputies found the vehicle abandoned at a home on Poydras Bayou Drive. Bessye had allegedly told the property owner that his car ran out of gas and hitched a ride to a nearby gas station. He then apparently phoned a friend who gave him a ride back to Baton Rouge.
Police noted that Bessye later contacted law enforcement claiming that his car had been stolen, but cell phone data helped place him at the scene of the pursuit.
Bessye was later booked on two counts of manslaughter, aggravated flight from an officer and aggravated obstruction of a highway. He also faces charges of aggravated flight from an officer and hit and run in East Baton Rouge Parish.
West Baton Rouge officials confirmed Tuesday he was being jailed on a $950,000 bond. If he does bond out, he will be taken to East Baton Rouge and booked into jail there on his other charges.
Shortly before 11 a.m. the morning of the crash, family members of one of the officers riding in the aircraft contacted the sheriff's office and asked them to check the area between North Winterville Road and Bueche Road, where the wreckage was ultimately found. Sources told WBRZ family members were able to ping the location of one of the victims' phones.
"I'm going to ask the same thing a family member asked me when we were on the phone. Right now Chief, we need prayers. So please, pray for the families of our officers as they go through this difficult time," Paul said.
Mayor Broome issued the following statement Sunday afternoon:
On behalf of the City of Baton Rouge, I extend my deepest condolences to the families and colleagues of the BRPD officers who tragically lost their lives today in a helicopter crash.
These officers served our community with distinction and bravery, and we will forever be grateful for their service and sacrifice.
We are working closely with the Baton Rouge Police Department to offer support for their investigation into the cause of this tragedy and to provide support to the families and colleagues of the fallen officers.
We ask the community keep the families of the fallen officers in their thoughts and prayers, and we express our heartfelt gratitude to all of the first responder agencies who have been working tirelessly to support our city during this difficult time.
Condolences also poured in Sunday from first responders across the region - many posting the same image of a BRPD badge marked by a black stripe, noting the loss of the two officers.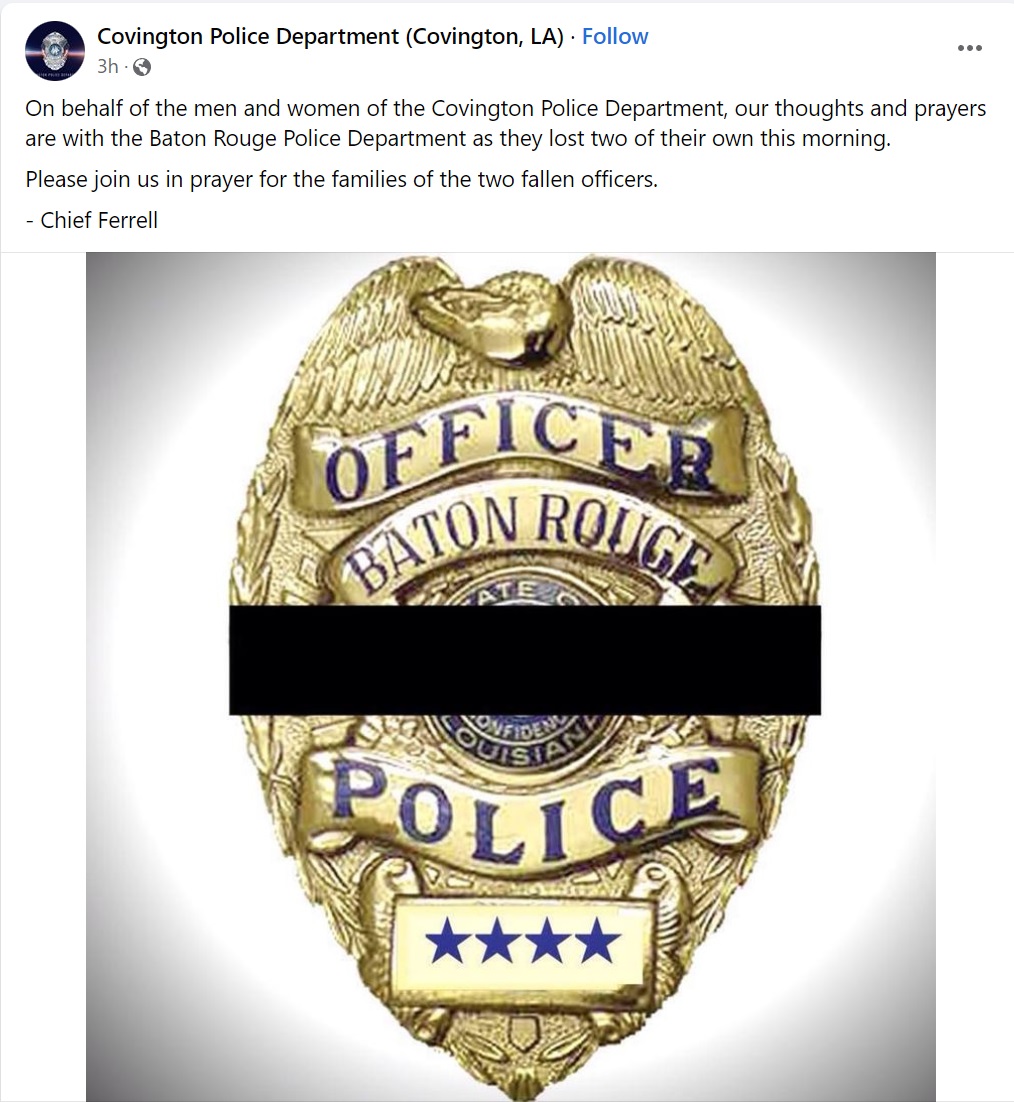 The helicopter has been a resource for BRPD since 2010. It has since undergone technology updates and re-painting. FAA records show the Robinson 44 II aircraft is certified through mid-2028.
The R44 is a twin-blade helicopter that is one of the more common models used by law enforcement. It was developed in the early 1990s and put to general use in 1993.
The Federal Aviation Administration said the crash site has been deemed off-limits for pilots in a one-mile radius around and above the area until Tuesday evening.
More News