Tuesday AM Forecast: Fog for the morning and clouds for the afternoon
There is widespread dense fog across all of south Louisiana this morning.
THE FORECAST
Today & Tonight: There is a Dense Fog Advisory out until 10 a.m. today. Expect to be moving slower than the speed limit on your morning drive. This afternoon will be mostly cloudy with spotty showers in and out. Measurable rainfall will be minimal. Temperatures will be in the upper 60s all day and temperatures will be in the mid-50s at the coolest tonight.
Up Next: More rain is in the forecast on Wednesday and Thursday. Wednesday showers will be largely north and west of Baton Rouge. Thursday will bring another round of heavy rain through the Baton Rouge area. Showers will be on and off starting early and lasting through the late evening. An additional 1-2+ inches is possible. After that, we will be totally dry as we head into the weekend. Temperatures will be a bit cooler as well. High temperatures on Friday will be in the 50s and we will drip into the 30s into Saturday morning. The weekend is looking mostly sunny and comfortable with temperatures in the mid-60s in the afternoon and overnight lows in the 40s. Click here to see the 7-day forecast.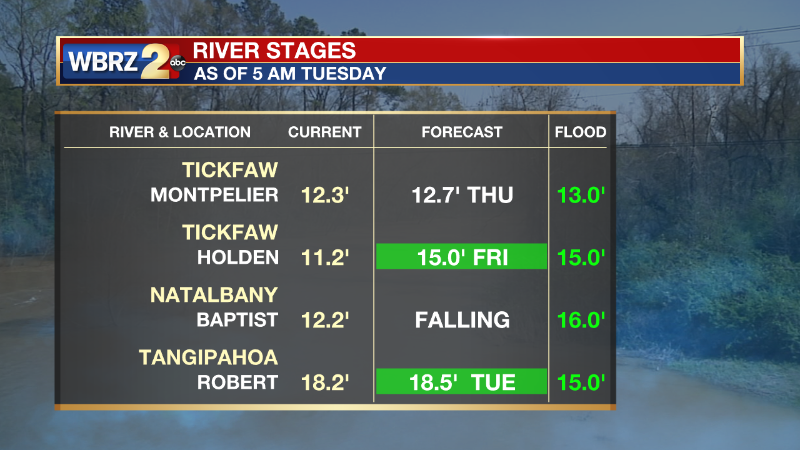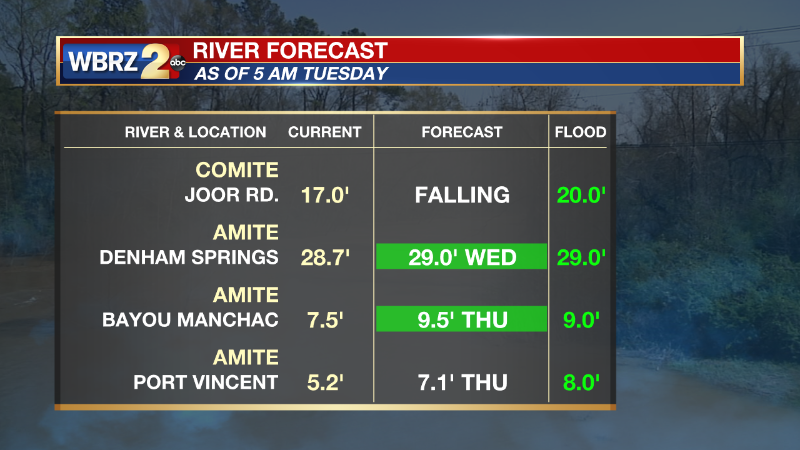 Hour-by-hour weather tracking is available for your location on the WBRZ WX App on your Apple or Android device. Follow WBRZ Weather on Facebook and Twitter for even more weather updates and unique weather insight from the whole team!
More News