Tropical Wave May Bring Heavy Rain
THE FORECAST:
*COASTAL FLOOD ADVISORY IS IN EFFECT UNTIL 7 PM ON SUNDAY*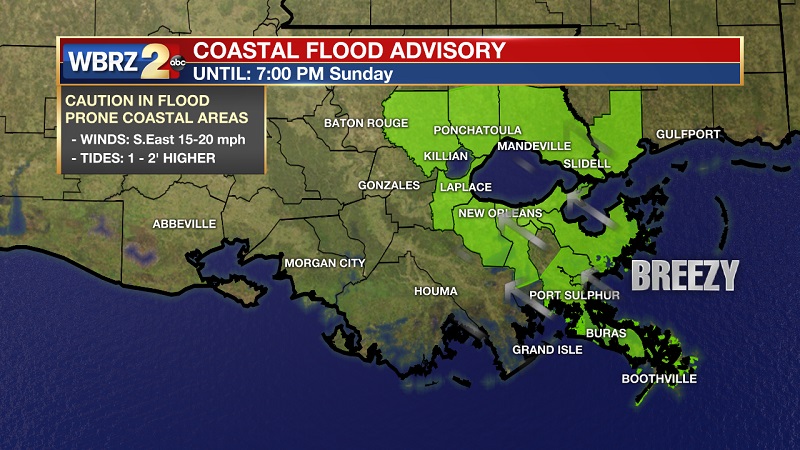 Tonight and Tomorrow: Spotty showers and an occasional storm will linger through much of the evening, as cloudy skies persist through the night. There should be a brief break in the rain between 9 PM and midnight, but overnight showers will increase through Sunday morning. A return to widespread showers and storms through Sunday afternoon, helping to keep temperatures mild with highs near 85°.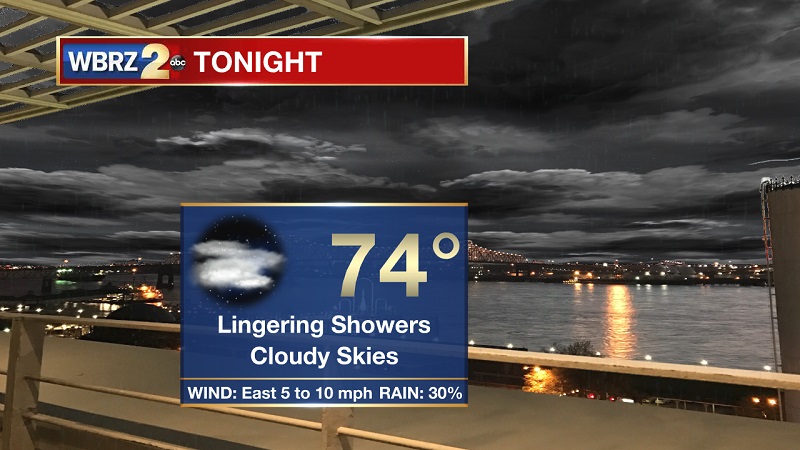 Up Next: There has been a significant amount of Gulf moisture moving onshore over the last several days, and that will continue through the weekend and into the workweek. Tropical moisture is likely to bring even more rainfall across the Pelican State as we proceed through the midweek.
The Tropics
Tropical Storm Florence is continuing to spin in the Eastern Atlantic, about 310 miles west of the Cabo Verde Islands. Sustained winds are at 45 mph, and is moving WNW at 16 mph. General motion through Tuesday should continue toward the WNW, with slight strengthening expected over the next few days.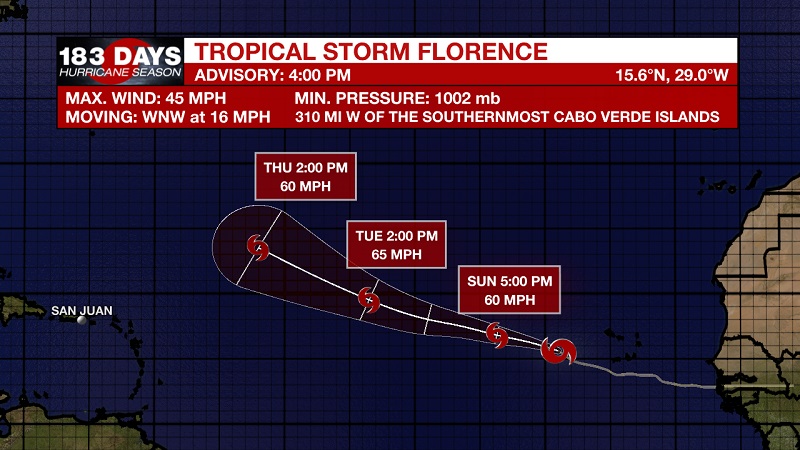 We are keeping our eyes on an area of disorganized storms over the Bahamas, Turks and Caicos, and adjacent Atlantic waters. This convection is associated with a Tropical wave, that is expected to move west-northwestward across the remainder of the Bahamas and south Florida through the weekend. It is unlikely that it will develop until it crosses over Florida and reaches the Gulf, due to the upper level shear that is impairing its development. Once it moves into the Eastern/Northern Gulf, this shear and warmer sea surface temperatures could allow for the development of a tropical disturbance or storm. The models are in disagreement with intensity and location, varying from a tropical storm along I-10 through Louisiana to a weak low moving onshore along the Mississippi/Alabama border. Regardless of location and intensity, scattered to widespread showers and storms are likely Tuesday through early Thursday. The National Hurricane Center is forecasting a 20% chance of development over the next two days, and 50% chance of development within the next five.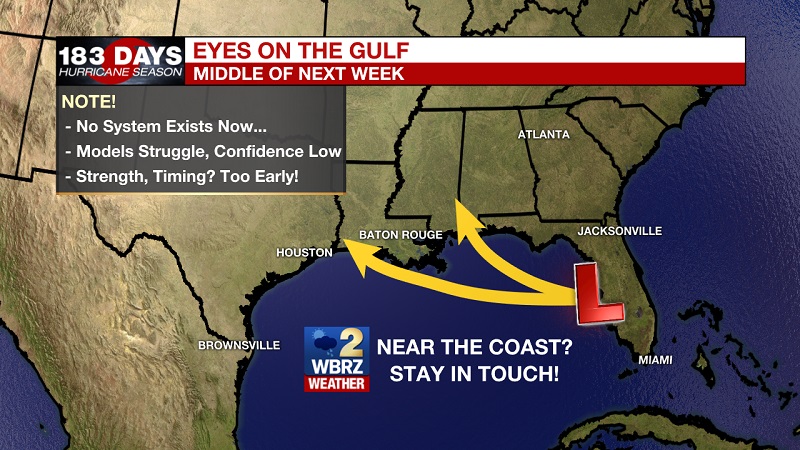 THE EXPLANATION:
A high pressure center location on the Georgia/Carolina border is currently working with a low pressure just offshore of Port Arthur, Texas to bring substantial moisture onshore from the southeast. This will continue through the weekend, but slow on Monday as both centers separate and retreat northeast and southwest. Isolated showers will still continue though, as the strong high pressure along the East Coast will keep rainfall pushing onshore along the Gulf Coast. A tropical wave is on the way from the Bahamas, which will travel across Florida and move into the Eastern Gulf. There, it will encounter an environment with less upper level shear and warmer sea surface temperatures, allowing it to strengthen. It is accompanied by a significant amount of moisture, potentially dropping 2 to 5 inches of rain during its visit. Models are not very consistent about how much it will intensify or where it will go during this period, but the timing has quickened to Tuesday through early Thursday. There is a possibility it could intensify to a tropical storm and move east to west across Southern Louisiana, but another outcome is keeping it a weak low pressure that moves onshore into Eastern Mississippi. Either way, expect tropical moisture to increase Tuesday and stay through Wednesday.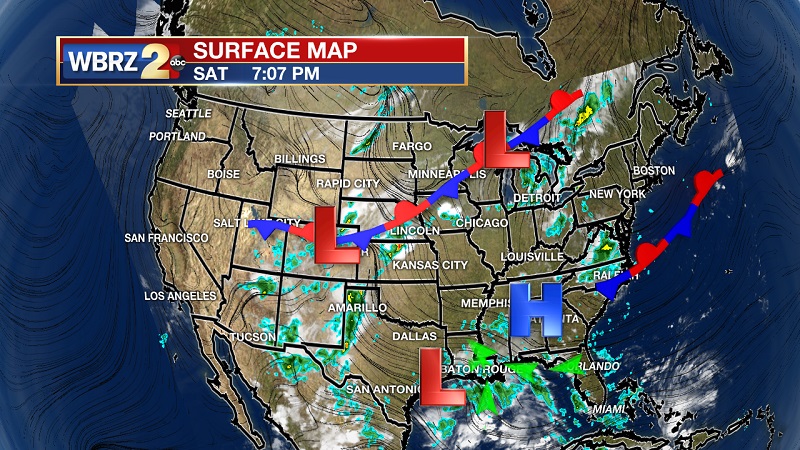 --Meteorologist Matt Callihan
The WBRZ Weather Team is here for you, on every platform. Your weather updates can be found on News 2, and the WBRZ WX App. on Apple and Android devices. Follow WBRZ Weather on Facebook and Twitter for even more weather updates while you are on the go.
More News