Student uses iPhone's location-sharing feature to escape kidnapper
ATLANTA, GA - A college student who was kidnapped and raped was able to escape by outsmarting her abductor.
On Sept. 4, 2017, 21-year-old Jaila Gladden made a trip to a grocery store around 11:30 p.m.
According to a report by the Carrollton Police Department, Gladden made a purchase, walked out of the store, and was approached by a man in the parking lot who asked her for a lighter. Gladden told the man she didn't have one and continued walking to her car.
Police say Gladden arrived at her vehicle and felt a knife press against her. The man then forced her into her own car and instructed her to sit in the passenger's side.
Shortly afterward, Carrollton Police say the suspect parked the Honda behind an abandoned church nearby and raped Gladden.
Following the assault, the suspect continued driving and told Gladden he needed money and was planning to rob a gas station. Police say Gladden told her abductor she needed her phone to google the closest gas station locations for him.
When the suspect handed Gladden back her phone, she immediately shared her location with her boyfriend, Tamir Bryant. She was in Atlanta, about 50 miles from the grocery store in Carrollton where she was kidnapped, police say.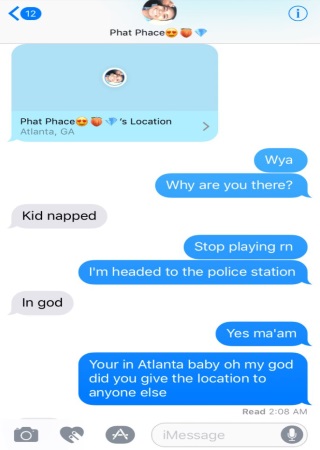 Bryant immediately contacted the Carrollton Police Department. Authorities instructed Bryant to text Gladden and asked what kind of car she was in.
"Mine," she replied. "I don't want him to kill me."
Authorities notified police in Atlanta. Later, an officer canvassing a parking lot saw an idle car matching the description. The suspect spotted the officer and sped off before crashing the Honda into a fence.
Gladden got out of the car and ran toward the police officers, telling them the man jumped the fence and fled. The suspect, Timothy Wilson, was arrested ten hours later.
He has been charged with kidnapping, hijacking a motor vehicle, aggravated assault, rape, aggravated sodomy, false imprisonment, and aggravated assault against a police officer.
Wilson remains in jail awaiting trial.
More News