Similar, predictable pattern changing this weekend
While the summer pattern continues, some tropical moisture may throw a wrench into the forecast by this weekend.
THE FORECAST:
Today and Tonight: Your Tuesday will once again bring partly sunny skies and midday highs near 90 degrees. By the afternoon, scattered showers and thunderstorms are expected to develop for about half of the 13 Parish, 3 County forecast area. Any storms will be capable of downpours. Overnight will be partly cloudy and muggy with lows in the mid 70s.
---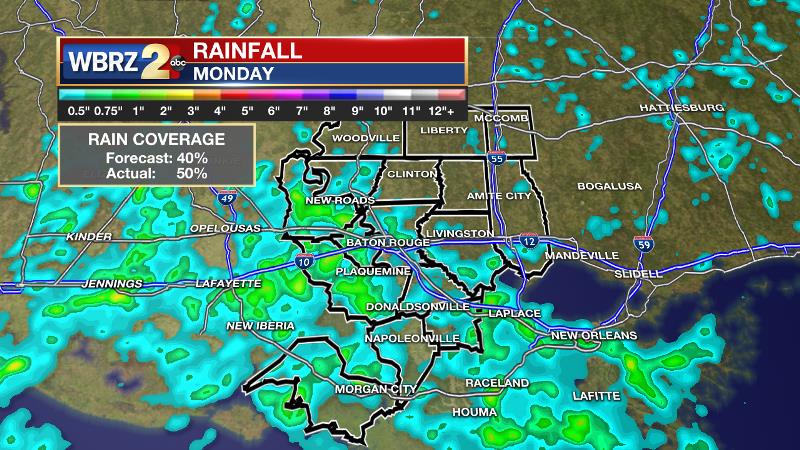 Monday's rain coverage was right in line with expectations of scattered activity. The green shading, indicative of measurable rain, covered approximately 50 percent of the 13 Parish, 3 County WBRZ Weather forecast area. Approximately 1-2 inches of rain fell in portions of Iberville and Pointe Coupee Parishes due to the slow-moving summer storms.
---
Up Next: While scattered showers and thunderstorms remain possible into Wednesday, a declining trend should be noted in afternoon activity. Especially Thursday and Friday, showers should be more isolated across the area. As a result, expect high temperatures to climb into the low 90s with widespread readings around 93 degrees and some locations potentially reaching 94 or 95 degrees. Afternoon action will trend up again by Sunday (possibly as early as Saturday) due in part to some tropical moisture associated with the remnants of what was Tropical Depression #4. Exactly how much energy can hang on from the wave that is currently north of Puerto Rico is still a question. As this becomes clearer, we will have a better idea as to just how much this will enhance shower and thunderstorm development.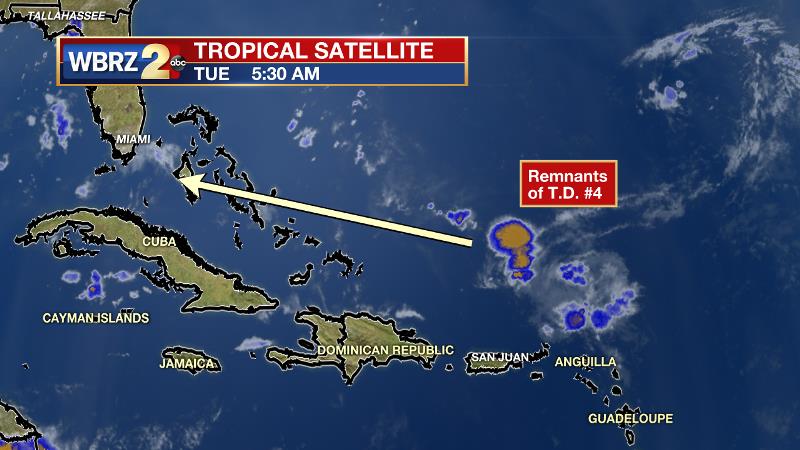 The Tropics: The remnants of Tropical Depression #4 are not expected to regenerate over the coming days. An area of showers and thunderstorms being monitored off of the African Coast yesterday has dissipated. No further development is expected over the next 5 days.
THE SCIENCE: As 500mb heights gradually increase this week there should be a slight reduction in afternoon convection. At the same time, mid-level relative humidity progs are trending a bit lower. The combined warming and drying of the atmosphere should push daily rain coverage from the scattered, 50 percent range down into the isolated 20 percent range. Of course, as showers and thunderstorms decrease, temperatures can be expected to reach a little higher during the afternoon hours with longer duration peak heat indices. Thermometers should max out in the low 90s with dew points staying in the middle 70s maintaining "feels like" temperatures between 100 and 105 degrees. By the weekend, an inverted trough or tropical wave may move westward across the Gulf of Mexico once again enhancing shower and thunderstorm development. All in all, the next 7 to 10 days should continue the status quo for July along the Central Gulf Coast.
--Josh
More News