Person killed in reported tubing accident on Amite River
DENHAM SPRINGS - One person is dead after a drowning at Tiki Tubing on Saturday morning.
Livingston Parish Sheriff's Office said the incident happened around 11 a.m. when 52-year-old Elson Johnson Jr. got out of his tube by the launch site.
Deputies said Johnson Jr. was in waist-deep water when he slipped and was unable to resurface.
A homeowner who lives near the drowning location says the business is a danger to the community. She didn't want to be identified because of possible backlash from the owner of Tiki Tubing.
"People are drowning, people are losing their lives. And it's all about money. It's all about out the money," the resident said. "EMS has to get called out just about every weekend."
The mayor of Central, David Barrow, posted on social media asking residents to stay out of the Amite River.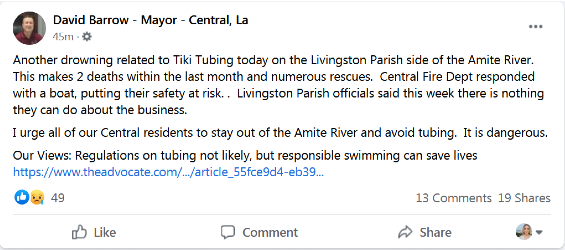 This drowning is the latest of a string of incidents at Tiki Tubing.
July 17, one week ago, 15 Tiki Tubers were rescued from the Amite River after tubing while the water was at an unsafe level. Tiki Tubing told the group that because the river was high the trip would not take as long.
Last month, one Tiki Tuber drowned after a tubing accident.
Deputies are still investigating the scene and the final cause of death will be released after an autopsy.
The president of Livingston Parish, Layton Ricks, says the deadly accidents at Tiki Tubing will be addressed, but at this point, there's not much the parish can do.
"I plan on bringing it up at the next council meeting, and talking with the guys, and seeing the direction they want to go," Ricks said.
Ricks says at this time, the parish has nothing in place to require Tiki Tubing to have safety measures in place.
"He does not have an occupation license with us, so there's nothing that gives me any legal bounds to go in and do anything with him," Ricks said.
But the parish president says the council could come up with an ordinance that would require the business to make sure their customers are safe while going down the river.
"Does he have anybody monitoring the water, the ride? Does he have anybody up and down the water says to make sure people are staying safe? Is that something that we can put into an ordinance and require him to do?" Ricks questioned.
The next parish council meeting when Tiki Tubing can be addressed will be on Thursday, August 12th.
More News