Monday AM Forecast: slim chance of showers before more record heat
On Sunday afternoon, Metro Airport in Baton Rouge reached 105 degrees tying an all-time hottest temperature for the second day in a row. The former 105 degree record was set on August 30, 2000.
Summer 2023 will go down in the history books as the hottest on record for the Capital Area. There have already been a record-breaking (by a lot) 25 nights staying at or above 80, and 23 days reaching at or above 100 (record of 28 will be challenged this week).
Stay prepared for dangerously hot and dry conditions. After a slim chance for showers on Monday, the story of the week will be the hottest temperatures so far this summer, and possibly all-time in the Baton Rouge area.
A ***RED FLAG WARNING*** will be in effect on Monday. Dry conditions, hot temperatures, low humidity and persistent breezes will lead to critical fire weather and burning should be avoided at all costs.
A ***HEAT ADVISORY*** will be in effect on Monday. Hot temperatures in the upper 90s and low 100s will pair with enough humidity to create feels-like temperatures over 107 degrees. Remain hydrated and don't overexert outdoors.
Today & Tonight: With the big ridge of high pressure, or heat dome, reclaiming position over the central United States, heat will be the big story. On Monday, a tropical wave will be racing across the Gulf of Mexico with a plume of moisture. After a partly sunny morning and high temperatures in the upper 90s, a few lucky locations will pick up some showers and thunderstorms. Overall, rain is only expected for about 30 percent of the area with the best chances near the coast. The tropical wave will also cause southeast winds of 10-15mph, perhaps aiding in a fire weather hazard due to the existing, very dry conditions. As we've grown used to this year, nights will stay sultry. With partly cloudy skies, low temperatures will drift into the low 80s.
Up Next: Tuesday through Friday, the heat dome will dominate the local area. Mornings will start in the low 80s. Afternoons will be mostly sunny with high temperatures surging into the low 100s. Several afternoons are expected to flirt with all-time record high temperatures. That mark stands at 105 degrees for Baton Rouge, set on Saturday afternoon and on August 30, 2005. Humidity may not be quite as high as previous weeks, but the air temperatures will compensate for this to cause feels-like temperatures over 113 degrees.
---
Get the latest 7-day forecast and real time weather updates HERE.
Watch live news HERE.
---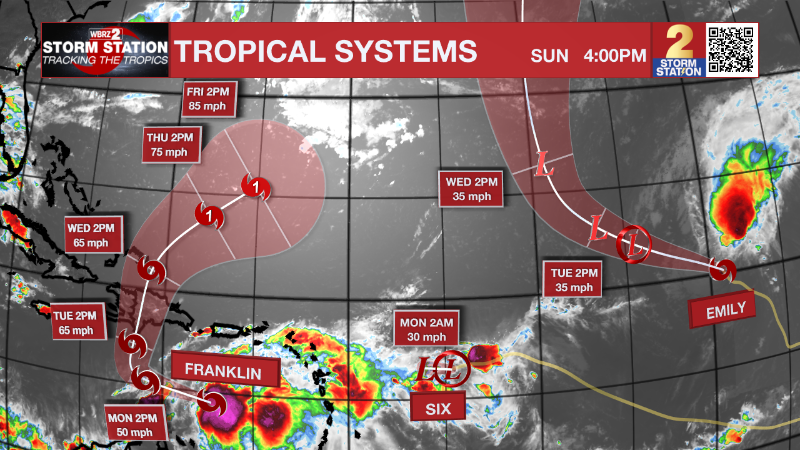 The Tropics: Tropical Storm Franklin formed in the Caribbean Sea. With maximum sustained winds of 45mph, the storm is moving west-northwest at 14mph. Franklin is expected to make a sharp turn to the north early this week and bring tropical storm conditions to Hispaniola and the Dominican Republic. This includes wind over 40mph, surge and rainfall of 4-12 inches. Franklin will continue north over the open western Atlantic after that and strengthen into a hurricane.
Tropical Storm Emily formed in the Atlantic Ocean on Sunday, well west of the Cabo Verde Islands. The storm was packing maximum sustained winds of 50mph and moving west-northwest around 10mph. The same general motion will continue across the open, eastern Atlantic for the next several days followed by gradual weakening and the storm should be a remnant low by Tuesday.
Tropical Depression Gert formed in the overnight hours and is clinging on near the Leeward Islands in the face of strong wind shear. With maximum winds of 35mph, the system will continue west at 12mph before gradually dissipating on Monday.
Showers and thunderstorms have increased this afternoon in association with an area of disturbed weather located in the eastern Gulf of Mexico. Additional development of this system is possible as it moves westward at about 15 to 20 mph, and there is a seventy percent chance that a tropical depression could form as it approaches the western Gulf of Mexico coastline by Tuesday.
A large area of disorganized showers and thunderstorms over the far eastern tropical Atlantic is associated with a tropical wave centered just southeast of the Cabo Verde Islands. Environmental conditions appear conducive for gradual development of this system, and a there is a sixty percent chance that a tropical depression could form later this week while it moves west-northwestward across the eastern tropical Atlantic.
--Keller
The Storm Station is here for you, on every platform. Your weather updates can be found on News 2, wbrz.com, and the WBRZ WX App on your Apple or Android device. Follow WBRZ Weather on Facebook and Twitter for even more weather updates while you are on the go.
More News