Looking into August: not quite the usual
The beginning of August is historically one of the hottest times of the year for the Baton Rouge area. Since 1930, from August 1-14, average highs have been around 92 degrees with lows around 70 degrees. There have been 243 days over 95 degrees and 14 days over 100 degrees.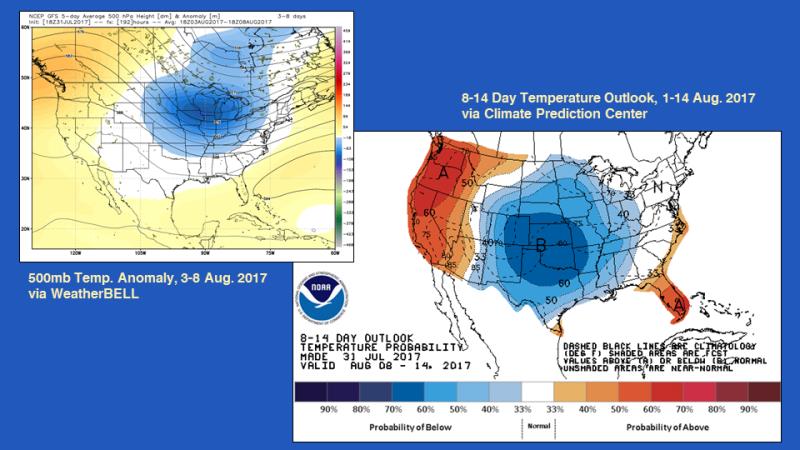 In 2017 though, a persistent Eastern U.S. trough will keep the extreme heat in check. The Climate Prediction Center suspects much of the interior two-thirds of the U.S. will benefit from this by running below average temperatures. Locally, some long-term numerical weather prediction shows many days with high temperatures remaining in the 80s. This will not exactly mean a break from running air conditioners, but fewer days of sweltering heat is always a bonus along the Central Gulf Coast.
Now, that same trough providing the unusual stretch of below average temperatures provides a twofold explanation for the change. Of course, a trough can mean cooler temperatures, but especially in the summer season, this comes by virtue of a more active convective pattern. Troughs bring cooler air aloft, increased vertical motions and a more unstable atmosphere. As the area has gone in and out of active patterns so far this summer, a trough can take the blame for most cases.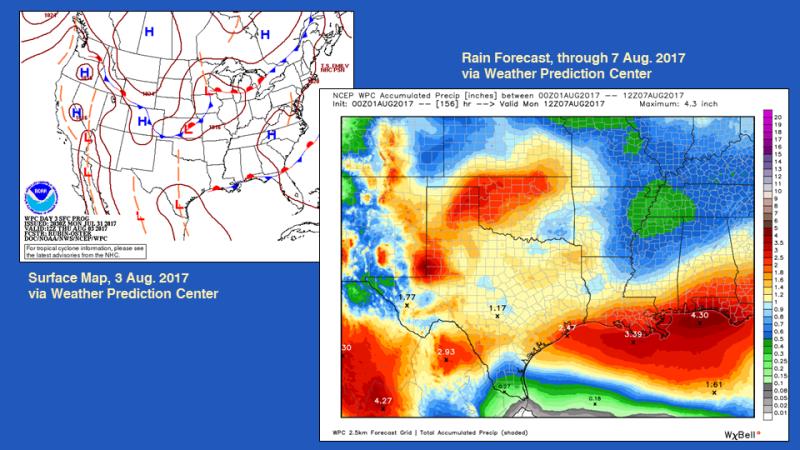 Do you remember that "cold front" that brought a little humidity relief last weekend? It will retreat north as a warm front, stalling across the coast for the remainder of the week, setting up a stretch of days with numerous showers and thunderstorms. The Weather Prediction Center is forecasting 1-3 inches of rain but there could certainly be some locally higher amounts in the heaviest thunderstorms.
Oh, and another thing about that front we just mentioned... did you hear about Tropical Storm Emily? It caused that too! Along the Gulf Coast, we often monitor fronts in the late spring and fall for tropical development. However, cold fronts do not typically make it this far south during the summer as hot, sticky Gulf air fights them back to the north. As an area of low pressure developed along the front, showers and thunderstorms quickly closed of a central circulation and overnight Sunday into Monday morning, the system went from innocent swirl, to tropical depression, to Tropical Storm Emily in less than 6 hours!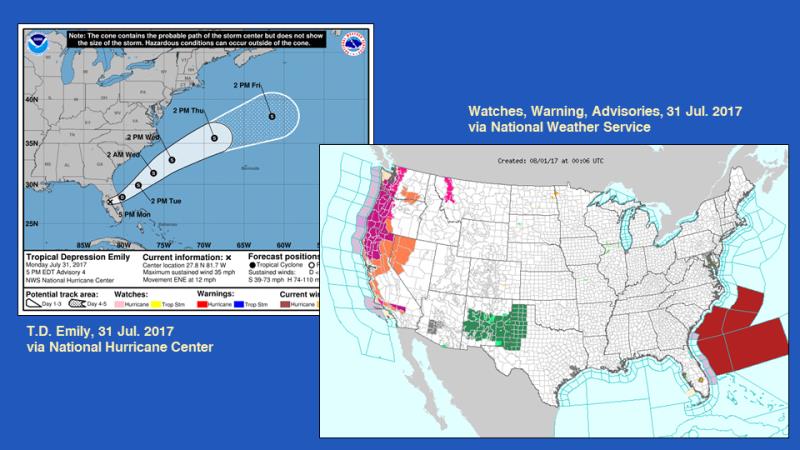 Moving forward, the remains of Emily are expected to enter the Atlantic Ocean and strengthen back into a tropical storm, but further impacts to the U.S. should be no more than some higher tides. Tropical Storm Warnings have been issued for the western Atlantic Ocean.
Before raising any eyebrows or making inferences, know that the trends of one month, one week, one year or even one decade are not sufficient to reach any conclusions about climate. The difference between climate and changes in weather can be understood using a simple human analogy as an example. Much like each individual person has a long-term personality, geographic regions have a climate that adjusts slowly through time. On the other hand, each individual person can go from one mood to another on a month to month basis, or even less time than that, just as the weather can go through sharp changes in short order. Climate is personality, weather is mood! The key is, to follow the trend line! Any deviation from normal should be looked at much more closely. As a for instance, coastal locations like the Baton Rouge area can be highly influenced by the big fella just to our south—the Gulf of Mexico. In many scenarios, more heat in the atmosphere results in more evaporation. A moist atmosphere warms and cools much less efficiently than a dry atmosphere which could cause nighttime temperatures to rise and daytime highs to fall.
For more weather, visit wbrz.com/weather. For more from Meteorologist Josh Eachus, connect with him on Facebook and Twitter.
More News