Heat Index over 105 degrees this afternoon
Wednesday brought the hottest temperatures so far this year. Baton Rouge topped out at 96 degrees with a heat index, or feels like temperature, around 106 degrees for several hours. For a bit of perspective, it was the first day that eclipsed 95 degrees, while 14 had made it that far to this point last year. Many locations saw thermometers climb so high since afternoon showers struggled to develop and cool temperatures. Only 30 percent of the forecast area picked up measurable rain and those spots were south of I-10, as expected.
THE FORECAST: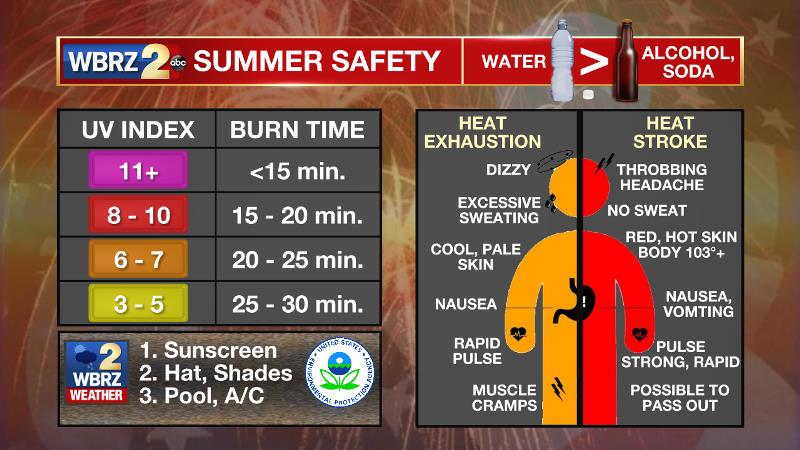 Today and Tonight: Thursday will feel hot. "Green" will be scarce on radar with a brief rain only possible south of I-10. Since showers and thunderstorms will affect very few locations, plenty of sunshine will run thermometers into the mid 90s and keep them there for a large portion of the afternoon. High summer humidity will result in feels-like temperatures between 104 – 106 degrees for a few hours. Sunburn times will be under 15 minutes and heat illness can set in rapidly as well with temperatures this warm. Check out the graphic above for the warning signs. Overnight will be mostly clear with lows in the mid 70s.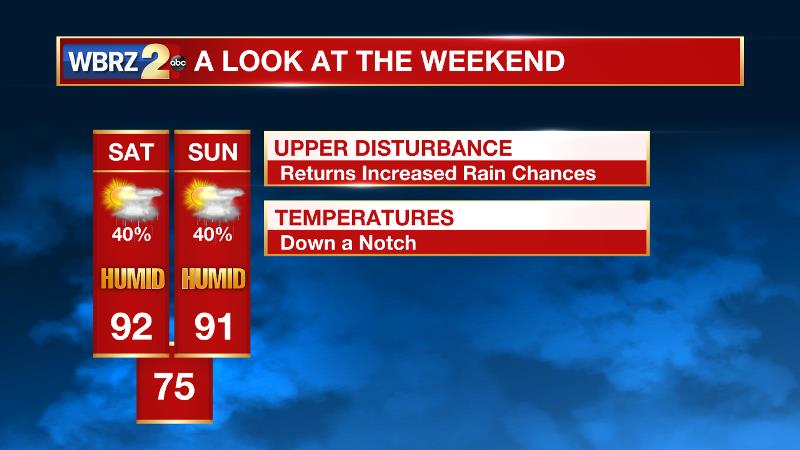 Up Next: Friday is a somewhat tricky forecast. An upper level disturbance is going to return scattered afternoon showers and thunderstorms to the area, but the speed of this feature will determine when. If it moves faster, we'll have more rain coverage on Friday. If it moves slower, Friday will be mainly dry and hot with the activity ramping back up on Saturday. Rain coverage will stay elevated through Sunday and by the middle of next week trend back down with the expected increase in daytime temperatures.
The Tropics: Tropical Storm Don and Invest 96L have completely dissipated. No tropical development is expected over the next 5 days.
THE EXPLANATION: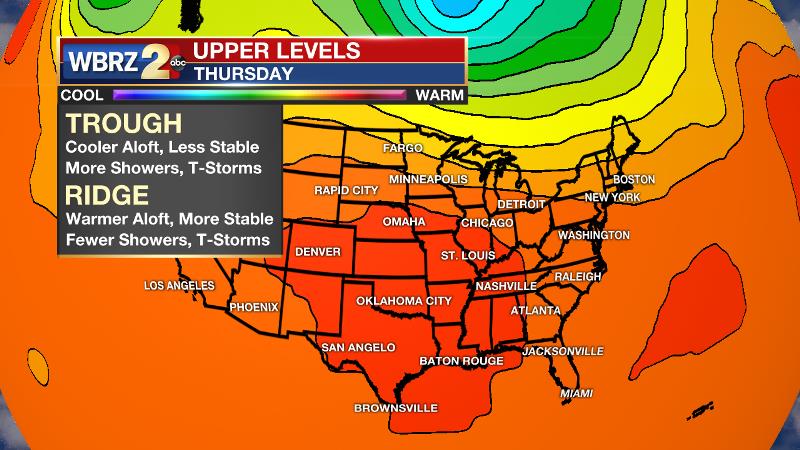 An upper level ridge will persist over the forecast area through Friday. In response to this atmospheric warming, instability will remain lower while moisture is limited as well. This combination will only allow isolated convection afternoon. While rain coverage goes down this week, the mid-level dry air may mean intensity on the few storms that do develop may increase with gusty winds and frequent lightning possible. The upper ridge will then begin to break down this weekend. It appears as through an easterly wave in the mid-levels will traverse the Gulf Coast Saturday and Sunday before washing out into an open trough early next week. The return of upper low pressure will result in more ascent and the return of scattered to widespread convection. This bout of unsettled weather should not last as long as its predecessor though, with action backing off again by the middle of next week. With regard to temperatures, highs will generally stick to the 90 to 95 degree range—lower on days with greater rain coverage and higher on days with lower rain coverage. Particularly on the drier days, heat indices will climb into the 100 to 105 range for an extended period of the afternoons. Lows will be consistently in the middle 70s.
--Josh
More News