Eclipse 2017: what to expect, how to view
On Monday, Aug. 21, 2017, the U.S. will be treated to a total eclipse of the sun. The eclipse will be visible—weather permitting—across all of North America. The entire continent will experience a partial eclipse lasting two to three hours. Anyone within a 70-milewide path that stretches through 14 states from Oregon to South Carolina will experience a total eclipse.
During those brief moments—when the moon completely blocks the sun's bright face for about two minutes—day will turn into night, making visible the otherwise hidden solar corona, the sun's outer atmosphere. The umbra (or dark inner shadow) of the moon will be traveling from west to east from almost 3,000 miles per hour (in western Oregon) to 1,500 miles per hour in South Carolina. Bright stars and planets will become visible as well. Birds will fly to their nighttime roosts. Nocturnal insects such as cicadas and crickets will buzz and chirp.
The last total eclipse in the contiguous United States occurred on Feb. 26, 1979. The last total eclipse that crossed the entire continent occurred on June 8, 1918. Experiencing a total solar eclipse where you live happens on average about once in 375 years.
The current forecast in the Baton Rouge area is typical of August. Clouds will be bubbling up as the eclipse takes place and some locations may lose all visibility due to pop-up showers and thunderstorms. The WBRZ Weather Team will continue to update the forecast for you as the eclipse gets closer. Watch News 2, check wbrz.com, download the WBRZ WX app. and follow @WBRZweather on Facebook and Twitter for more information.
Early #Eclipse2017 forecast in the #BatonRouge area is what you expect in August - dodging showers | safe viewing: https://t.co/l5sufMYPLG pic.twitter.com/khfPbfhT0f

— Josh Eachus (@JoshEachus) August 16, 2017
For NASA, the eclipse provides a unique opportunity to study the sun, Earth, moon and their interaction, because of the eclipse's long path over land coast to coast. Eleven NASA and NOAA satellites, the International Space Station, more than 50 high-altitude balloons, and hundreds of ground-based assets will take advantage of this rare event over 90 minutes, sharing the science and the beauty of a total solar eclipse with all. You may become a citizen scientist and contribute to the research, CLICK HERE to find out how.
The only safe way to look directly at an uneclipsed or partially eclipsed sun is through special purpose solar filters, such as eclipse glasses or handheld solar viewers. Homemade filters or ordinary sunglasses, even very dark ones, are NOT safe for looking at the sun; they transmit thousands of times too much sunlight. It is NOT safe to look at the sun through the viewfinder of a camera or an unfiltered telescope, binoculars, or other optical device. You can safely look at the screen of your smart phone or digital camera focused on the eclipse, though you are unlikely to get a good view.
WBRZ will be airing ABC's coverage of the eclipse, beginning at 12pm on Monday. News 2 at noon will air at 11am. You can also watch the stream live, on the WBRZ Facebook page.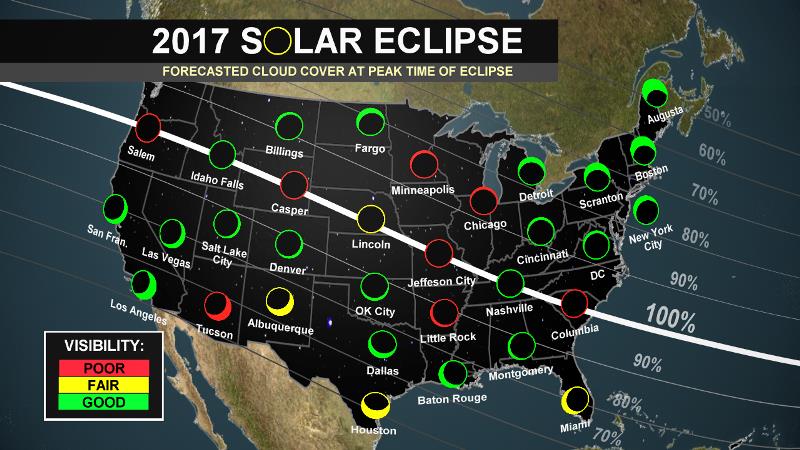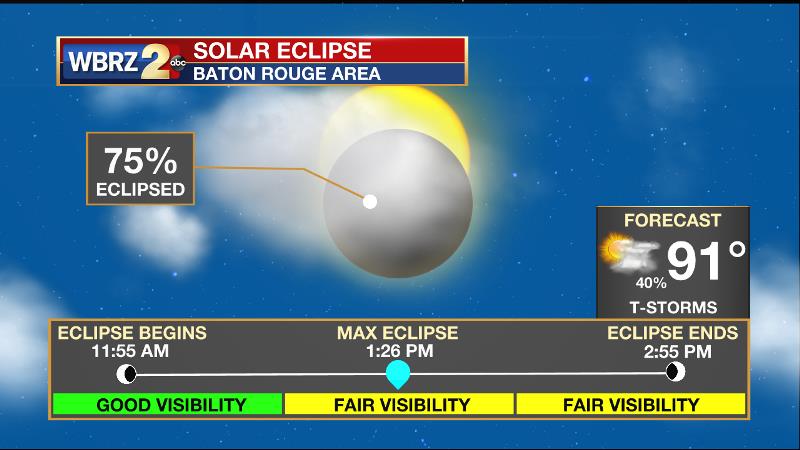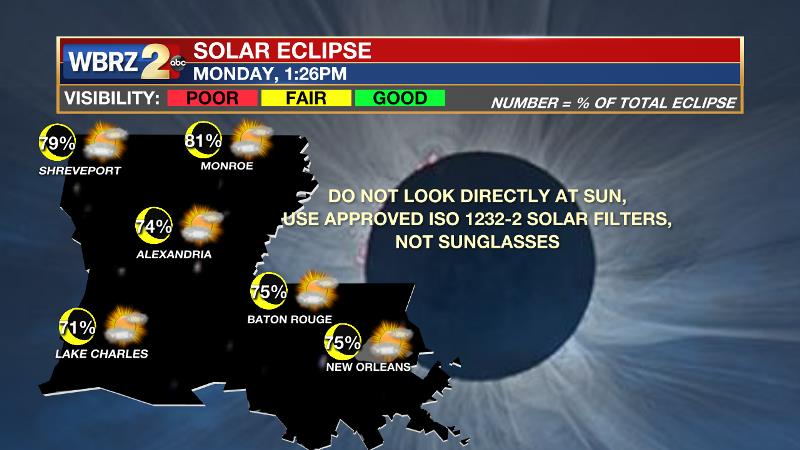 More News