Dry Pattern Holds Out...Then A Quick Change
THE FORECAST:
Today and Tonight: Another day of extreme and maximum sunshine will be in store for the entire region as high pressure continues to place a firm grip on the current weather pattern for much of the southern, southeastern and western tier of the U.S. The sunshine will hold out during the daylight hours on Tuesday pushing high temperatures into the upper 70s while overnight temps once again fall into the upper 50s for early Wednesday's wake-up temps.
Up Next: High pressure will remain in control for the next 48 hours providing plenty of sunshine forcing temperatures to warm over the 80 degree mark by Wednesday afternoon. Wednesday's overngiht low temperature will only fall to near 60 degree in the overnight hours and patchy fog is likely to be a problem in the early morning hours. The next storm system will move through the region late Wednesday night into early Thursday morning bringing a light round of showers by early daybreak on Thursday. The timing of these showers indicate the activity will begin in the early dawn hours around 5 AM and last through the 4 PM hour before finally clearing out by 6 PM in the evening with total rainfall measuring less than one-half inch. The return of Gulf moisture will be limited with this system, and therefore the rain shower activity will be limited and no severe weather will be expected with it's passing. A cold front will once again sweep through the area on Thursday evening leaving plenty of sunshine and comfortable temps in it's wake. The weekend is looking rain-free with plenty of sunshine along with comfortable temperatures climbing to the upper 70s for Friday, and at or near the 80 degree mark for Saturday and Sunday. Plan for your outdoor activities and stay tuned to WBRZ for the latest weather updates.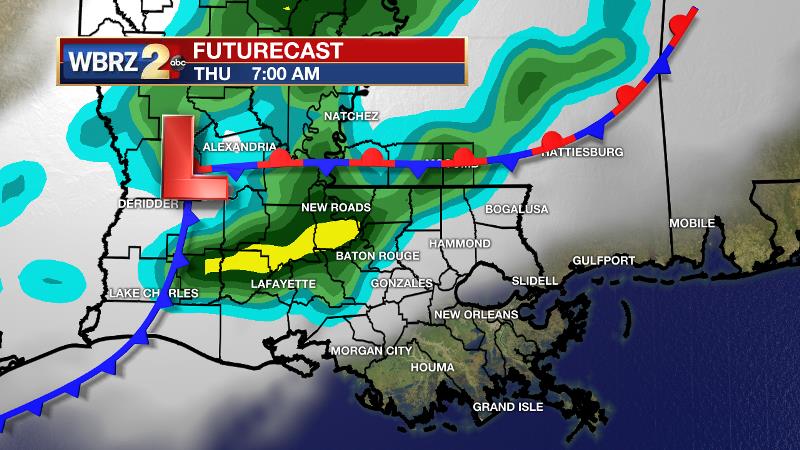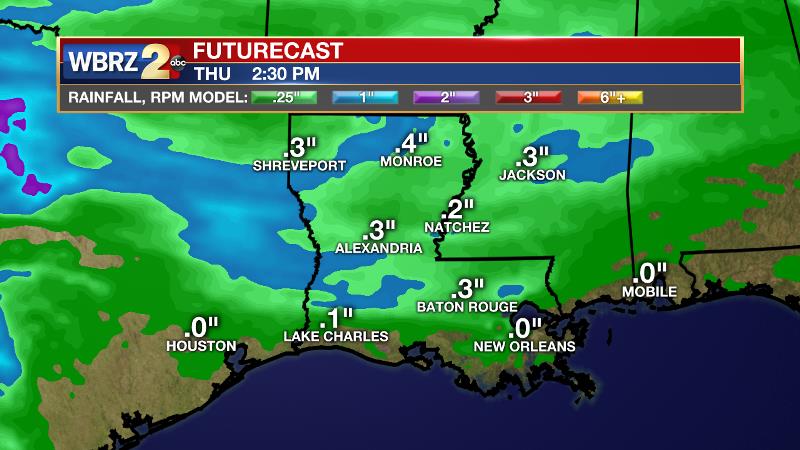 More News