Damaging wind, flooding possible early Thursday morning
The forecast focus will be on tonight as a strong line of thunderstorms pushes through the area. After the severe weather threat from this ends on Thursday, nice weather is in store for the weekend.
THE FORECAST:
Halloween: Expect a general increase in cloud cover through the day. Isolated to scattered showers will be possible, but no major consequence should come from that. Highs will be in the mid 80s. It appears that trick-or-treaters will be able to collect candy as planned, but take along an umbrella in case of a shower.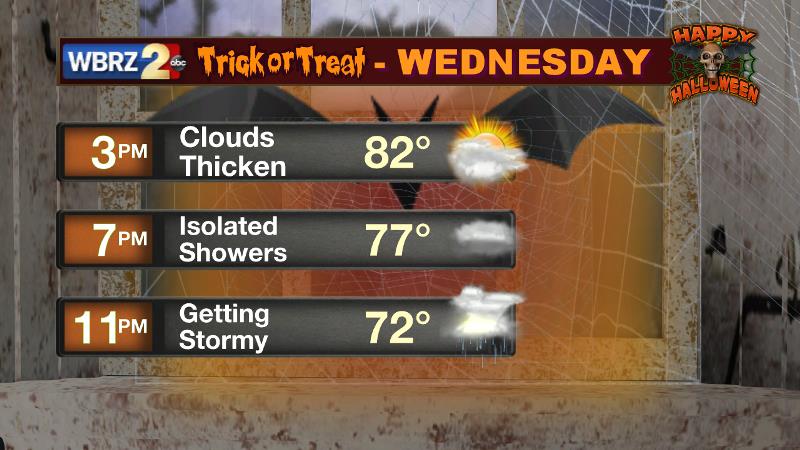 After midnight, and closer to dawn, a squall line of strong thunderstorms will roll across the area. Damaging wind and areal flooding are the two main threats with this line, but an isolated tornado is also possible. Temperatures will be steady in the low 70s.
Actions and Reminders: Secure or pick up Halloween decorations, flags, patio furniture, trash cans and anything else that can be easily blown in the wind! This is the fall severe weather season and events like this are expected a few times each year. Stay in touch with the forecast today, revisit your severe weather plan since it has been a while, and have a way to receive alerts. Especially since this is a "while we are sleeping" threat, be sure to activate a NOAA Weather Radio and/or the free WBRZ WX App on your Apple or Android device. You can stay have your phone on silent but can set the WBRZ WX App to override silent mode so you can receive warnings. CLICK HERE for an informational video on how to customize the app to send only the alerts that you care to receive. Never rely on an outdoor warning siren; if that is your main way of hearing warnings, you have little hope of hearing them indoors.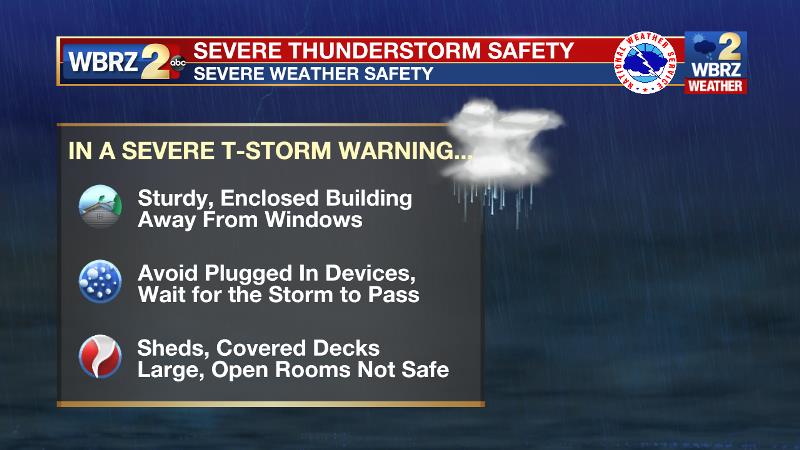 Identify the safest place in your home. Often a small room, on the lowest floor, away from windows, near the center of the house is your best option. If you live in a mobile home, you should leave and go to a sturdy structure when a watch is issued. If a warning is issued, go to that safe place. Wear hard sole shoes and cover your head until the threat passes. Also, leash up your pets and bring them along so you are not separated. Keep your mobile device charged as you can watch live video of severe weather coverage on your WBRZ WX App. as a means of receiving information during the warning. If you will be driving tonight and encounter a water covered road, please turn around. Especially at night, there is no telling how deep the water is or if the road is in tact below. Remember, a watch means "conditions are favorable, and a particular threat could develop" and a warning means that "threat is happening and you should take action immediately."
Up Next: Early on Thursday, strong thunderstorms and heavy rain will move through southeast Louisiana and southwest Mississippi, ending before noon. The line and associated cold front will move east of the area by the afternoon hours, but clouds and light showers may linger. Clear and cool conditions will move in behind the front, with highs near 70 and lows near 50 Friday and Saturday.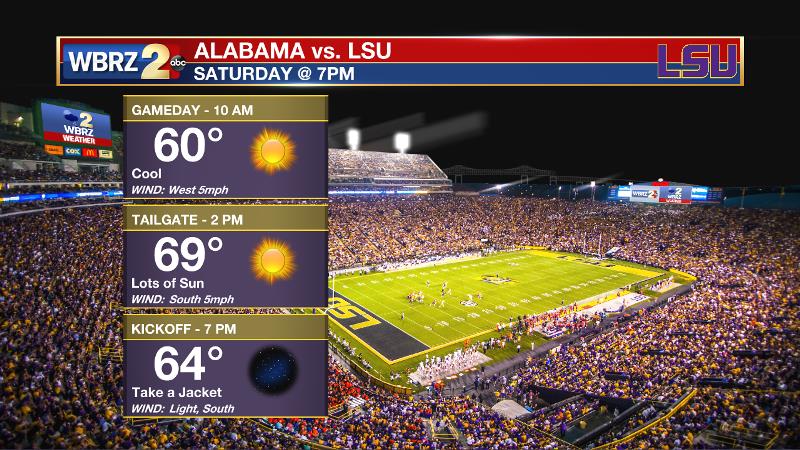 LSU vs. Bama: True football weather appears to be in store for the showdown in Tiger Stadium. The masses attending ESPN's College Gameday on Saturday should enjoy sunny skies and cool temperatures. The afternoon high will nudge close to 70 degrees beneath sunny skies. While it may warm enough for short sleeves during tailgating, you will want a jacket heading into the game as thermometers fall into the lower 60s by the end of the game. Geaux Tigers.
The Tropics: Hurricane Oscar is now packing 105mph winds and a minimum central pressure of 970mb over the central Atlantic Ocean. The storm is sending heavy surf towards Bermuda. Oscar is forecast to begin moving toward the north or north-northeast with an increase in forward speed through Wednesday and become a powerful extratropical storm. It poses no immediate threat to land at this time.
THE EXPLANATION:
The next major weather feature will be a cold front forced into our region by a mid-level trough advancing from the Midwest to Southeast Wednesday into Thursday. The front will become very progressive moving eastward by Wednesday afternoon or early evening. By this time, uplift along the boundary will consolidate showers and thunderstorms into a squall line through Louisiana and Mississippi.
Damaging wind, flooding, and possibly a tornado or two could result from storms early on Thursday. It's a "while we're sleeping threat" so make sure @NOAA weather radio and @WBRZweather App. alerts are turned on! #LaWX #MsWX pic.twitter.com/F6l8TZmrDp

— Josh Eachus (@DrJoshWX) October 31, 2018
There is the possibility of a few showers well ahead of the front Wednesday evening over the western half of the area but they should not be widespread and most trick-or-treating should go by dry and safe. The squall line will cross the Baton Rouge area between 2am – 10am and be east of the local area by Thursday afternoon. There will be the possibility of a few if not several severe thunderstorms along this line. Looking at some of the parameters indicated by forecast models, all modes of severe weather will be possible with this scenario but the greatest threat will be straight line, damaging winds. The Storm Prediction Center has placed most of the region in a 2/5 "slight risk" for severe thunderstorms, but areas north and west of Baton Rouge are under a 3/5 "enhanced risk." Additionally, the front will squeeze out about 2 inches of rain over a short time meaning that low-lying roads and areas of poor drainage may experience flooding.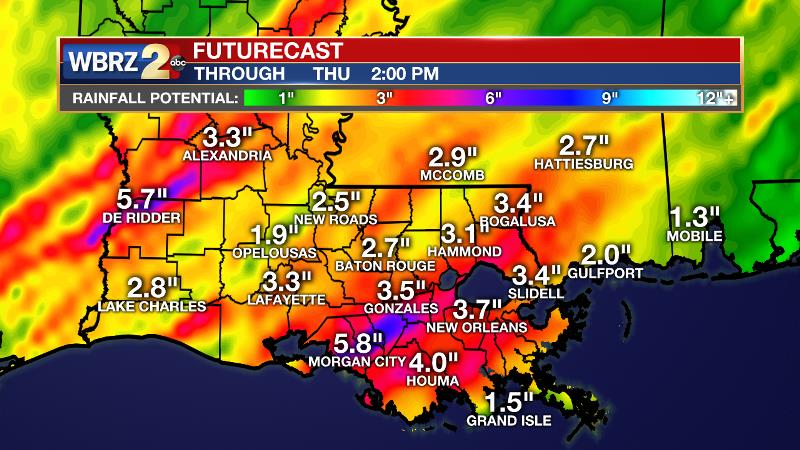 Clouds and light rain could linger into Thursday afternoon once the front moves through. Clear, cool, dry weather will then be in the forecast through Sunday morning.
--Dr. Josh
The WBRZ Weather Team is here for you, on every platform. Your weather updates can be found on News 2, wbrz.com, and the WBRZ WX App. on Apple and Android devices. Follow WBRZ Weather on Facebook and Twitter for even more weather updates while you are on the go.
More News