Average Sept. weekend, Lee and Maria may join Jose in the tropics
Through Wednesday, the Baton Rouge area has gone nine days without rain, continuing a deficit for the month of September. There is no cause for alarm on this, dry stretches are normal during the fall months and gauges are still running a surplus of approximately one foot for the year. As humidity increases though, there will be a slightly better chance for rain over the next two days.
Today and Tonight: The week will wrap with weather that is more seasonable. Under partly sunny skies, high temperatures will approach 90 degrees with humidity. An isolated shower is possible during the afternoon hours, especially south of I-10. Overnight, low temperatures will fall to about 70 degrees with mostly clear skies.
Up Next: Saturday brings a better chance of showers and thunderstorms than Sunday. Still, activity should be limited to the afternoon and isolated with about 30 percent of the 13 Parish, 3 County forecast area receiving measurable rain. Temperatures through the middle of next week will top out around 91 degrees and bottom out around 72 degrees. Rain chances may vary slightly each day, but should stay in the 10 to 30 percent range.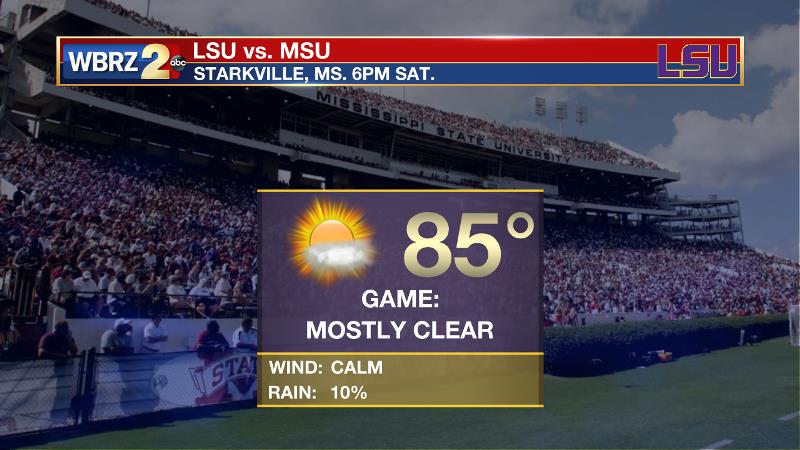 Football Forecast: LSU will travel to Starkville to play Mississippi State on Saturday evening. Mostly clear skies are expected with temperatures falling from the upper to lower 80s. It will be much hotter in Texas as Southern visits UTSA. Fortunately that game will go on indoors as kickoff temperatures will be near 90.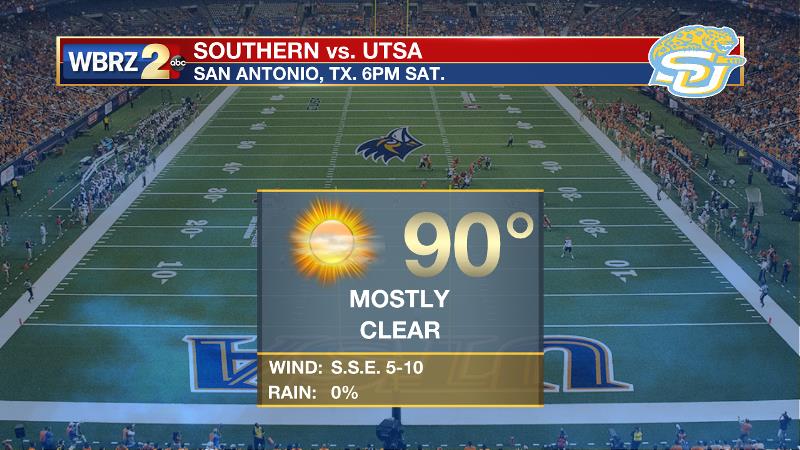 The Tropics: Tropical Storm Jose is completing a loop in the Atlantic Ocean between Bermuda and the Bahamas. At this time, the storm packs 70mph winds and a minimum central pressure of 989mb. The National Hurricane Center forecast continues to show Jose turning north between Bermuda and the Eastern U.S. over the upcoming weekend. It is still too early to rule out any impact to the East Coast and at the very least, heavy surf is anticipated.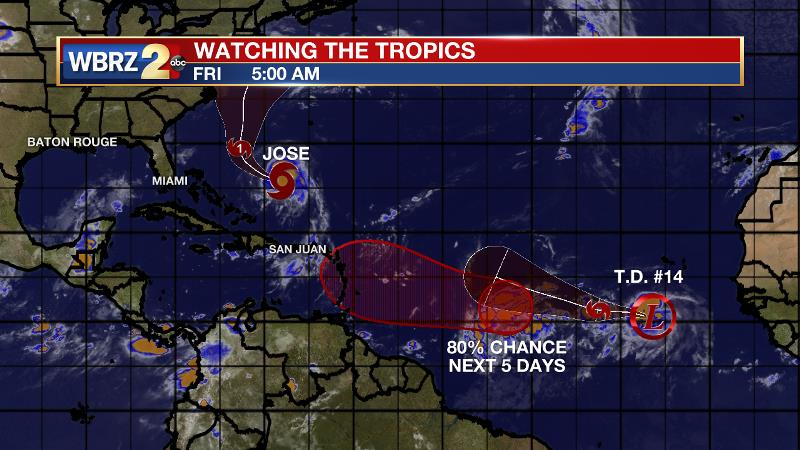 In addition to Jose, Tropical Depression 14 has developed near the Cabo Verde Islands and will soon become Tropical Storm Lee. The system is forecast to drift west, northwest into the central Atlantic, and will be positioned between the Cabo Verde Islands and Leeward Islands by the middle of next week.
Finally, a third wave has a high chance of development over the next 5 days. This cluster of showers and thunderstorms is a bit further west than T.D. 14 and will be moving ahead of that system on a similar west, northwest trajectory. Maria is the next name on the list.
THE EXPLANATION:
Humidity is on the build as dew points are returning to the upper 60s and lower 70s thanks to return flow off the Gulf. The moisture increase will also contribute to slightly better rain chances on Friday and Saturday. An upper level ridge should build over the area on Sunday and Monday, limiting convection somewhat. The remainder of the extended forecast should be very similar with only isolated showers and thunderstorms possible each afternoon. An easterly wave moving across the Gulf may lead to an uptick in rain by the end of next week.
--Josh
More News