Zachary police officer killed in hit and run while confronting suspect
BAKER – A reserve Zachary Police officer was killed after being run over in a shopping center parking lot Monday evening.
The officer has been identified as Christopher M. Lawton.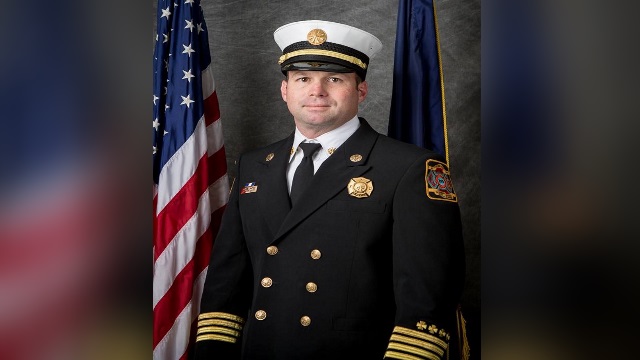 According to Chief David McDavid, 33-year-old Albert Franklin had struck his girlfriend with an AR-15 last week; a warrant was later obtained. Monday night, Zachary Police received information on Franklin's whereabouts.
Officers attempted to arrest Franklin and 30-year-old Ashley Chaney, who were in the Walmart parking lot sitting in a U-Haul truck.
As the suspects tried to drive away, the reserve officer was pinned between the truck and grocery cart equipment. As the suspects continued to drive away, the officer was run over and killed.
Lawton was a reserve officer for the Zachary Police Department and a full-time firefighter for the city of Zachary. According to the fire department, Lawton served as a volunteer firefighter for 20 years.
"He was pronounced dead… at the scene," a visibly shaken Sheriff Sid Gautreaux said in a late-night news conference Monday.
Franklin and Chaney were taken into custody after fleeing and trying to hide the vehicle on Old Comite Drive.
"Everybody's taking it rough. I, unfortunately, have been through this more than once. It's not an easy thing to go through," the sheriff said.
Both the Zachary Police Chief and Zachary Fire Chief were on the scene late Monday. The group prayed with a chaplain in the parking lot.
"[We] have to be supportive of each other," the sheriff said, "and of the families involved."
A sheriff's department secretary is the brother of the fallen officer, Gautreaux added.
As some investigators worked to piece together the mayhem at the scene, other law enforcement personnel stood at attention and saluted as the fallen officer's body was put into a van and driven by escort to a medical facility for an autopsy.
There were no shots fired, Gautreaux said, insinuating that the officer lost his life by being run over by the suspects' vehicle. An autopsy later revealed he died from blunt force injuries to his head and torso.
An eyewitness said good Samaritans tried to help the officer.
"There [was] a lady who used her shirt to try to cover his body and stop the bleeding. She was crying and I tried to comfort her when I came out here," the woman said who asked not to be identified.
Franklin was initially sought by law enforcement all day in an operation that also involved State Police.
"It's a tragic loss," Gautreaux said, who called the officer a "true public servant."
Flags are at half staff in Zachary over the loss of their hero, Chris Lawton. @WBRZ pic.twitter.com/18KVSEnfra

— Chris Nakamoto WBRZ (@ChrisNakamoto) March 13, 2018
Franklin is charged with first-degree murder, hit and run, damage to property, and fugitive from Zachary Police Department. Chaney is charged with obstruction of justice.
Early Tuesday morning Mayor Sharon Weston Broome released a statement:
I am deeply saddened by the tragic death of the Zachary firefighter and policeman who lost his life while bravely serving his community. I join all of East Baton Rouge Parish in expressing my gratitude for his service, and offer up prayers for his family, his fellow first responders, and to all those who knew him. Our hearts go out to the Zachary community.
In honor of our fallen first responder, I have ordered all flags be flown at half-staff through Saturday at all City-Parish buildings and grounds.
The deputy chief leaves behind a wife and two children.
More News