You've got 20 percent chances and 15 minutes
Through the weekend, isolated showers and thunderstorms can't be ruled out during the afternoons but heat and humidity will be the two dominant features.
THE FORECAST:
Today and Tonight: Another downturn in rain and thunderstorm coverage is expected for Friday. Skies will be partly sunny with a 20 percent chance of afternoon showers. High temperatures in the low 90s with high humidity will combine for a "feels-like" temperature near 100 degrees during the afternoon. The nighttime will be partly cloudy with low temperatures in the mid 70s.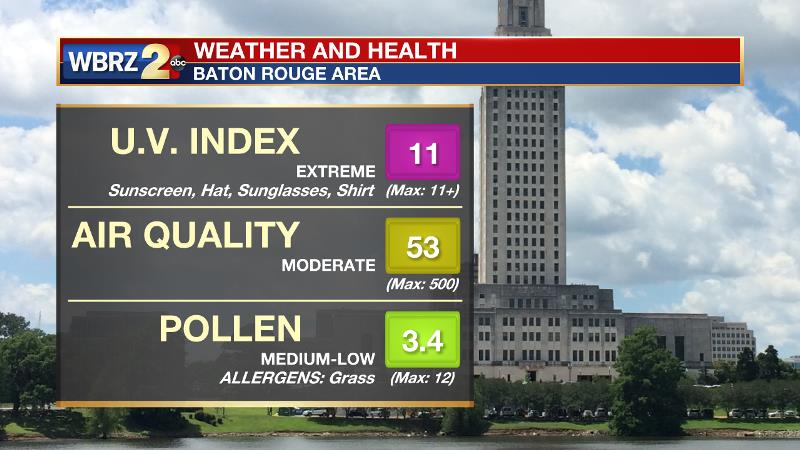 Up Next: Saturday and Sunday should bring typical summer weather with heat, humidity and isolated pop-up showers by afternoon. Forecast area rain coverage will be on the order of 20-30 percent. Certainly, neither day will washout. As a result of fewer clouds and showers, high temperatures will climb into the low 90s. Lots of humidity will produce "feels like" temperatures near 100 degrees, so especially for outdoor events this weekend, stay hydrated. In addition, plenty of sunshine will result in sunburn times of less than 15 minutes. Sunscreen will be an important commodity if you plan to spend time outside. Nights will be partly cloudy and muggy with lows in the mid 70s. By early next week, an approaching, weak cold front and some tropical moisture may combine to increase showers and thunderstorms.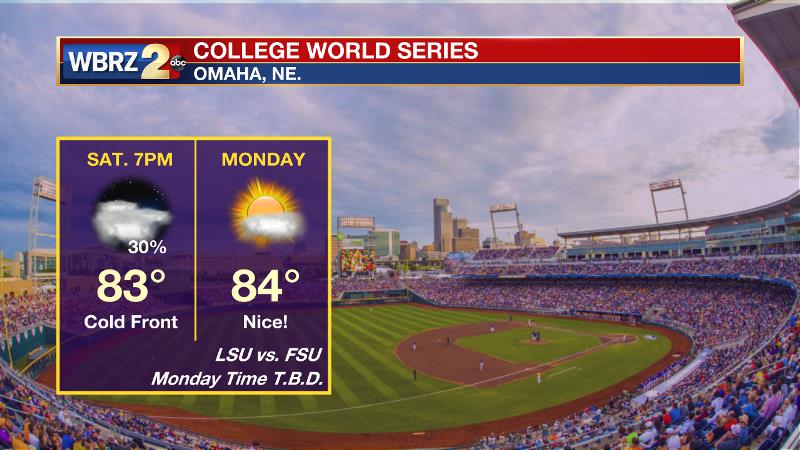 The LSU Tigers will take on the Florida State Seminoles at 7pm Saturday for their first College World Series game. In Omaha, it now appears as though a cold front will be passing through the area during that time. Therefore it will be muggy, with a first pitch temperature in the low 80s and scattered showers and thunderstorms will be a possibility. Because of that front though, the second game will be played in very nice weather on Monday, though the time is not yet known.
Backwater flooding issues will soon begin to alleviate in Assumption Parish. The Atchafalaya River at Morgan City currently stands at 6.4 feet and is expected to drop below the flood stage of 6 feet by the middle of next week. Flooded locations near Bayou Boeuf, Belle River and Lake Verret should see the water start to recede as that occurs.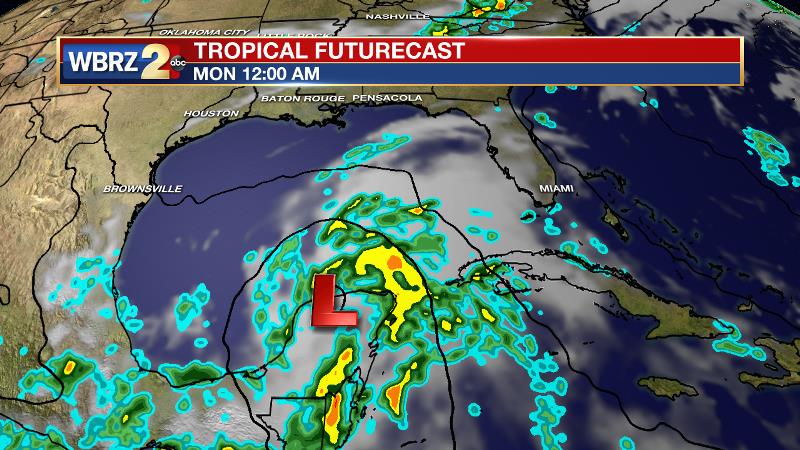 The Tropics: It continues to look as though a weak tropical wave will develop near the Yucatan Peninsula and move slowly northwestward into the southern Gulf of Mexico by early next week. The National Hurricane Center pegs a 60 percent chance of further organization over the next five days. Due to an increased gradient from high pressure north of our area, this may help to increase tides and showers over the Gulf of Mexico. Rather unusual for this early in the season, there is also a cluster of showers and thunderstorms in the far eastern Atlantic which is also given a 20 percent chance of development into next week.
THE SCIENCE: Onshore flow continues to provide the central Gulf Coast with plenty of warmth and moisture. Aloft, a large ridge over Texas and north Mexico is providing northwest winds. Given these factors, rain coverage will be in the 20-40 percent range across the forecast area through the weekend. Reaching convective temperatures in the upper 80s with marine breeze interactions should be enough to kick start some afternoon action each day. High temperatures are expected to range from 88-92 degrees over the next few days with heat index values near 100 degrees. Into next week may actually become dependent on eventual development of an easterly wave and possible tropical low pressure system moving out of the Western Caribbean Sea into the Yucatan Peninsula. If that system can enter the southern Gulf of Mexico next week, a tightening of the pressure gradient would increase tide levels on the shorelines. Then, once the system moves into the western Gulf of Mexico, a deeper fetch of tropical moisture could enhance showers and thunderstorms across the central Gulf Coast later next week.
--Josh
More News