Worker claims he was fired for reporting a possible noose; company says he was just bad at his job
MORGAN CITY - A welder for Performance Contractors said he found what appeared to be a hangman's noose at his job site last month in Morgan City, and his lawyer said he was fired after reporting it to his supervisors -- but company representatives are disputing the claim and say their investigation found otherwise.
A short video of the suspected noose shows the rope wrapped around a pole -- which would make it tough to use that rope to pull up any materials, the employee and his lawyer argue. They also said the employee -- in his welding work history -- has never seen knots like that used to lift heavy items to the top of an industrial platform.
The welder told WBRZ his problems actually began days earlier, on Aug. 12, when he reported that a coworker had verbally assaulted him and threatened to start a fight. An internal report that was filed with the company indicates the matter was brought to the attention of his superintendent. Then on Aug. 15, the welder said someone was interfering with one of his hoses, disconnecting it, and on his way back up to the platform, he discovered what appeared to be a hangman's noose.
When contacted by the WBRZ Investigative Unit, Performance Contractors in Baton Rouge said they would get back to us with a comment on the concern. Hours later, their, lawyer Murphy Foster called, saying the employee had been disciplined twice before he was terminated for poor work quality and for being late. Performance said it launched an investigation and determined the rope was used to hoist up a tool bag.
An attorney representing the welder rejects the findings.
"That is uncontroverted," Ron Haley said, characterizing the looped rope as a noose -- without any doubt in his mind. "That is what it is. There's no other excuse for that hanging there. He then reports that. Those who did it, not gone, and those who committed or threatened those assaults against him. Yet, he's the person who is terminated."
Haley said neither he nor his client are satisfied by what's been done by company officials.
"Do a real investigation," Haley said. "They need to be transparent. Open the door to authorities to come in and do a top down investigation and if anyone else has similar stories there. Any Black person on the job to see a hangman's noose, the video speaks for itself what it was. It's a hate crime, and it's intimidation."
Performance Contractors, through their lawyer, Foster, issued the following statement, which is presented in full:
Performance Contractors, Inc. takes all allegations seriously and investigates them thoroughly. We do not tolerate discrimination of any form.
The specific knot in question was an arbor knot – which is a variation of the slipknot. The three most commonly used knots in our industry are the slip knot, clove hitch, and
arbor knot. These knots are essential for securing lightweight materials when manually raising or lowering from elevated work areas. These knots are common in our industry, and there is no indication there was any racial motivation whatsoever. A swift investigation revealed that this
rope and loop used for lifting materials had been tied by an African American and was being used by an African American to hoist a tool bag to the scaffolding deck. We have an affidavit from that employee attesting to this fact.
As for the allegation of retaliatory discharge, it should be noted that the employee in question had been employed by Performance as a welder for less than a month prior to his
reporting of the rope. During that time and prior to his complaint, he received two disciplinary warnings. He reported the rope on August 15. On August 18, Performance tested his first structural weld since being employed and approximately 17 out of 42 inches failed objective ultrasonic testing and were rejected. The employee was terminated for poor performance.
As a point of reference, the suspected noose reported at the job site is shown on the left; a typical arbor knot on the right.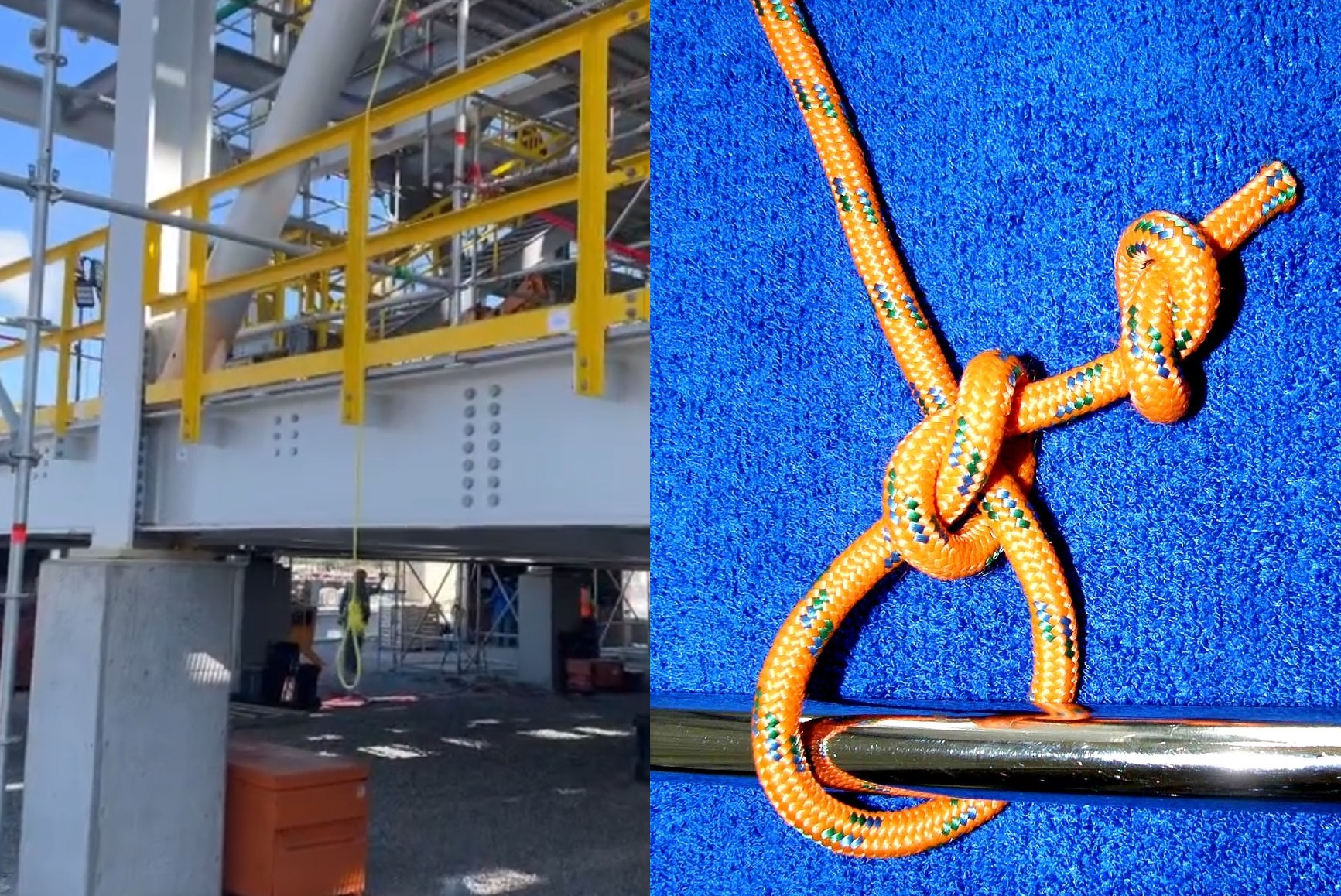 More News