WBRZ+ to broadcast Billy Cannon's funeral live Wednesday afternoon
BATON ROUGE – WBRZ+, the area's only live, local cable news channel, will broadcast the funeral services of LSU Football legend Billy Cannon Wednesday.
Cannon, as it is outlined in his obituary, is known for wearing No. 20 and the "Halloween Run," an 89-yard punt return against Ole Miss in Tiger Stadium in 1959. That year, he and his teammates who he adored went undefeated and won LSU's first National Championship.
Cannon passed away peacefully in his home early Sunday morning at the age of 80.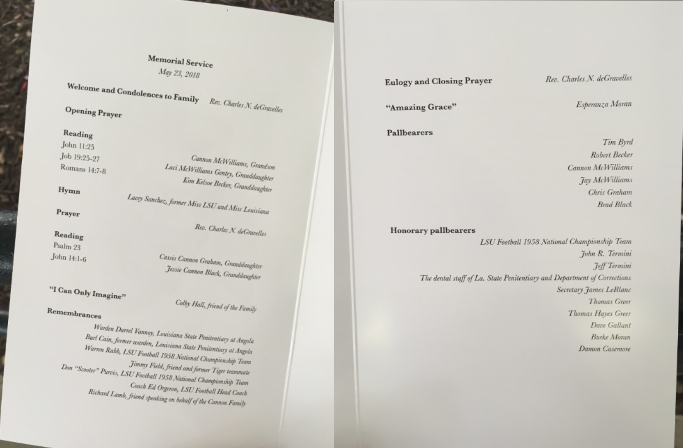 The official program for Cannon's service
Cannon was the winner of the 1959 Heisman Trophy as a halfback. He was inducted into the LSU Athletic Hall of Fame in 1975 and into the College Football Hall of Fame in 2008. He was named LSU Alumnus of the Year in 2010.
A tweet from LSU Football says that Cannon's casket was built by Angola State Prison inmates.
Dr. Cannon's casket was made by inmates at Angola State Prison, where he worked for more than 20 years. pic.twitter.com/aLcMiQj3ro

— LSU Football (@LSUfootball) May 23, 2018
Visitation will begin at noon on Wednesday at the Maravich Center and will continue until 2 p.m. The funeral will follow the visitation and run from 2 to 3 p.m. at the Maravich Center. Both events are open to the public.
The public will have free parking in lots located off of Nicholson Drive. The lots for the public to utilize include: Lots 101, 104, 105, 401 and 404. Due to road construction on Nicholson Drive, entry to lots 101 and 401 will either be from South Stadium Drive or South Quad Drive.
LSU will provide a shuttle for those needing assistance. The pickup location for those needing assistance getting to the Maravich Center will be Lot 401.
Campus will be open to all traffic tomorrow beginning at 11 a.m. as the arm bars that restrict car access on campus will not be in use.
WBRZ+ will begin coverage of the funeral service at 2 p.m.
WBRZ+, launched earlier this year by WBRZ TV, features a simulcast of traditional WBRZ News 2 newscasts, original programming highlighting iconic events in Baton Rouge through the From the Vault series, breaking news as it unfolds and exclusive, WBRZ+ newscasts nightly at 6:30 and 10:30.
WBRZ+ is available free, over-the-air with an antenna or through local cable providers and streaming sites.
Click HERE for more information on how to access WBRZ+.
*************************
Follow the publisher of this post on Twitter: @treyschmaltz
Related Stories
More News