The Dead Zone of the Gulf of Mexico is as Large as Delaware
NOAA-funded scientists went on their yearly research cruise aboard the R/V Pelican in order to determine the size of the "Dead Zone" in the Gulf of Mexico. They discovered that not only is this summer's "dead zone" below average, but is actually the fourth smallest area mapped since 1985. Researchers approximated the zone as approximately 2,720 square miles, which is much lower than NOAA's June forecast of 5,780 square miles.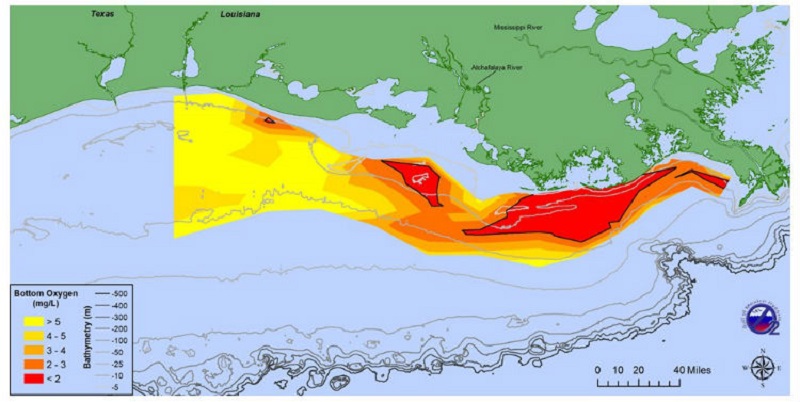 Graphic: The distribution of bottom-water dissolved oxygen taken during a research cruise from July 24 to 28.
Credit: N.Rabalais, LSU/LUMCON & R. Turner, LSU, NOAA.
Nancy Rabalias, a Ph.D professor at LSU and LUMCON who led the survey mission, attributes the low levels to "persistent winds from the west and northwest in the few weeks preceding the cruise likely pushed the low oxygen water mass to the east and piled it towards the central shelf and towards Grand Isle. Additional winds and waves at the beginning of the cruise in the area of the immediate west of the Mississippi River delta to the area off Barataria Pass, likely mixed oxygen into these shallower waters."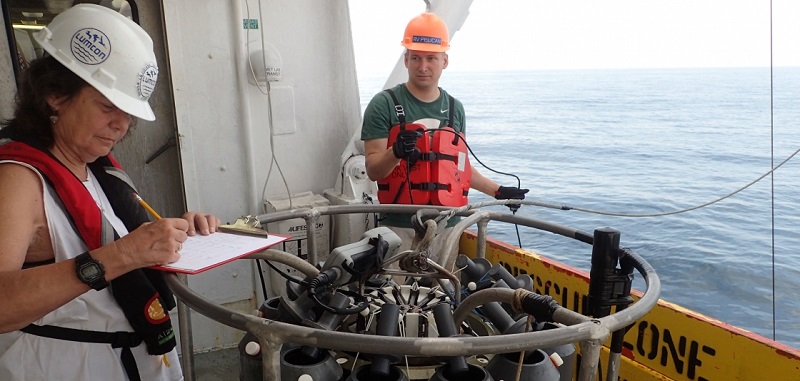 Graphic: Nancy Rabalais conducting oxygen reading of the Gulf.
Credit: N. Rabalais, LSU, NOAA.
Researches from Louisiana State University and the Louisiana Universities Marine Consortium have been conducting this cruise since 1975. The "Dead Zone" refers to hypoxia, which is an environmental phenomenon where the concentration of dissolved oxygen in the water column decreases to a level that can no longer support living aquatic organisms.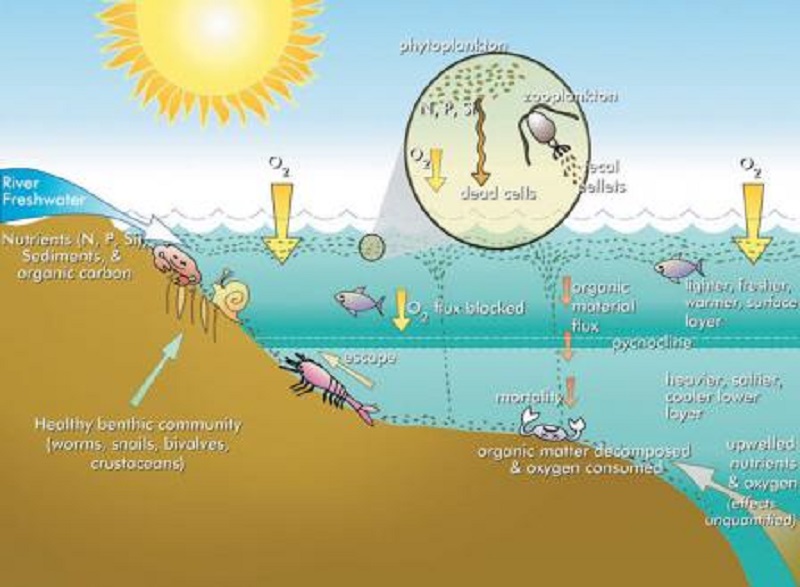 Graphic: Diagram of Eutrophication.
Credit: EPA
Hypoxia varies under several different conditions, but occurs when less dense freshwater from an estuary or river mixes with heavier seawater along the Louisiana coast. This 'layering' helps to restrict the supply of oxygen from surface water to more saline bottom waters, leading to hypoxic conditions at lower depths. Hypoxia often happens as a consequence of human-induced factors, especially nutrient pollution, which is caused by agricultural runoff, fossil-fuel burning, and wastewater treatment effluent. The U.S. Environmental Protection Agency has estimated that high concentrations of nitrogen are present in 28% of the nation's stream length, and 40% for Phosphorus.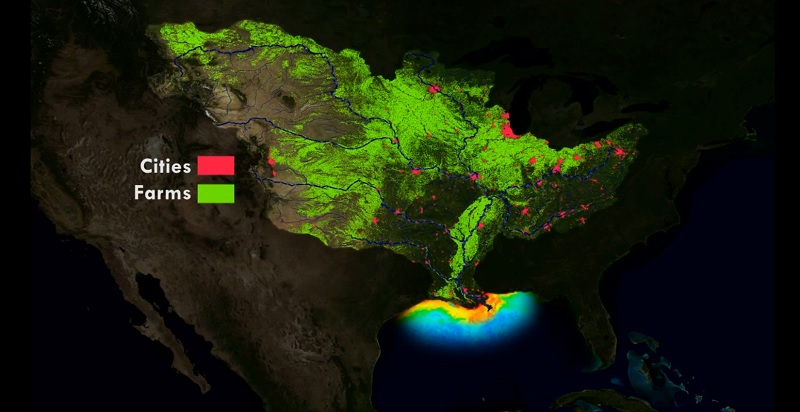 Graphic: Map of major cities and farmland that is within the Mississippi River watershed.
Credit: NOAA.
New initiates such as the Runoff Risk Forecast are reaching new states and are designed to help farmers apply fertilizer at optimum times to ensure it stays on fields and nutrient runoff to the Gulf is limited. Although, the below average hypoxic zone is promising news for a healthy Gulf Coast ecosystem, it is only a snapshot of the dynamic hypoxic zone that varies as a result of ever-changing meteorologic and hydrologic conditions. NOAA continues to fund monitoring and research efforts to understand the "dead zone" and to study the impacts of hypoxia on fish and fisheries in the Gulf of Mexico through its NGOMEX program. LUMCON's Gulf Hypoxia website also has additional graphics and information about this summer's research mission and past missions.
More News
Desktop News
Click to open Continuous News in a sidebar that updates in real-time.