Returning afternoon showers to limit weekend heat
Thursday, Baton Rouge area thermometers stretched to 97 degrees, making it the highest high so far in 2017. As we pick up some of the hottest temperatures of this summer, heat illness can set in rapidly so be sure to hydrate. Also, when the sun is shining, burn times will be under 15 minutes so lotion up!
THE FORECAST:
Today and Tonight: Friday will be another hot one with temperatures peaking in the mid 90s and heat indices around 105. Skies will be partly sunny through early afternoon but there will be a slightly better shot at an isolated shower or thunderstorm in the afternoon. This, of course, would cut back on the duration of peak heat. Tonight will be mostly cloudy with spotty showers early and then lows in the mid 70s.
Up Next: Over the weekend, temperatures will not be too out of control thanks to the return of more active afternoons. Scattered showers and thunderstorms are anticipated after lunchtime on both days and therefore highs should plateau just before that around 91 or 92 degrees. Nights will be quieter and sticky with lows in the mid 70s. It looks as though moving into next week, rain coverage will again trail off meaning high temperatures climb a bit higher.
The Tropics: Tropical Storm Don and Invest 96L have completely dissipated. No tropical development is expected over the next 5 days.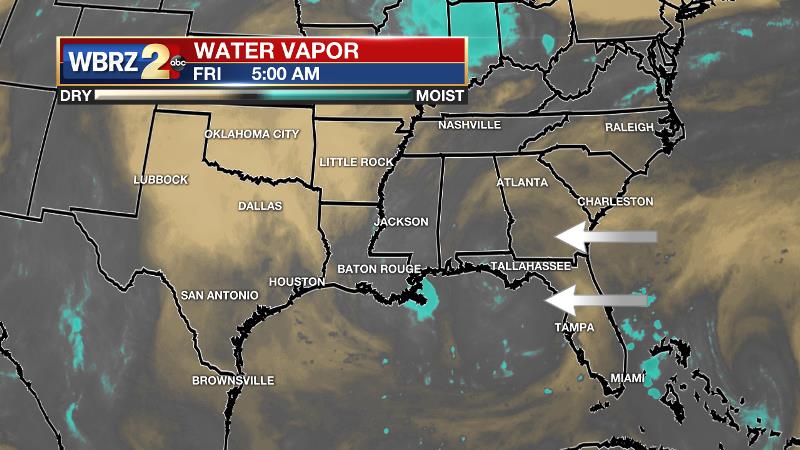 THE EXPLANATION:
A large upper level ridge is beginning to condense over the Central United States. Still, enough influence remains over the Central Gulf Coast that high convective temperatures in the low to mid 90s will result in lower end rain chances—in the isolated category at 20 to 30 percent. During the summer months, the showers and subsequent anvil cloud coverage provides some mitigation to the intense heat but on days where rain activity is limited, heat indices become a concern. Locations that stay sunny and dry often experience feels-like temperatures over 105 degrees for several hours. An upper low seen very easily on the water vapor imagery is retrograding from the East Coast and will begin to affect the area Friday afternoon into Saturday. The accompanying instability and moisture will mean a return of isolated to scattered showers and thunderstorms. The good news is this will result in highs stopping in the lower 90s and the duration of highest heat being much shorter. By Monday, rain coverage will again fall back to normal levels for this time of year—30 percent. Due to the abundant heat energy available, any thunderstorm could be locally intense with gusty wind, torrential rain and frequent lightning.
--Josh
More News