Reclassified: 4 tornadoes confirmed after Saturday storms
Continued sunshine and shifting winds will allow further warming on Tuesday and Wednesday. The next cold front will bring only subtle changes into Thursday.
THE FORECAST:
Today and Tonight: Full sunshine and southwest winds of 10mph will bring afternoon highs into the upper 70s and low 80s. Overnight will remain clear with morning lows bottoming out around 60 degrees.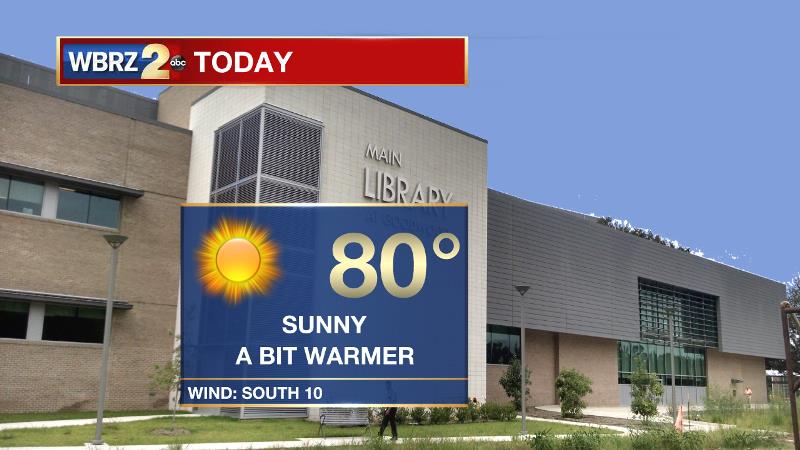 Up Next: More sun is ahead for Wednesday with more warmth. A weak cold front will move through the area on Wednesday night, but at this time, little more than a few extra clouds is expected. Sun and a few clouds will be featured in skies to round out the week. The next storm system to affect the area is pegged for the upcoming weekend. Current expectations are that a cold front will bring showers and storms on Sunday. About a week out, some timing adjustments may be needed as we get closer.
---
NEW: After further investigation and collecting more data, the National Weather Service has reclassified four local wind damage reports from last Saturday as EF0 tornadoes. The twisters occurred in East Baton Rouge, St. Helena and Tangipahoa Parishes. Below, see the unedited statements from each event.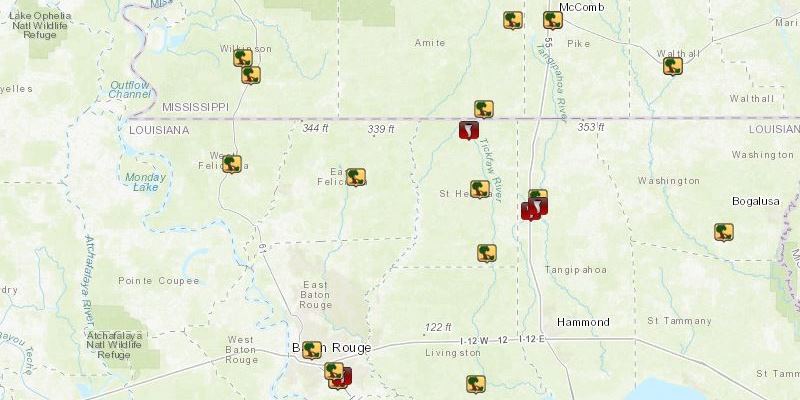 Local Storm Report by NWS LIX: 4 NNW Amite [Tangipahoa Co, LA] nws employee reports TORNADO of EF0 at 14 Apr, 08:38 AM CDT -- a narrow but linear track was detected at i-55/arcola exit, then on side roads off highway 1048, minor tree damage to small diameter pine trees, lifting near russell town road. length 3.80 miles, width 25 yards, estimated 75 mph winds. distinctly apart from other tornado in close proximity about 1/2 mile north of this track.
Local Storm Report by NWS LIX: 4 N Amite [Tangipahoa Co, LA] nws storm survey reports TORNADO of EF0 at 14 Apr, 08:35 AM CDT -- survey determined a track starting in st helena parish at the intersection of la 441 and la 1048, proceeding east along la 1048 into tangipahoa parish, lifting near u.s. highway 51 at arcola. large pines and oaks uprooted. most trees down noted along arcola road at widest point near 120 yards wide. track length 6.14 miles. some shingles removed off one home. small canopies and trampolines mangled. estimated 85 mph.
Local Storm Report by NWS LIX: 3 NNW Easleyville [St. Helena Co, LA] nws storm survey reports TORNADO of EF0 at 14 Apr, 08:20 AM CDT -- storm survey determined a very short-lived touch down in on cullen harell road. two large oak trees uprooted. another oak tree snapped and twisted. estimated winds 75 mph. length 100 yards, width 20 yards. power lines downed due to fallen trees.
Local Storm Report by NWS LIX: 3 ENE Oak Hills Place [East Baton Rouge Co, LA] nws storm survey reports TORNADO of EF0 at 14 Apr, 08:13 AM CDT -- a weak tornado touched down in the industriplex area and moved east southeast on a intermittent path to just northeast east of intersection of stumberg lane and airline highway. several metal building had large doors blown in or bent along with mostly minor roof damage. several trees were blown down along airline highway near pecue lane and stumberg lane. path length 1.5 miles. width 50 yards. max estimated wind 85 mph. ef0 strength.
---
THE EXPLANATION:
A weak ridge will move across the area with an associated surface high pressure on Tuesday. The combination will bring subsidence and surface divergence to allow all clear skies and much warmer temperatures. The next 500mb trough will move from west opt east but stay north of the area Wednesday into Thursday. As a result, a cold front will approach the area on Wednesday night, but with little to no upper level support and minimal moisture return from the Gulf of Mexico, showers are not expected. Temperatures may come back below average by 3-5 degrees beyond the boundary but it will still feel like spring out there unlike the past weekend. A sharper and more southern shortwave trough will move out of the Southwest, across Texas and into the local area by Sunday. Return flow entering the weekend will lead to enough moisture for that cold front to produce rain and thunderstorms. While this seems to be likely, it is too early for any details or confidence in severe weather or heavy rain.
--Dr. Josh
The WBRZ Weather Team is here for you, on every platform. Your weather updates can be found on News 2, wbrz.com, and the WBRZ WX App. on Apple and Android devices. Follow WBRZ Weather on Facebook and Twitter for even more weather updates while you are on the go.
More News