Suspect in possibly 'racially motivated' attacks held with no bond
BATON ROUGE – A day after his arrest, Kenneth Gleason – the suspect in two deadly attacks on black men and the shooting of another family's home – remained in jail with no bond for two of the numerous charges he faces.
Gleason was last booked into jail Tuesday – his third arrest – as police worked for nearly a week to solve the shooting deaths of two men. After their murders, Gleason was identified as a suspect but was only booked into jail on drug charges and later released on bond. He was arrested a second time on a theft charge then finally on murder, attempted murder and weapons charges related to the attacks last week.
59-year-old Bruce Cofield was shot to death, authorities said by Gleason, on Florida Boulevard September 12. Two days later, detectives believe Gleason then shot and killed Donald Smart on Alaska Street. In both shootings, witnesses reported seeing a red vehicle and a white man at the scene. At the Florida Boulevard shooting scene, witnesses said the man was wearing tactical gear.
Gleason was booked on the shooting charges Tuesday. Wednesday, Judge Trudy White ruled Gleason should be held with no bond for the two first-degree murder charges and some bonds for various other charges: $20,000 for each (2) attempted first-degree murder charges; $5,000 for each (2) illegal use of a weapon charges and $5,000 for the single criminal damage to property charge Gleason faces. While there are monetary bonds for those charges, Gleason will not be able to leave jail since he can't bond out for charges related to the killing of the two black men.
Gleason was tied to the deaths through DNA found on shell casings found at the crime scenes.
"This is extremely unusual," District Attorney Hillar Moore said at a joint press conference Tuesday. "To actually find DNA on expended shell casings is something that just doesn't happen."
MORE > Check out Hillar's full interview here.
In addition to the death of Cofield, a homeless man, and Smart, an employee at a popular LSU-area restaurant, Gleason is also accused of firing shots into a neighboring home on Sandy Ridge. The home was occupied at the time of the Sept. 11 shooting, but no one was reported injured.
Authorities said all the shootings were tied to together – from the car to the DNA to the bullets used.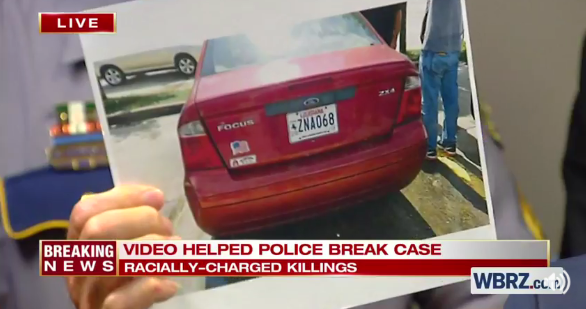 Authorities began searching for the vehicle, which was seen in surveillance video from both scenes. An officer then spotted the red vehicle on Saturday and took its driver, Gleason, into custody.
Police have since noted on multiple occasions that evidence leads them to believe the shootings were racially motivated. On Tuesday, a law enforcement official told the Associated Press that a copy of a speech by Adolf Hitler was found inside Gleason's home.
Gleason, identified by police as a person of interest in the shootings last week, was booked into the East Baton Rouge Parish Prison just after midnight Tuesday morning on new theft charges. He'd also been arrested last week on drug charges but had not been formally charged in the deaths of the men at that time.
Booking records show investigators responded to a call at the Books-A-Million location in Towne Center regarding the theft of a book last Wednesday morning. Officers say Gleason walked past all points of sale with the book and exited the store without paying for it. Documents go on to show Gleason was picked out of a photo line up by an employee of the store familiar with the incident, and he was arrested Tuesday morning.
New evidence, including the DNA found at one of the scenes, led to Gleason being charged in the shootings later that same day.
The shootings have captured the national spotlight and featured on Good Morning America Tuesday morning because officers say, the shootings could be racially motivated.
More News