More midday soakers
The unsettled weather will continue, but the focus for storm development is shifting. If you think it has been more rainy than usual this summer, check out these numbers.
THE FORECAST:
Today and Tonight: Thursday will bring another soak to many spots as showers and thunderstorms will flare up by midday. Highs should make it near 90 degrees before rain and clouds knock the numbers back a bit. As has been the trend so far this week, the greatest rain coverage will be found north of I-10 and any storm could bring torrential rain. Tonight will be partly cloudy with lows near 76 and some patchy fog late.
Up Next: Showers and thunderstorms will be a nuisance to outdoor plans well into next week. Since there are no distinct upper level waves or surface fronts to focus development, exact location and timing will be difficult to nail down. However, daytime heating and marine breezes will be the two main ingredients in forcing development, so look for mid to late morning development near bodies of water followed by an inland spread into the afternoon hours. No washouts are expected but a midday hour or two could be lost due to rain and lightning.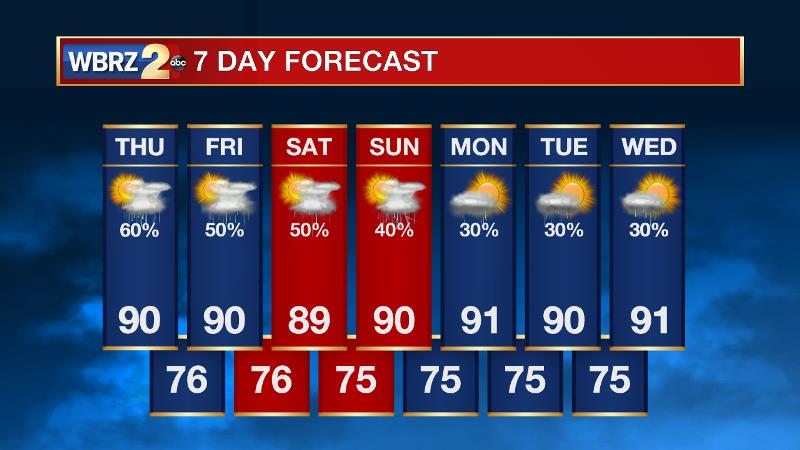 The Tropics: Hurricane Franklin made landfall in Mexico last night and is rapidly weakening as it rains out over mountainous terrain. Invest 99L continues to spin in the open Atlantic and hangs on to a 50 percent chance of development. Should it survive the weekend, the east coast may need to closely monitor progress of that system.
THE EXPLANATION:
To end the week, an upper level trough axis will weaken and the surface stationary front will become diffuse thus eliminating a focus for showers and thunderstorms to develop. However, precipitable water values will stay rather high and the greatest mid-level warming associated with a building ridge will remain west of the area. As a result, convection will have no problem developing with surface heating each day. Small scale features like lake and sea breezes will serve as a trigger point for late morning to afternoon activity. Rather than the widespread 60-80 percent rain coverage noted in the forecast area over the past several days, it will scale back into the 40-60 percent scattered category. That means some locations may dodge the rain on a given day but through the course of the next several days, most areas will receive some. Amounts will not be spectacular but any storm could produce locally heavy rain. We did note an upper ;level ridge and as our area will sit on the periphery of that ridge, northwest flow aloft will allow a few short waves of energy to dive across the area. The waves may serve as a timing mechanism in the forecast for additional activity but will be too subtle to pinpoint more than 24 hours in advance.
--Josh
More News