Landry maintains strong cash advantage in governor's race
BATON ROUGE - An early entry into the race, strong fundraising base and statewide name recognition are helping keep the perceived frontrunner at the top of the contest for Louisiana governor -- at least when it comes to campaign financing.
Attorney General Jeff Landry disclosed about $6.3 million in his campaign account in newly released April reports. That's more than double the amount of his closest competitor, fellow Republican and State Treasurer John Schroder, who shows a bankroll of $2.4 million.
Attorney Hunter Lundy, running as an independent candidate, reports $1.6 million in cash on hand.
Republican businessman Stephen Waguespack, who was the last of the major candidates to enter the race, shows $889,000 in his account; State Sen. Sharon Hewitt, a Republican, reports $664,000; former DOTD chief Shawn Wilson, the only declared Democrat running, holds $545,000; and State Rep. Richard Nelson, a Republican, reports $280,000.
Only Schroder has begun extensive on-air advertising, but Landry is expected to launch his first television commercials this week.
"Landry has stood out as the front runner from the beginning -- but sometimes it's not about how much money you have, but how you spend it," political consultant James Hartman told WBRZ on Tuesday. "Schroder could still surge a bit."
Landry, meanwhile, suggested the fundraising figures demonstrate widespread support.
"With our campaign continuing to produce robust fundraising numbers every month, it's clear that people are investing in who they believe will do the best job as Louisiana's next Governor," Landry said in a written statement.
The hopefuls are aiming to succeed term-limited Gov. John Bel Edwards, a Democrat in his final year of office. The incumbent has thrown his support behind the only member of his party in that effort.
Though Wilson finds himself near the back of the fundraising pack, Hartman said the figures aren't particularly alarming.
"Not terribly shocking. He still has time to grow," he said. "Sec. Wilson also has the advantage of being the only Democrat in the race, which means he's very likely to draw very large support from Democrats and African-American voters, and he can do that without spending a lot of money."
If a candidate tops 50 percent of the vote in the initial round of balloting in October, he or she wins outright. Otherwise, the top two vote-getters advance to a showdown in November.
Fundraising figures in this report do not include money held by Political Action Committees that may back a particular candidate.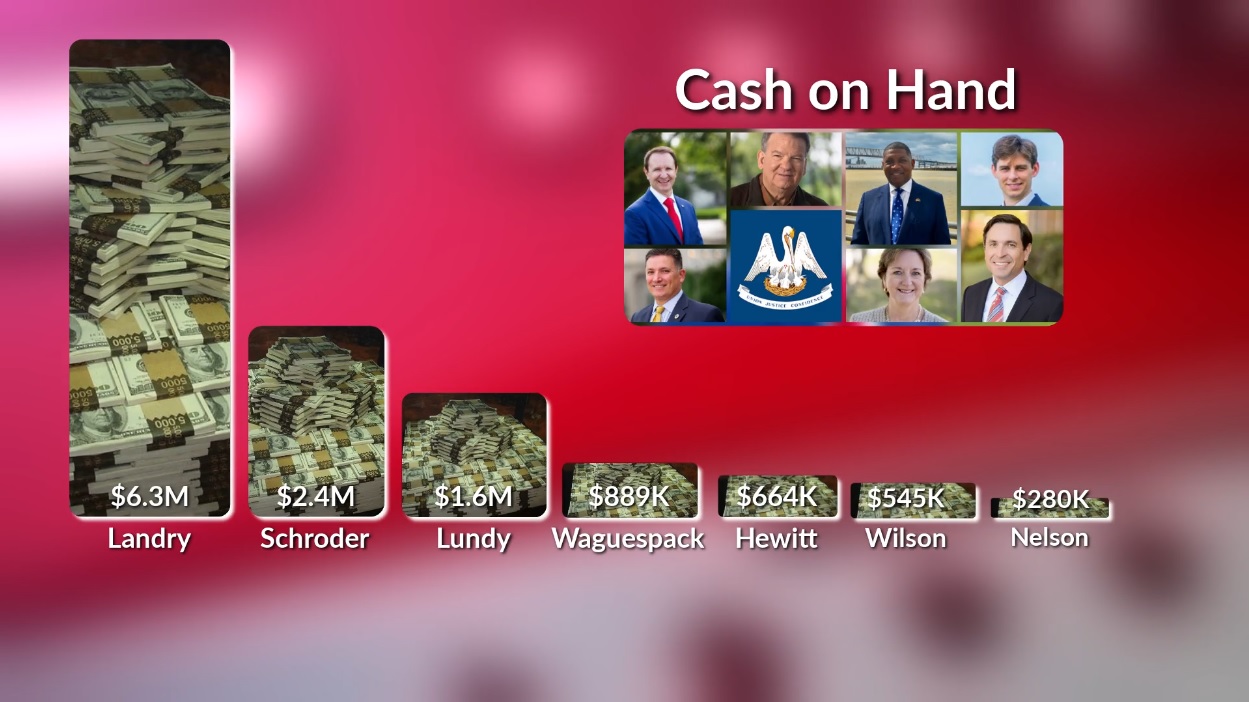 More News