Irma brings pleasant weather to local area
The remnants of Irma continue to fall apart and rain out across the Southeast. For locations near the center of the storms, winds of 35mph will decrease through the day.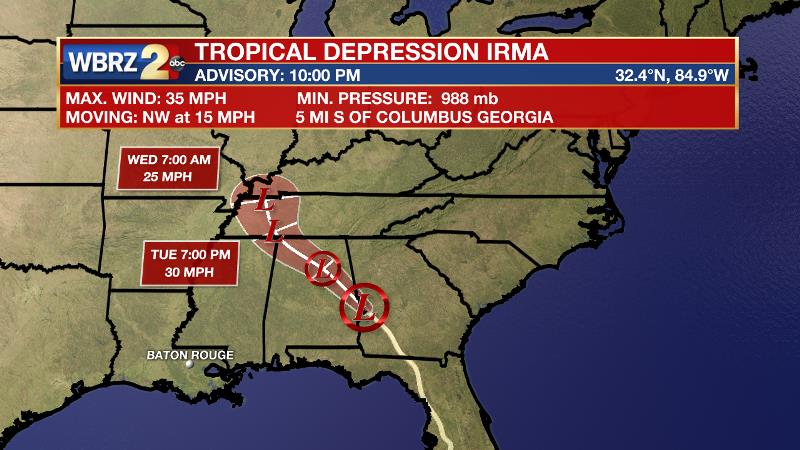 Today and Tonight: Unbelievably, Irma is actually bringing pleasant weather to the local area. Northwesterly winds circulating around the system are providing a continuation of cooler and drier conditions. Skies will remain mostly clear through the day, although some high clouds could sneak into southwest Mississippi. High temperatures will be near 80 degrees with west, northwest winds of 5-10mph. Overnight, the winds will ease a bit, skies will stay clear, and lows will dip down to 60 degrees again.
Up Next: As the remnants of Irma scoot further into the Midwest, winds will begin to shift to the south. By mid-week, this will raise local temperatures and humidity again, but not the extent we had a few weeks ago. Keep watering the lawns and gardens though. Rain chances will not return to the forecast until Friday or Saturday, and even those look low.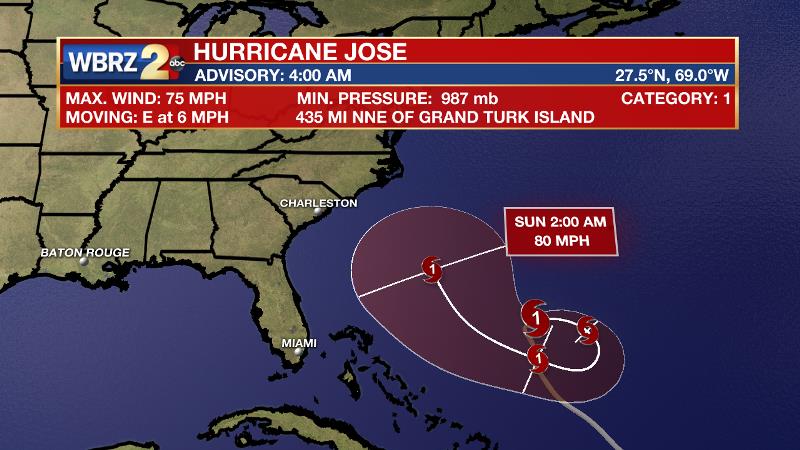 The Tropics: Hurricane Jose churns without direction in the west-central Atlantic Ocean, drifting east at 6mph. As of Tuesday morning, the storm had maximum sustained winds of 75mph. Some additional weakening is possible over the next 48 hours with a turn to the southeast Tuesday night followed by a turn to the southwest on Wednesday.
THE EXPLANATION:
The early autumn preview will continue thanks to Irma, which is currently moving northwest across Georgia and Alabama. The broadening circulation will continue to draw in drier air from the northwest. Although light showers will sag south across Mississippi towards southwestern counties, the probability is too low to justify putting rain chances in the forecast. Wednesday and Thursday will be similar except for moderating temperatures as Irma remnants shift northeast. Highs will reach the upper 80s with as Gulf moisture sneaks back into the area. By Friday and the weekend, more seasonable weather will be in place with high temperatures near 90, low temperatures near 70 and isolated showers, mainly diurnally driven. This trend may continue into next week depending on if an upper level ridge stays west or builds closer to the forecast area.
--Josh
More News