Harvey upgraded to a hurricane, rapidly gaining strength
The National Hurricane Center says Hurricane Harvey is rapidly gaining strength in the Gulf of Mexico. The storm, which was upgraded to a category one hurricane Thursday afternoon, is expected to make landfall in Texas late Friday night or early Saturday morning.
Governor John Bel Edwards declared a state of emergency for the entire state of Louisiana in anticipation of severe weather as a result of Hurricane Harvey.
"All arms of the state's emergency preparedness and response apparatus are planning for the serious threat posed by Hurricane Harvey, and we are calling on all Louisianans throughout the state to do so as well," Gov. Edwards said. "I will continue to direct all of the necessary resources to preparing for the worst as we all pray for the best, but rest assured, state and local officials are working around the clock to monitor and respond to this potentially dangerous situation."
Data from Air Force Reserve and NOAA Hurricane Hunter aircraft indicate that maximum sustained winds have increased to near 85 mph(140 km/h) with higher gusts. Additional rapid strengthening is forecast, and Harvey is expected to become a major hurricane by Friday before it reaches the middle Texas coast.
Moisture from Hurricane Harvey will bring the threat for a prolonged period of heavy rain and flooding into next week. However, the track and evolution of the system bring an unusual amount of forecast uncertainty after landfall. Expect changes to the forecast and plan to check in frequently for updates. Regardless, as a precaution, now is as good of a time as any to review flood safety plans.
THE FORECAST:
Today and Tonight: Thursday will bring partly sunny skies early followed by scattered showers and thunderstorms during the afternoon. About 50 percent of the 13 Parish, 3 County forecast area should pick up measurable rain. Temperatures will make it into the low 90s before any rain or cloud cover pulls thermometers back. Overnight will be mostly cloudy and seasonably muggy with temperatures in the low 70s.
Up Next: Friday will continue a typical summer weather pattern before the area is influenced by Harvey over the weekend. From Sunday to Wednesday, the Baton Rouge area will need to be wary of the potential for heavy rain. Moisture from Hurricane Harvey streaming eastward along a stalled front could easily bring 4-7 inches of rain, with isolated higher amounts. Due to the unsettled weather, temperatures will be held to small ranges. Highs will be in the low to mid 80s with lows in the low to mid 70s. By the end of next week, as this pattern flushes out, a few days of tranquil and pleasant weather with lower temperatures and humidity can be expected.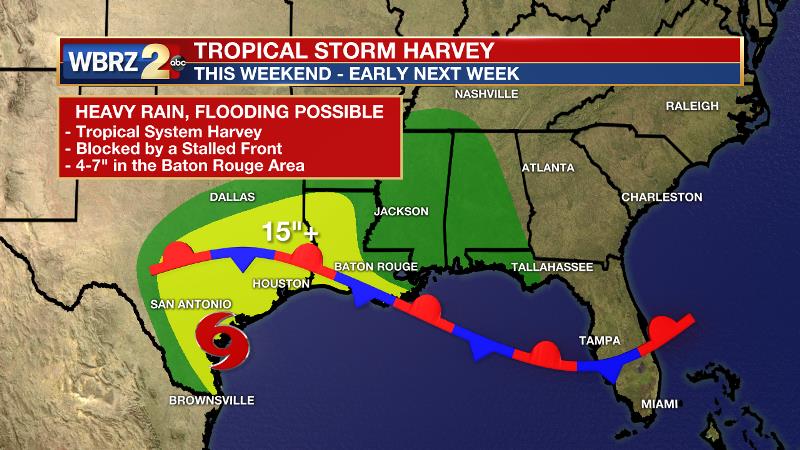 Hurricane Harvey continues to strengthen in the central Gulf of Mexico. As of 1pm Thursday, the storm had a minimum central pressure of 981mb, maximum sustained winds of 80mph and was moving northwest at 10mph. The storm was rapidly intensifying over the water water of the Gulf of Mexico and is now expected to become a category three hurricane prior to landfall. The storm is expected to strike the Texas coast late Friday, near Corpus Christi. Storm surge and strong winds are anticipated, but rain will be the main threat. Due to a stalled front along the coast, heavy rain could last for several days across southeast Texas, amounting to upwards of 20 inches.
The evolution of this system beyond the weekend, including how it will affect the Baton Rouge area, remains largely questionable. Due to the stalled front and some blocking weather systems both west and east of the storm, it may be many days before upper level winds steer the area of low pressure toward Louisiana. Should a period of heavier rain impact southeast Louisiana and southwest Mississippi, it may hold off until next week.
Given the latest forecast data, 4-7 inches of rain appear to be possible over several days. This would be a manageable scenario for the local area. However, if some steadier and heavier pockets of rain become established, the possibility is there for flash flooding and river flooding. Rainfall associated with Harvey could begin as early as Saturday and last into the middle of next week. Right now, it appears as though Monday and Tuesday would bring the most unsettled weather and the majority of the rain.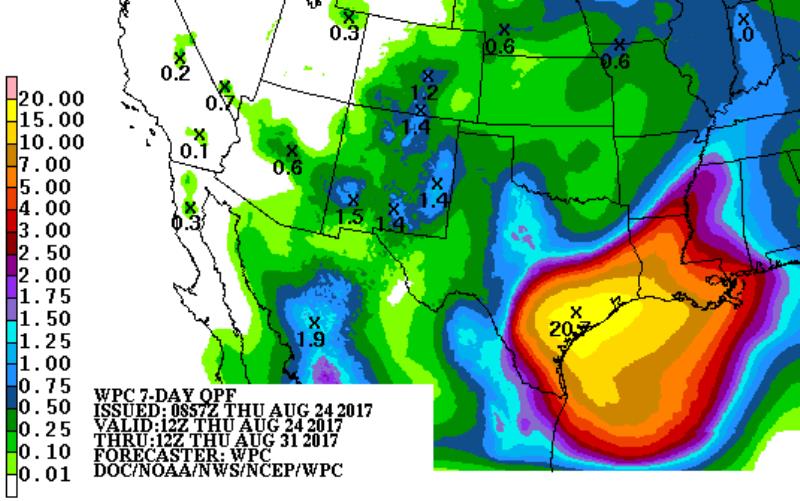 It is too early to tell how local rivers could be affected. Only the next 48 hours of forecast rainfall is factored into predicted river levels. Since the heaviest rain is expected on Sunday and Monday, Friday and especially Saturday should bring a better idea of the rises on local rivers. For now, pay attention to the forecast, and review plans should any crest above flood stage.
Areas along the central and western Gulf Coast need to monitor the forecast as it evolves. Plan to get frequent forecast updates from the WBRZ Weather Team on News 2, wbrz.com, Facebook, Twitter and the WBRZ WX App. on Apple and Android devices. As always during hurricane season, stay prepared and review plans.
THE EXPLANATION:
A weak front and upper trough will contribute to scattered afternoon showers and thunderstorms through Thursday. A general weakness between eastern and western mid-level ridges will be usurped by the stacked low that is associated with Harvey by this weekend. At the same time, forecast models depict a boundary stalled along the Gulf Coast with column moisture and saturation drastically increasing. The parked boundary will not allow much progression from the tropical system and therefore a prolonged period of heavy rain is expected. Deep tropical moisture will be drawn northward with a swath of showers and thunderstorms from the central Texas coast to the Florida panhandle. Eventually, the upper level steering winds will snare the tropical low and drag it east across the stalled boundary. Exactly where this boundary is positioned is where to corridor of heaviest rain can be expected, but that may not be known for a few days yet. When this movement begins to occur is still up in the air—literally. The upper level winds that will pick up this tropical low are still located over the Pacific Ocean and will not be well projected by forecast models until they move over land later this week. As far as rainfall totals go, the GFS model depicts a range of 6-12" across the forecast area. The more conservative European model is showing 4-8" and seems to be handling this scenario better right now. Ensemble models show high confidence in more than 4" of rain for the local area. Therefore, the WBRZ Weather Team forecast will carry 4-7" for now.
--Josh
More News