Fall feel has arrived, little change in Irma strength or track
On Thursday morning, Baton Rouge area thermometers reached their lowest mark since May 25. Overnight, Hurricane Irma has held strength with little change in forecast track.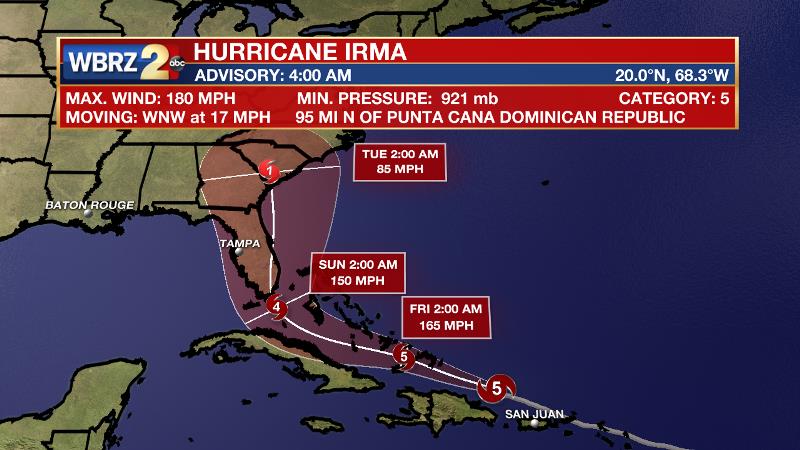 The Tropics: Hurricane Irma has a minimum central pressure of 921mb, with maximum sustained winds of 180mph and is moving west, northwest at 17mph. The official forecast track from the National Hurricane Center has not changed much in the last 24 hours. As Irma approaches the United States, a cold front and associated upper level trough of low pressure is expected to snag the storm, and begin to steer it north. That turn is still expected to occur near south Florida over the weekend. Regardless of exact track, all Florida residents east of the panhandle, Georgia and the Carolinas should continue to prepare for a major hurricane. It appears that Irma poses no threat to the Baton Rouge area. Still, the WBRZ Weather Team always encourages hurricane preparedness and staying connected to the forecast. The WBRZ Weather Team is here for you, on every platform. Your weather updates can be found on News 2, wbrz.com, Facebook, Twitter and the WBRZ WX App. on Apple and Android devices.
Elsewhere in the tropics, there are two other hurricanes. Jose trails Hurricane Irma in the central Atlantic. This storm could move dangerously close to the battered Leeward and Virgin Islands by early next week. After that, it is expected to take a northwestward turn. Closer to home, Hurricane Katia has formed in the southern Gulf of Mexico. Katia may strengthen some before drifting south and west toward Mexico. Neither of these storms are a threat to Louisiana.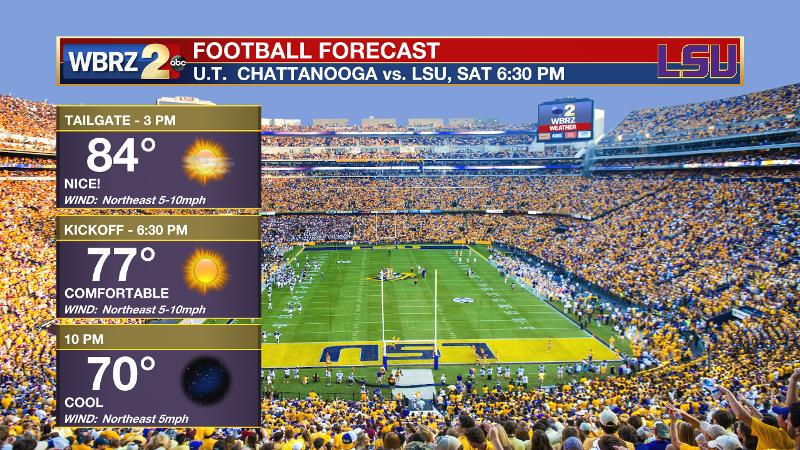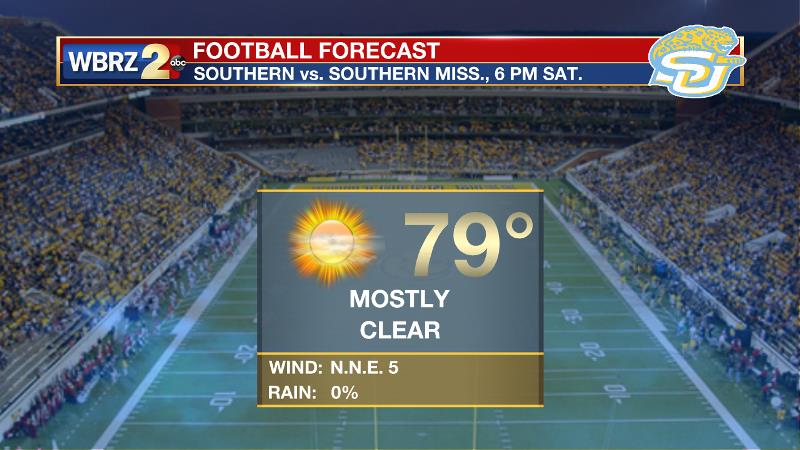 Local Forecast: Thursday through Saturday will bring clear skies, highs in the low 80s and lows in the low 60s. Some typically cooler locations north of I-12 could briefly drop into the upper 50s. Weather for the first LSU Football home game looks fantastic, normally in early September we sweat and sweat some more—but not this year! Even for Southern traveling to nearby Hattiesburg, similar pleasant weather is expected. By Monday, a few high clouds may begin to show up due to a weak disturbance in the upper levels and the outer reaches of Hurricane Irma. As of now, it looks like the storm poses no threat to the Baton Rouge area. Actually, tranquil weather and cooler than average temperatures will be possible well into next week.
THE EXPLANATION:
Northerly breezes behind the cold front will slacken Thursday and Friday. Depending on the future track of Irma and the position of a surface high pressure system to the north, winds may increase once again when our area is between these two features. If this lines up, northerly winds of 10-15mph could return later in the weekend, but a breeze is certainly no cause for alarm. On the contrary actually, as northerly winds will reinforce the pleasant, dry air mass in place for several days to come. A short wave trough will move through the southeastern U.S. this weekend and snare Irma, deflecting the storm on a northward trajectory. The enhanced northerly flow and strong dynamic support could feasibly cause some isolated shower activity on Sunday or Monday if some coastal moisture can sneak inland but this probability is low right now.
--Josh
More News