While there's no evidence of racism, doctor focus of aggressive running incidents around the Lakes
Related Story
BATON ROUGE – Police clarified detectives' earlier assumption about a high-profile incident at a popular running trail.
Thursday, Baton Rouge Police said there was not "enough evidence to prove that this was racially motivated," a department spokesperson said in response to questions about the arrest of Shane McKinney, a Baton Rouge pediatrician.
McKinney was booked into jail late Wednesday after being identified by police earlier in the week as a suspect in an attack along the running trail around the LSU Lakes. Police said, originally, a man punched a runner, who happened to be a Southern student-athlete, and shouted a racial slur. Police said earlier in the week the attack was believed to be racially motivated.
McKinney, a pediatrician at Our Lady of the Lake who studied in Arkansas and Alabama before moving to Baton Rouge in 2018, was suspended from his position at the hospital. After being identified as a suspect, the hospital released a stern statement on bigotry.
McKinney was arrested Wednesday on a simple battery charge. Police had originally insinuated tougher charges, but said later, investigators did not have evidentiary support to charge McKinney with other crimes.
McKinney was released from jail on a $10,000 bond and maintains he is innocent.
LSU Police records obtained Thursday reveal McKinney was accused of a similar run-in with a different person on LSU's campus back in July. That person also alleged that McKinney struck her with his shoulder as he ran past her and told police she wanted to pursue simple battery charges.
Southern University previously released a statement about the incident and said the community should "unite in creating change by communicating our beliefs and embracing our differences in order to eradicate racism and social injustice in our community."
Statement from SU Athletic Director Roman Banks on Monday's Incident. pic.twitter.com/G05iAjVts1

— Southern U. Sports (@SouthernUsports) November 10, 2020
McKinney was previously reported for aggressive actions along running trails over the summer. LSU Police investigated an incident where a runner said McKinney nudged walkers as he tried to run passed them on a running route. LSU Police investigated the incident as a simple battery complaint but no charges were filed.
Read the arrest report below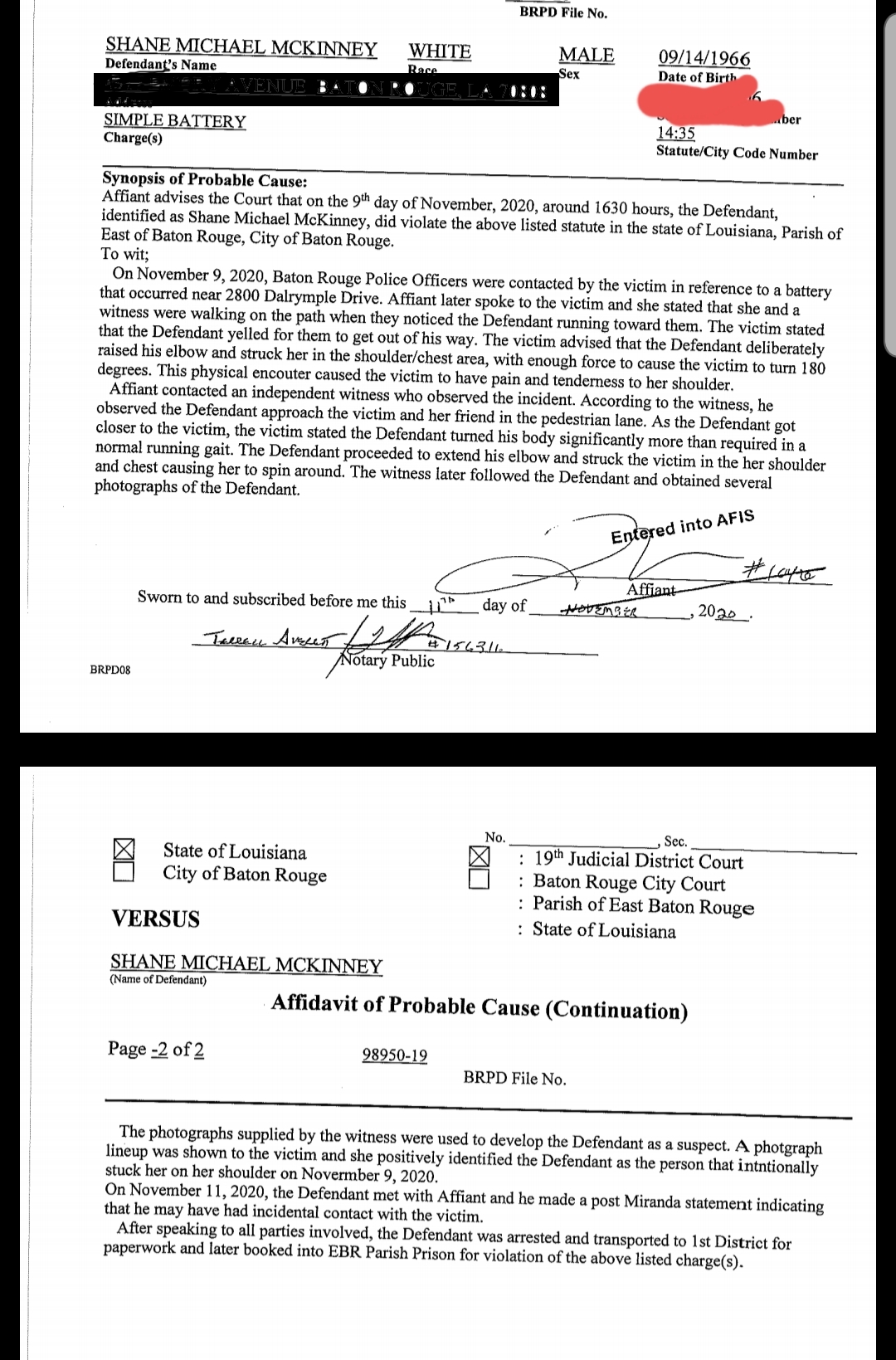 Related Images
News
BATON ROUGE – Police clarified detectives' earlier assumption about a high-profile incident at a popular running trail. Thursday, Baton...
More >>