Series of roundabouts in Gonzales could cost $29M
Related Story
ASCENSION PARISH - A series of roundabouts planned for LA 30 at the Tanger Outlet Mall and I-10 could cost $29 million to build, according to information released by the Department of Transportation and Development on Friday.
The single project -- which would be implemented in phases -- accounts for nearly half of the expenses associated with 16 projects statewide that were updated by DOTD. For each project, the department listed the low bid submitted to the State.
"We are pleased to award contracts for several new projects this month, especially since a number of them are safety related," said DOTD Secretary Eric Kalivoda. "Safety is a top priority of this department, and features such as roundabouts, turn lanes and rumble strips all contribute to keeping the traveling public safe on Louisiana's highways."
The bid to install multiple roundabouts on LA 30 must still receive final approval.
The idea to place roundabouts near the outlet mall was proposed years ago. In 2021, Barney Arceneaux, the mayor of Gonzales, told WBRZ traffic on the city's main thoroughfare had become "horrendous."
He said roundabouts have been shown to improve the flow of traffic in such situations. People in Gonzales hope that this project would help relieve the stress of their daily drive.
"All the plant traffic flow we have, especially getting-off time at four o'clock, it's heavy, and it's getting worse and worse, I will admit," said Chelsea Teague, the director of catering at Don's Seafood.
"During Christmas season, it's going to take you an hour to go two miles right here by 30 and the interstate," said resident Craig Hill.
In addition to the shopping complex, the area is home to numerous hotels and restaurants.
A representative of DOTD told WBRZ that the project will add roundabouts at the intersections of LA 30 and I-10 westbound, LA 30 at I-10 eastbound and LA 30 at St. Landry. Existing traffic signals will be removed at these intersections.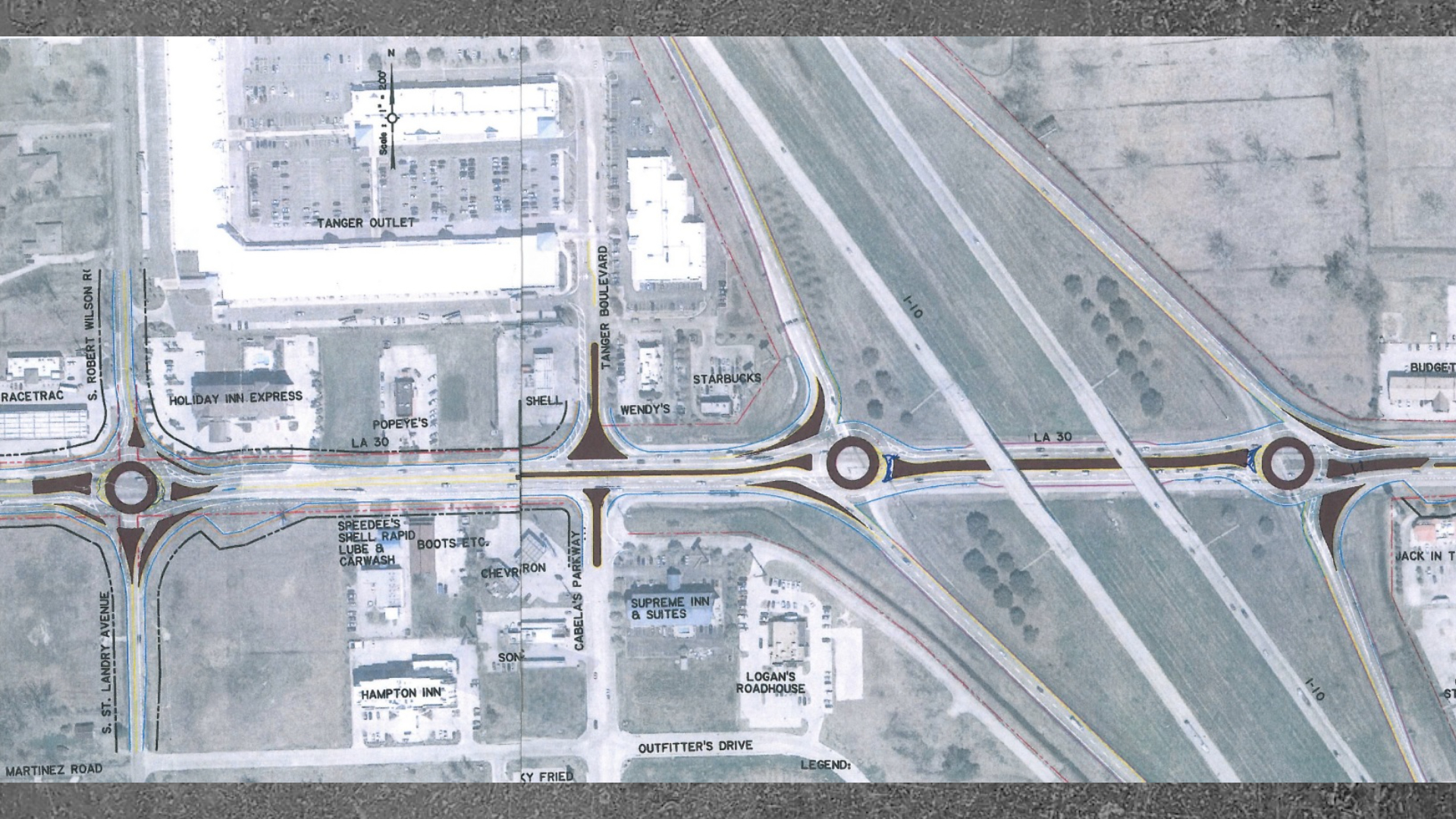 DOTD cited statistics showing roundabouts reduce fatalities by up to 90 percent and reduce injury crashes up to 76 percent. Some locals are ready for the roundabouts, while others remain skeptical.
"People tend to pass us up, I think, sometimes, because traffic is heavy right there. I definitely think the roundabouts would help our business bring more flow in," Teague said of her restaurant.
"I think they can speed things up, but it all depends on if people know how to use them. The neighborhood I live in front of there's almost a wreck every day because somebody thinks it's a way to get on the outside and speed around," Hill said.
A key difference from traditional intersections is the reduction in "conflict points," where vehicles are at higher risk of colliding.
A separate bid of $1.9 million was turned in to build a roundabout at the intersection of Roddy Road and Churchpoint, east of Gonzales.
That project was also introduced in 2021.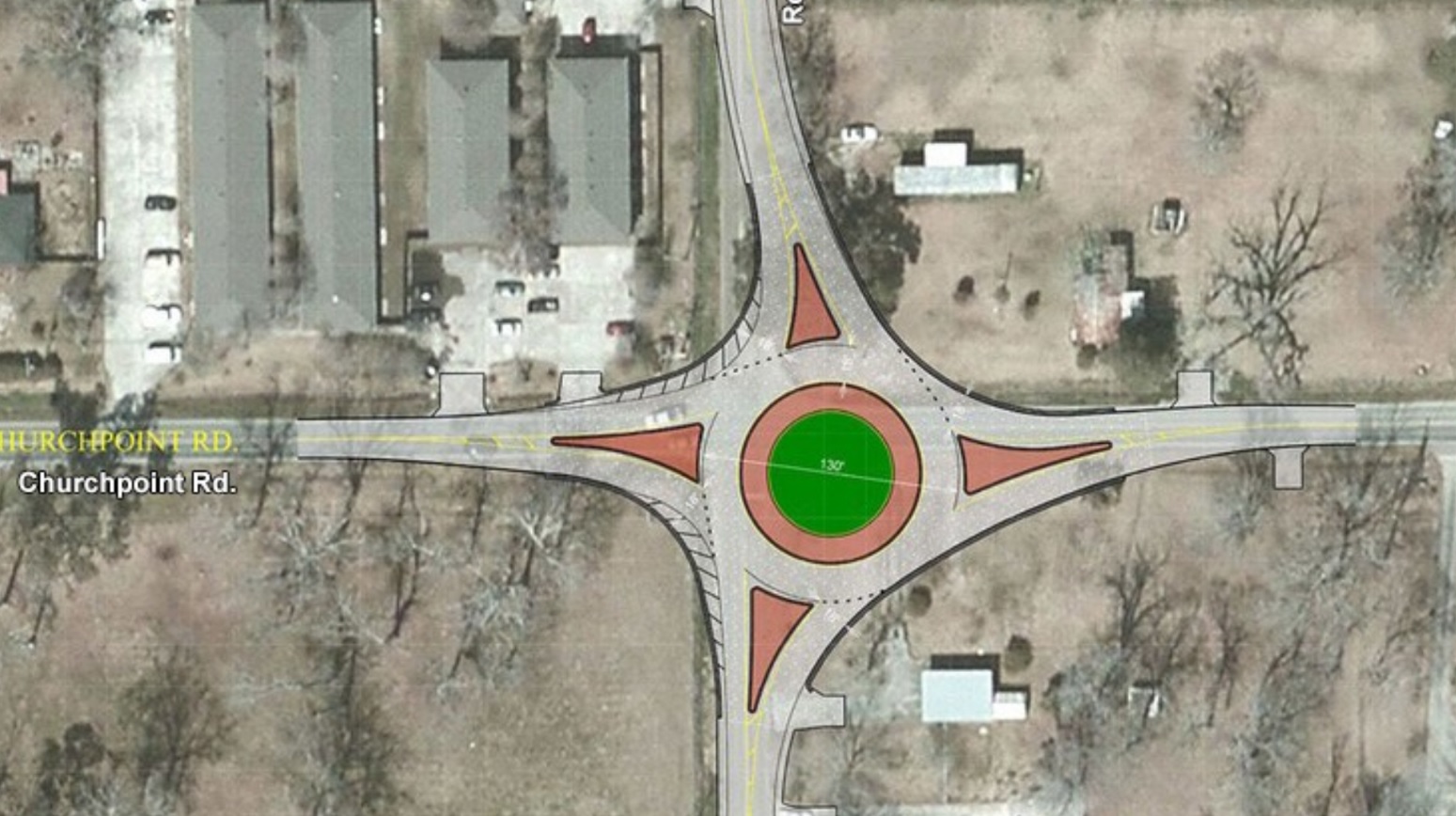 A low bid of $2.1 million was submitted to install rumble strips at various locations in Ascension Parish.
A company said it would perform tree and stump removal along LA 37 in East Baton Rouge Parish for $982,000, and a firm told DOTD it would handle the installation of a left turn lane on I-10 westbound at the Siegen Lane off ramp for a little less than $1.4 million.
News
ASCENSION PARISH - A series of roundabouts planned for LA 30 at the Tanger Outlet Mall and I-10 could cost...
More >>