Tuesday PM Forecast: streak of 100s, scorching heat continues
As the heat continued, fewer showers and thunderstorms popped on Tuesday. However, there may be some better coverage in cooling rainfall again on Wednesday.
An *EXCESSIVE HEAT WARNING* is in effect from 10am - 7pm Wednesday for the entire WBRZ Viewing Area. Dangerously hot conditions with heat index values up to 115 expected. Extreme heat and humidity will significantly increase the potential for heat related illnesses, particularly for those working or participating in outdoor activities.
Drink plenty of fluids, stay in an air-conditioned room, stay out of the sun, and check up on relatives and neighbors. Young children and pets should never be left unattended in vehicles under any circumstances. Take extra precautions if you work or spend time outside. When possible reschedule strenuous activities to early morning or evening. Know the signs and symptoms of heat exhaustion and heat stroke. Wear lightweight and loose fitting clothing when possible. To reduce risk during outdoor work, the Occupational Safety and Health Administration recommends scheduling frequent rest breaks in shaded or air conditioned environments. Anyone overcome by heat should be moved to a cool and shaded location.
Tonight & Tomorrow: Leftover clouds and stray showers will quickly diminish after nightfall. Low temperatures will be very warm, failing to leave the 80s in most neighborhoods. Another scorcher is on tap for Wednesday. High temperatures will blast into the low 100s, perhaps as early as lunchtime. With humidity, feels-like temperatures will range from 110 – 115 degrees. By mid-afternoon, there may be just enough moisture in the atmosphere for some showers and thunderstorms to develop. Once again, let's not be surprised that any storms can produce gusty wind and frequent lightning.
Up Next: The workweek will finish with a repeat of dangerous heat. Highs will range from 99 – 102. Lows will stay between 79 – 82. Humidity will remain high enough to cause peak feels-like temperatures well into the 100s and likely continue the need for heat alerts. Though still low chances, there may be a spotty shower or thunderstorm during the afternoons—with a slightly better chance over the weekend.
---
Get the latest 7-day forecast and real time weather updates HERE.
Watch live news HERE.
---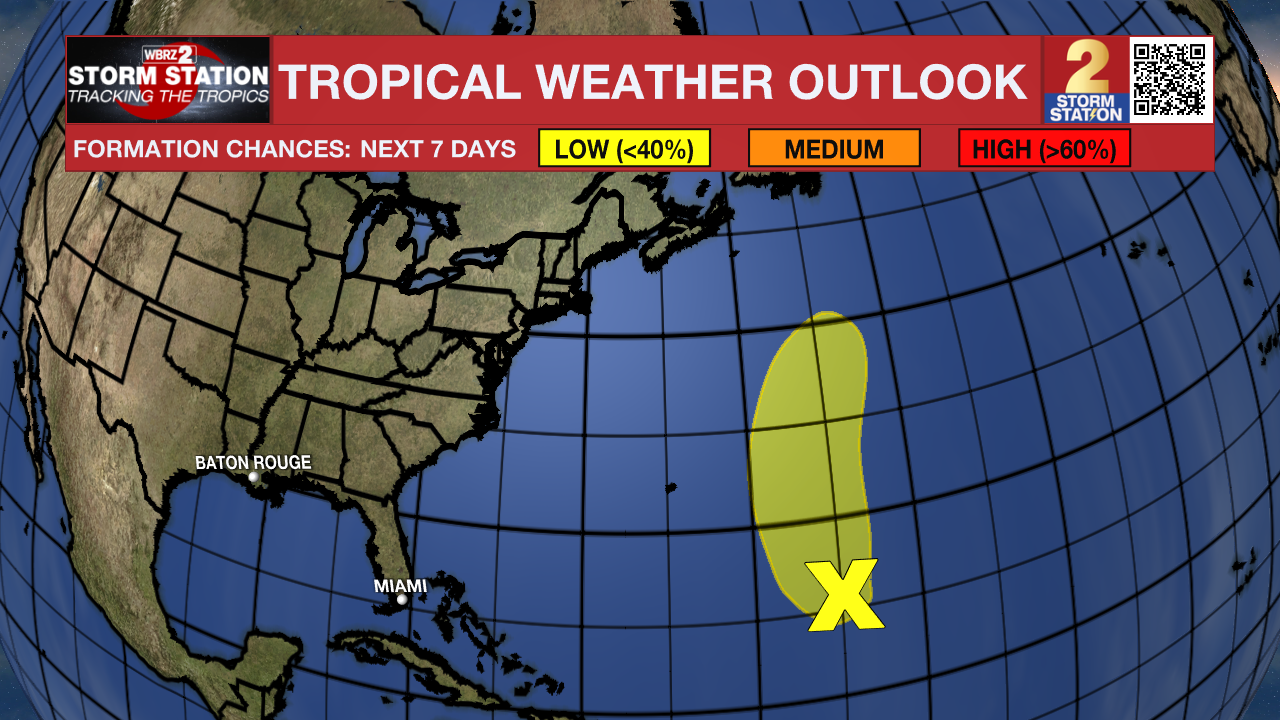 The Tropics: Showers and thunderstorms remain disorganized in association with a low pressure area located about 800 miles north-northeast of the northern Leeward Islands. Environmental conditions are becoming less favorable for tropical cyclone formation, and the low is expected to merge with a frontal system over the north central Atlantic in about two to three days.
--Josh
The Storm Station is here for you, on every platform. Your weather updates can be found on News 2, wbrz.com, and the WBRZ WX App on your Apple or Android device. Follow WBRZ Weather on Facebook and Twitter for even more weather updates while you are on the go.
More News