School pronouns bill, measure limiting discussion on sexual ID fail in override session
UPDATE: In Day 1 veto session activity, lawmakers have failed to pass an override of the governor's veto of HB 81, a bill that requires school staff to address students by names and pronouns associated with their birth certificate unless a student's parent or guardian directs otherwise. The House vote to override the governor's veto was 67 for the override and 29 against -- three votes short of the requirement to advance to the Senate.
On HB 648, a measure to prevent health care professionals from performing gender-affirming care on children, lawmakers in the House voted to override Gov. John Bel Edwards' veto. The vote to override the governor's veto was 75 for the override and 23 against. The vote followed impassioned arguments for and against the override and repeated interruptions from observers in the gallery. The Senate must still vote for an override to take effect.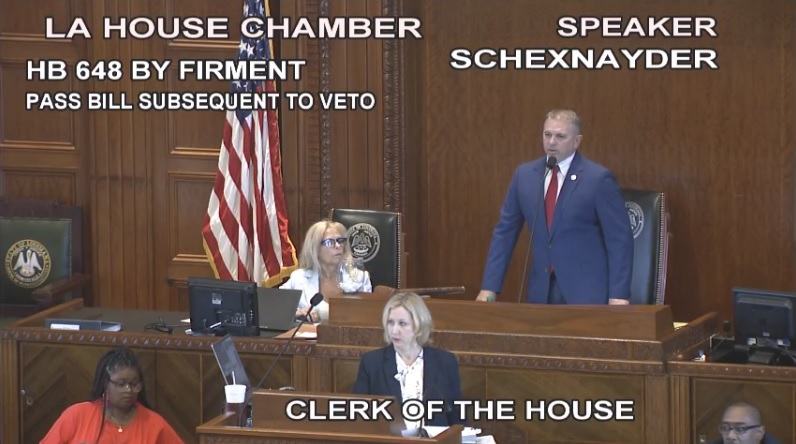 A bill that requires an annual canvass of registered voters -- HB 646 -- barely failed to pass in the House. Secretary of State Kyle Ardoin called the measure "critical to election integrity and the maintenance of accurate voter rolls," while Edwards has argued that parish registrars already conduct voter canvasses regularly. The vote on Tuesday was 69 to override and 30 not to override the veto.
HB 466, the third of three "LGBTQ-focused" bills would restrict discussion of gender identity and sexual orientation in public schools. The House on Tuesday voted 68 in favor of an override, 29 against -- short of the number needed to advance the effort.
In all, the legislature may take action on 28 measures that were vetoed. You can look up the status of each of them here.
---
BATON ROUGE - Louisiana legislators are returning to the Capitol Tuesday for a veto override session.
All of the 28 bills Governor John Bel Edwards rejected are back on the table. Among them, three controversial anti-LGBTQ+ bills.
"Quite honestly most of these bills are solutions in search of a problem, but at the same time many of them are not objectionable to most Louisiana voters," political analysist James Hartman said.
The Republican-dominated legislature passed bills that ban transgender medical procedures on children and require parents to submit a form for their child to use a name other than the one on their birth certificate. Queer advocacy groups fought against those measures.
"It takes dignity away from families like mine," activist Rustin Loyd said.
Another bill attempted to ban the discussion of gender identity in classrooms, which is Louisiana's version of what LGBTQ+ activists have dubbed the "Don't Say Gay" bill supported by Gov. Ron DeSantis in Florida.
"When you say you can't discuss gender identity in a classroom, then what does the teacher call him or herself?" Hartman asked.
"We've seen bills like this all over the country, and they've been shot down in court over and over again. So we fully expect even if this does pass, it will be shut down in court," Loyd said.
In order for any of the bills to take effect, a two-thirds majority approval is needed from both the House and Senate. It's something analyst James Hartman says is likely to happen.
"I do expect that those three bills for sure, the vetoes will be overridden. I have almost no doubt about that," he said.
"I hope that our state legislature will understand that these issues are going to cost us money, alienate people, and that they will put all of this to bed," Loyd said.
Governor Edwards vetoed the anti-LGBTQ+ bills and said that passing the litigation could have negative impacts on the queer and trans community and raise suicide rates.
"Members of this community believe they're being attacked for who they are," Edwards said to the Louisiana Illuminator in May. "Members of the the trans community are much more likely than other young people to have suicidal ideation or attempts or to actually be successful. These kinds of bills do not tend to help with that."
More News