Police: Woman arrested for helping work release inmate escape
UPDATE: Authorities have arrested a woman for her involvement in helping Lynndrick Huey escape.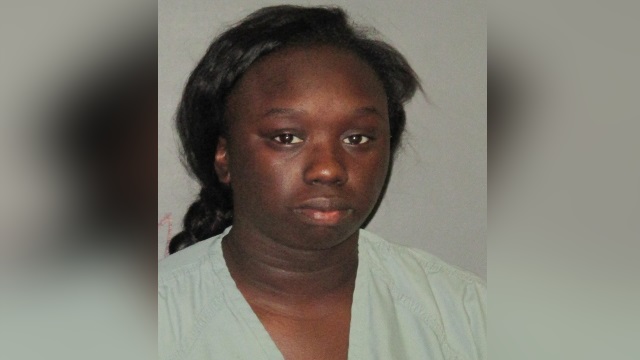 Erica Williams allegedly transported Huey from his designated work release assignment to a family gathering in the Baton Rouge area. Williams said she attempted to return Huey to the location before the van arrived. It was later discovered that Huey had missed the van.
Fearing he would be disciplined for leaving the job site, Huey later called Williams and informed her that he was going to escape. Williams then picked Huey up and transported him to a relative's house on Osceola Street.
When police asked Williams about Huey's whereabouts, she stated he was taken from the house by an unknown person and taken to New Orleans. According to the arrest report, William stated she helped Huey escape because she considered him a friend.
******
BATON ROUGE- Authorities are looking for an escaped work release inmate.
Lynndrick Huey, 24, has a lengthy criminal history with three convictions out of New Orleans. According to a news release, Huey left the work release van Sunday night while other release inmates were being picked up and transported in Baton Rouge.
Authorities say Huey could be in either Baton Rouge or New Orleans.
Criminal justice experts are questioning tonight why he was even in the work release program.
"My concern is are we properly vetting these individuals. And more importantly than that, are we protecting the residents of East Baton Rouge Parish when we let someone like that on work release," Criminal Justice Professor Paul Guidry said.
The WBRZ Investigative Unit found the following convictions for Lynndrick Huey.
1. Sentenced on 9/27/11
Pleaded guilty to the following charges: Simple burglary, criminal damage to property, possession marijuana, and possession of Schedule 4 (Xanax).
Received: Six months suspended.
Three years of probation.
DOC: Probation has been served
2. Sentenced October 2012
Pleaded guilty to the following charges: PWID cocaine, possession of a firearm by a convicted felon
Received: 10 years DOC time
DOC: RELEASED on 10/10/15 due to good time and parole
3. Sentenced 7/10/17
Convicted of two counts of possession of a firearm by a felon and one count of resisting an officer.
Received: Six months for resisting officer
8 years for possession of a firearm by a felon... DOC time.
DOC: ESCAPED on 4/1/18
"Rehabilitation and work release programs work very well, but we have to closely monitor who we let in to these programs to protect society as a whole," Guidry said.
The Department of Corrections said Huey was assigned to work at a restaurant. The state declined to do an interview, however a spokesman said the state is looking into outfitting work release offenders with ankle monitors.
A scathing audit was released in 2016 that showed 254 escapes happened over a two-year period.
Anyone with information on Huey's whereabouts can call 225-389-5000.
More News