Experts discuss library structure issue, release updated information
The mayor's office says a preliminary report from engineers is expected Friday that will explain what happened to the building, and recommend any corrective measures that need to be taken.
The architecture firm that designed the library, WHLC of Baton Rouge, is paying for the engineering consultation, the city told WBRZ Wednesday.
Areas surrounding the library have been closed off as heavy equipment is brought in to complete remedial work on the building.
Starting Wednesday, April 25, St. Louis Street at its intersection with North Boulevard will close. The City-Parish will temporarily make St. Louis Street between Government Street and City Hall a two-way street.
Check back for updates.
*****
BATON ROUGE - Work on a new library in downtown Baton Rouge is expected to continue Friday after a pair of compromised steel connectors caused workers to question the integrity of the building.
Photos from Wednesday night showed tape around the building located on North Boulevard. Nearby businesses were advised to evacuate as a precaution. Some neighboring streets were blocked off by police, with a few still blocked off Thursday morning.
The Baton Rouge Fire Department was at the scene along with the Mayor's Office.
Mary Stein, the Assistant Library Director tells WBRZ that late Wednesday afternoon, contractors saw something that concerned them. The City-Parish was notified along with the architect and a structural engineer found the cause of the problem.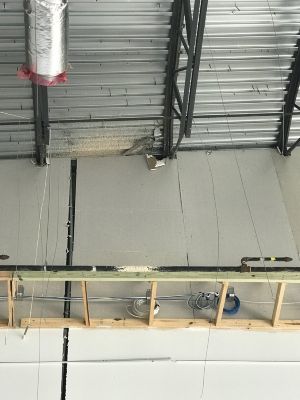 It's the latest debacle in a years-long controversy over plans for a $19 million new library building. Voters approved a property tax for the project, but there have been issues along the way.
2 On Your Side dug deeper into them, including new unforeseen change order costs for the project. Chief architect for the City Jim Frey has been working on the library project since its design inception. He says the change orders had nothing to do with what happened Wednesday.
"You can always have an unforeseen condition, nine times out of 10," said Frey.
There are five change orders. They include breaking up, removing and disposing of a beam that was uncovered, filling abandoned elevator shaft holes, and addressing storm sewer conflicts. All in, about a $250 thousand in the contingency budget. So far, Frey says the project is within the budget.
Baton Rouge City Hall and 19th Judicial District Court were closed until noon Thursday so crews could inspect the the library.
A full report on the problems, complete with safety recommendations, will be released at the end of next week.
More News
Desktop News
Click to open Continuous News in a sidebar that updates in real-time.