Teens allegedly attacked guards with shank while escaping juvenile jail; one still on the run
UPDATE: Malik Williams was captured in Texas after evading law enforcement with the help of his girlfriend, according to police. Read the latest here.
------
BATON ROUGE – Baton Rouge Police say four of five teens who orchestrated a violent escape from a juvenile detention facility on Veterans Memorial Boulevard are now in custody and the vehicle they stole during their Thursday night escape has been recovered.
One of the teens who fled remains at large, police add. BRPD identified that suspect as 18-year-old Malik Williams.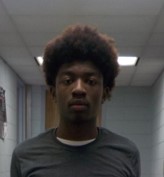 Malik Williams
Two of those teenagers were identified as Jordan Pough and Xavier Cade, who was previously accused of murdering a woman and tampering with his court-ordered ankle monitor.
Pough was booked as an adult into the East Baton Rouge jail on charges of aggravated escape, armed robbery, and theft of a motor vehicle. Officials said they expect all five suspects to face similar charges.
The search for the juveniles, who were considered "armed and dangerous," began late Thursday night near the Baton Rouge airport, which was briefly on lockdown due to the search.
When the teens escaped from the facility, they reportedly overpowered three guards during a fistfight that left some of the teens and both guards injured. Arrest records obtained by WBRZ on Friday confirmed the teens were armed with a shank when they attacked the guards, one of whom suffered a concussion in the confrontation.
"They attacked two guards and stole their vehicle; They should be considered dangerous," police said in a news conference. The juveniles were dressed in prison uniform colors of bright orange, brown or black jumpsuits when they escaped.
Watch the news conference here
After the fight with the guards, four of the juveniles stole a Toyota pickup truck, which has since been recovered.
Around 10:30 p.m., Thursday, authorities were able to capture one of the teens.
Police reportedly moved their search to the Gardere area and eventually made three more arrests.
As of Friday morning, authorities are searching for one remaining teen.
Watch WBRZ News 2 morning news from 5 a.m. to nine for late-breaking, live updates Friday. Stream the news here.
The WBRZ Investigative Unit spoke with sources close to the case and discovered that four of the five juveniles who escaped had ties to murder cases.
It was also learned that the fifth escaped juvenile had an armed robbery charge.
Anyone with information on the whereabouts of the remaining escapee is urged to contact the police department at 389-2000 or Crime Stoppers.
More News