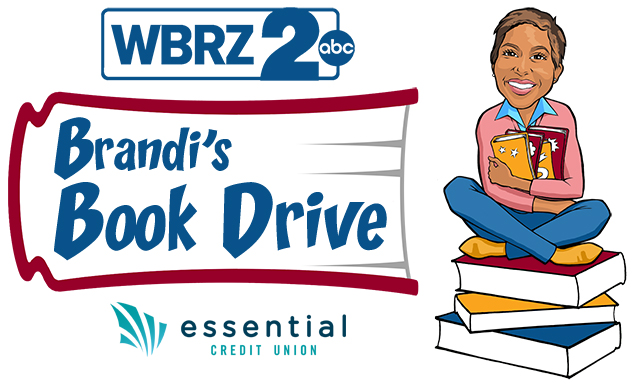 Calling for Books for Students in Kindergarten through 8th Grade!
Having books in the home can increase a child's academic success, vocabulary development, and help with the quality and length of their attention. Brandi's Book Drive is an effort in helping students build that important home library. This community project is aimed at gathering new and gently used books for distribution among Baton Rouge area students.
Please consider donating a new book or books, or nearly new books that your family has enjoyed, for area students. This is your opportunity to share your love of your favorite childhood books by purchasing a copy or copies for local students.
---
Ways to Donate:
Drop Off your New or Gently Used Books
Drop off boxes are available at Essential Credit Union locations throughout the area. Please see the complete list of locations below.
Essential Operations Center: 2370 Towne Center Blvd., Baton Rouge

Gonzales Branch: 1051 North Airline Highway, Gonzales

Siegen Branch: 6725 Siegen Lane, Suite K, Baton Rouge

Walker Branch: 28645 Walker South Road, Walker

Plaquemine Branch: 21925 Highway 1 South, Plaquemine
Buy Online and Ship your New or Gently Used Books
If you would like to order books online from your favorite bookseller, you can have them shipped to the WBRZ Studios for distribution.
Brandi's Book Drive
c/o WBRZ-TV
1650 Highland Road
Need Suggestions? Want to order from a Wish List?
Looking for suggestions? The K-2 Wish List below is taken from The American Library Association's Notable Children's Book list for 2023.The Grades 3-5 and 6-8 Wish Lists feature nominated books from this year's Louisiana Reader's Choice Awards Program, conducted by The Louisiana State Library. When given your choice of shipping addresses, please choose "Brandi's Book Drive" as the shipping address.
.
---
.
Save the Date!
Wednesday April 19th: Drive-Through Drop-Off Day at the Essential Credit Union Operations Center!
Drop-off times are from 10am to 2pm. Drive by the Essential Credit Union Operations Center located at 2370 Towne Center Boulevard to donate your books and enjoy special treats from Essential Credit Union!